The world's best motorcycle is now even better with the BMW R 1250 GS getting a bigger, cleaner and more powerful engine and a range of useful technology.
My impression was confirmed after Ballina Motorcycles owners Andy and Steve Fisher recently invited me to ride the new GS around their beautiful neck of the woods.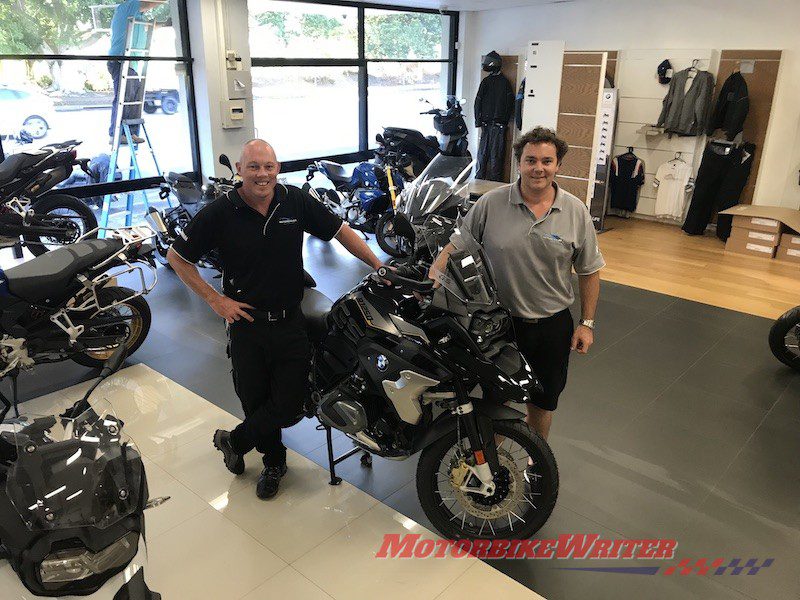 GS models
I've owned every GS model since the R 1150 GS, except for the first of the liquid-cooled models, although I have ridden them on several occasions.
The quantum leap from the 1150 to 1200 convinced me that this was the best bike in the world.
It could tour and haul luggage comfortably, it could challenge sports bikes on twisting tarmac, it could tackle gravel, sand and mud, and I even enjoyed it as a commuter because it was so manoeuvrable with good height to see over the traffic.
The GS then received a twin cam engine which improved power and then went to liquid cooling.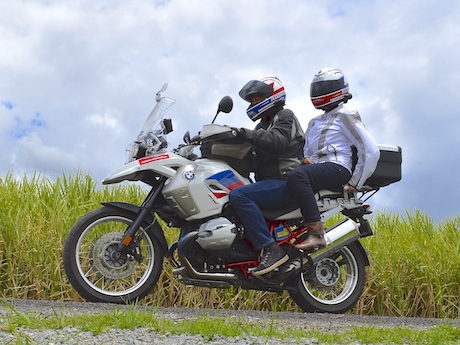 Each updated improved the world's best motorcycle a little more.
However, there have been some issues:
The switchgear proved faulty when BMW moved from separate indicators to the conventional one-button system;

I had some scary tank-slapping moments on the first liquid-cooled model, until they added a steering damper as standard;

The liquid-cooled model's soft spoked wheels could easily be dented; and

The new 1250 models had spokes working their way loose. They now have a quick fix for the problem.
Those issues aside, the GS is an astounding vehicle that makes bad riders look good, skilled riders look amazing and even caters for lazy riders!
R 1250 Shiftcam tech
The latter is thanks to the new drivetrain.
BMW's new 1254cc boxer engine comes with Shiftcam Technology which is a type of variable valve timing (VVT) similar to the systems used by Ducati and Honda.
VVT has been proven in cars for years. It not only boosts power, but also reduces emission and improves fuel economy.
It not only makes the Boxer engine cleaner and more powerful, especially through the all-important midrange, but also makes it so much more refined, mechanically quieter and smoother.
There has always been a coarse feel to these big Boxer engines and there is still plenty of "character" in the sideways thumping pistons, but it is now just so smooth with power and torque wherever you need it.
Transmission update
But it's not just the engine that has improved the drive.
Previous models have always had clunky gear shifts. In fact, I adapted to preloading the shifter before changing gears for a smoother shift.
Now the transmission its nearly as slick as on a four-cylinder Japanese superbike.
Gearbox and clutch are now integrated into the new engine housing to reduce weight and increase "torsional response".
The multi-plate wet clutch has eight friction discs and the clutch system is fitted with an anti-hopping mechanism.
What that means is that gear changes now feel smoother and quieter and the up/down quickshifter makes shifts almost seamless.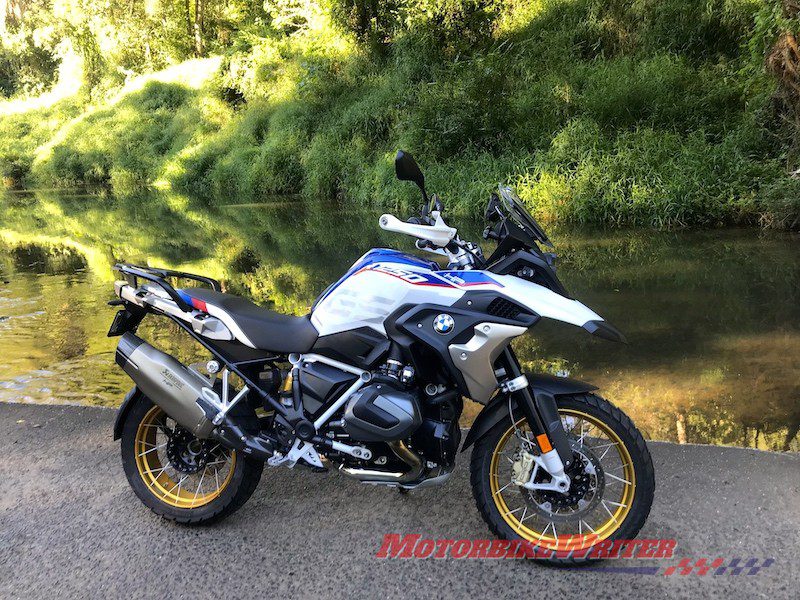 Together with the 14% more torque and 9% more output, you can be the laziest rider around and still reap plenty from the powerplant.
Just quick shift through to fifth or sixth and leave it there like an automatic.
If you suddenly need to drop a gear or two for a tight corner, just slam it down without touching the clutch and there is no rear-wheel hop, just a planted feel as the rear hunkers down and tracks around the bend.
More tech
The GS range has gradually added more and more technology with each new model over the years.
Now it is simply a technological tour de force with a host of rider aids, engine modes, electronic suspension settings and connectivity functions too numerous to mention in a review.
It would take a book to learn about all the features. But there are two worth a special mention.
First is the fact that you can now customise your settings and save them with the optional "Riding Modes Pro" plug.
No more will you have to stop and fiddle with ABS and traction control settings when your wheels hit the dirt. Just change engine modes on the fly to the Pro setting.
The other is the magnificent 6.5-inch colour TFT instrument screen.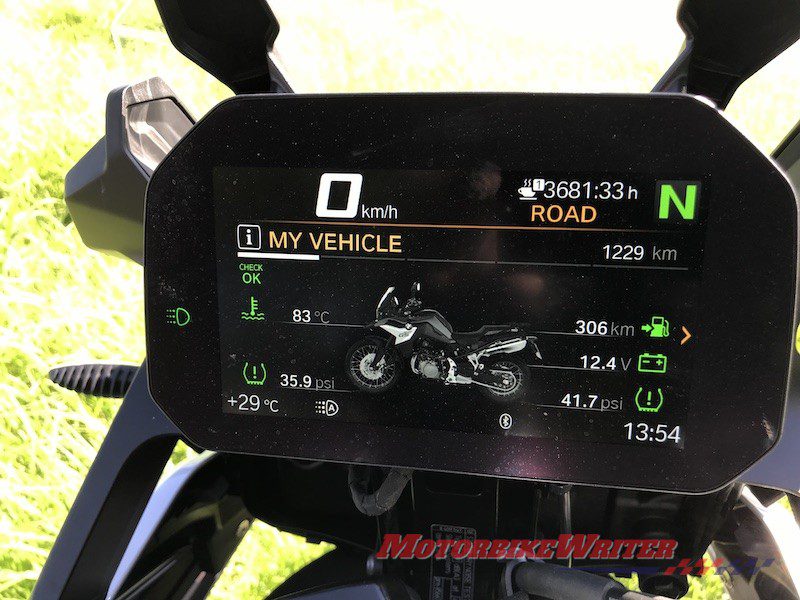 It's like having a flat-screen TV in front of you.
The screen is so enormous with big, clear numbers and letters you can see them in your periphery vision without having to look away from the road.
Not that you have to look too far, as it is set further forward and higher.
We rode the Rallye model around the hills and valleys of the Northern Rivers region where you ride through thick forests that are almost like midnight even on a bright, sunny day.
Yet riding in and out of these lighting extremes, the screen was clear and easy to see.
Knobby tyres
Andy and Steve of Ballina Motorcycles let me ride the knobby-shod Rallye version, even though they say less than 10% of GS customers ever fit knobby tyres.
In their neck off the woods, some of the tarmac roads are so poorly maintained they are like riding off-road, anyway.
The Karoo knobbies lack tar grip so the traction control light was constantly flashing as I rode around the region.
And at the end of the day's ride, the knobs had been chewed substantially. These tyres really are designed for the dirt and you can expect low life if you do too much asphalt.
If you opt for this model and these tyres, you need to do about 80% of your riding on gravel.
Ride
One of the biggest attractions of the GS range is the ride and handling.
The clever telelever front suspension is an amazing mix of plushness, precise steering and unflappable stability on the tar and dirt.
Together with the electronic suspension adjustment with an automatic preload mode that adjusts for load, you can select the right setting for every type of terrain.
At the end of our day riding some of the most jarring roads imaginable, my delicate rear end and my damaged back felt like they'd been to a day spa!
BMW R 1250 S model pricing
All that extra tech, engine capacity and power has added about $1600 to the starting price of the GS range.
But it's worth it for the upgrade in sophistication and useful technology.
While many bikes are a jack of all trades and master of none, the GS range continues to master a variety of terrain and riding purposes.
(Plus on-road costs)
| | |
| --- | --- |
| BMW R 1250 GS | $23,490 |
| BMW R 1250 GS Rallye | $24,940 |
| BMW R 1250 GS Rallye X | $29,890 |
| BMW R 1250 GS Exclusive | $28,140 |
| BMW R 1250 GS Spezial | $31,390 |