You won't know you've been caught by this Queensland Police Suzuki Hayabusa unmarked patrol bike until it's too late.
It's one of four unmarked police bikes. There are also two BMW R 1200 RS models, one blue and silver and the other black and grey. The fourth bike is allegedly a dark blue Kawasaki Ninja ZX-14R.
Rider Sergeant Dave Nelson says he can scan a motorist's speed up to 1km away.
"So I can see you before you see me and by the time you realise that I'm not just a normal motorcycle, but a police motorcyclist, it's too late," he says. 
Police say that in the past two months, the bike has not only caught speeding motorists, but also a lot of drivers texting and not wearing seat belts.
The bike also has cameras fitted to collect evidence.
The police certainly have an eye for a high-speed patrol vehicle.
Still a great bang-for-your-buck bargain at $19.290 (+ORC), the Hayabusa looks fast just standing still.
But the figures tell the full story: The Hayabusa is powered by a 1340cc, four-cylinder engine with 145kW of power @ 9500rpm and 155Nm of torque at 7200rpm which helps propel it to 100km/h from standstill in under three seconds with a governed top speed of 300km/h.
We wonder whether the police have de-restricted it, although we're not sure why they would need to!
The bike is one of two unmarked patrols, according to a QPS spokesperson. The other is a former marked police bike, but the spokesperson said information about the model was not readily available.
It's believed to be either a BMW R 1200 RT or Yamaha FJR 1300.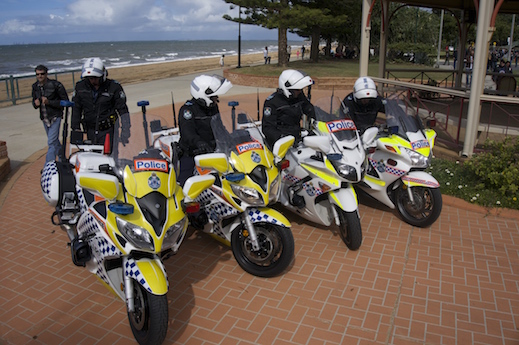 Here is the QPS reply to our queries about the bike:
The QPS uses unmarked motorcycles as both an operational resource and to engage with motorcycle riders to discuss and promote road safety. Police regularly partner with the Department of Transport and Main Roads and RACQ to visit locations frequented by motorcyclists to promote road safety. It is intended that this approach will continue in the future.  Across Queensland, motorcycle safety is an important issue, with motorcyclists and pillion passengers accounting for a disproportionate number of serious injuries and fatalities. The QPS intends to expand the number of unmarked motorcycles in its fleet with a view of targeting road users doing the wrong thing and promoting road safety. The QPS is committed to enforcing road safety and often explores innovative ways of doing so.
So, we can expect to see more of these unmarked bikes in future – but not until it's too late!