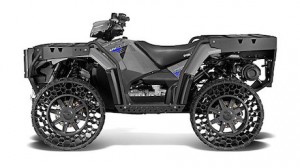 The Polaris Sportsman WV850 features the world-first application of Terrain Armor army-spec tubeless, puncture-less tyres on a civilian vehicle. And the revolutionary tyres could be coming to motorcycles down the track.
The honeycomb-structured tyres are non-pneumatic so they can even withstand a bullet without stopping the rider in their tracks. They have been used in military applications and Polaris is now bringing them to civilian use.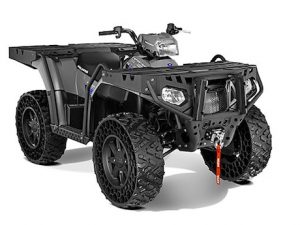 Polaris say the tyres will be rolled out in other models, which could possibly include motorcycles. The big drawbacks are the expense (about $1200 each), the need for a whole new rim and the fact that they are very hard tyres requiring specially modified compliant suspension.
However, a quick romp over some rocky terrain at the launch of the new range of Polaris all-terrain vehicles yesterday at the Werrribee 4×4 training ground in Victoria revealed a vehicle that is very smooth as well as capable. With some clever suspension work, these could be the answer to motorcycle riders conquering Australia's hostile Outback without ever having to worry about punctures again.
The Polaris WV850 is one of 10 new or heavily upgraded models in the wide range from the world's biggest manufacturer of powersports equipment. Among the other new product is the Polaris Ute 570 ($9995 ride-away) which is the first model the North American company has made especially for an overseas market.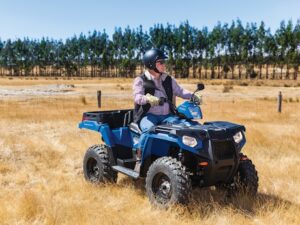 Polaris Australia marketing manager Allan Collins says the Ute was designed by and built for Australians, after consultation with riders and farmers. Some of the Polaris Ute 570 features built especially for Australia's diverse conditions, needs and agriculture include a tilt rear tray with a 180kg carrying capacity and sealed driveline, ball joints and suspension bushings to keep out mud, manure and bulldust.
Polaris Australia is pinning its hopes on the Ute after sales of ATVs dropped 16.4% last year to 4450. It certainly has the right name to resonate with Aussies since the ute, short for utility vehicle, was invented by Ford Australia in the 1930s. They were inspired by a letter from a pig farmer's wife who wanted them to build a vehicle that could carry a pig to market on Saturday and be used to drive to church on Sunday.
Polaris is a massive global business with sales of $3.7b last year, up 18% on the previous year. While off-road vehicles account for the bulk of those sales at $2.5b (+13%), the company has diversified into motorcycles in the past 15 years with the launch of Victory motorcycles and in the past two years with the purchase of Indian Motorcycles and the launch of their first Polaris-made Indian Chiefs last year. Motorcycle sales account for $219,819 (+12%), which is still behind snowmobiles at $301,659 (+7%). However, the company believes they have just about reached saturation levels in ATVs and snowmobiles and are looking to motorcycles to grow their business. In recent years they have also bought several small electrical vehicles manufacturers and other brands including motorcycle and snowmobile apparel manufacturer Klim.
Meanwhile, back at the ranch, Aussie farmers will be enticed by the Polaris Ute 570 and a range of new and updated models that feature better ergonomics, more power, added features, easier maintenance, improved safety and greater reliability. It is powered by the new fuel-injected 567cc single-cylinder engine also used in the Ranger, RZR and Sportsman. Power is up on the previous 498cc models, including the Sportsman 500 which has been their best-sellling automatic 4×4 ATV.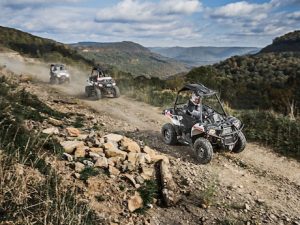 The Ute 570 has the Polaris variable transmission and on-demand all-wheel drive with a four-wheel descent control that literally crawls down the steepest of slopes. We tested the vehicle at the Werribee 4×4 training centre on some of the steepest slopes and it "walked" down without having to touch the thumb throttle or brakes. While it's now a fun vehicle with plenty of power and ability to tackle steep grades, water crossings and all sorts of tricky terrain, it's the carrying capacity that will attract many. It has class-leading 180kg carrying capacity as well as class-leading 556kg towing capacity. Farmers will also be able to travel for short distances legally on the road from paddock to paddock since it comes with mirrors, indicators and even a horn.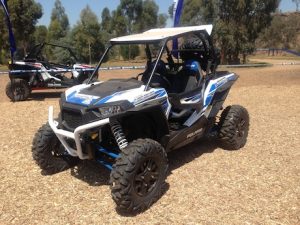 But if it's straight-up fun you are after, the new Sportsman Ace is the stand-out model at $9995 ride way. You get a lot of bike for that money with a powerful 32hp engine, on-demand AWD, and independent front and adjustable rear suspension. It's not only fun, but also safe with a three-point seatbelt, protective netting and a certified roll-cage.
For those who want to share the fun with family and friends, the ultimate toy is the four-seater, limited-edition Polaris RZR 1000 Dakar. Only 260 will be available and they feature Dakar emblems and graphics in honour of winning their class in the past three rallies including a 1-2 this year in South America.
See the RZR 1000 in action.
POLARIS PRICE LIST
(Recommended retail prices plus GST)
UTE 570 HD, Blue Fire $9,995
Sportsman ACE, White Lightning, $9,995
Sportsman 570 HD, Indy Red, $8,495
Scrambler 1000, White Lightning, $15,495
Sportsman WV850, Avalanche Grey, $19,995
Ranger 570, Solar Red, $13,995
Ranger Crew 900 EPS, Matte Titanium, $21,995
Ranger Crew 900, Solar Red, $20,995
RZR XP 1000 Dakar LE, Dakar Spec, $29,995
Ranger XP 900 Deluxe, Nuclear Sunset Orange, $21,495
RZR 1000 XP4, White Lightning or Titanium Metallic/Orange, $29,495
Ranger Crew 570, Solar Red, $15,495