The free Pirelli app, Diablo Super Biker, puts an to the bench-racing lies at the end of a track day or a brisk ride through the hills with your mates. But beware of incriminating yourself!
No more can you boast to your mates that you hit a certain speed, or accelerated to 100km/h in 1.5 seconds, or scraped your elbow on the ground through the switchbacks. The PIrelli Diablo Super Biker app actually supplies all that information and can now even share it on Facebook.
My only concern is that insurance companies and police may be able to access information which could incriminate you. You've been warned!
Since July 2011, more than 300,000 riders have downloaded the free app from iTunes or Google Play which records distances travelled, speed, lean angle and lap times.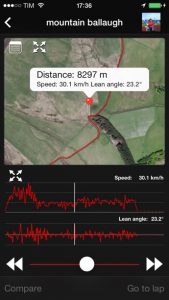 Now it has been updated with new graphics, the ability to share sessions on Facebook, an updated bike fleet of all the latest models, and synchronisation between your iPhone or Android phone and the dedicated website.
Go to www.pirelli.com/diablosuperbiker and you can create your own profile that allows you to download new sessions previously registered on the site with the old mobile device.
You can choose between road or track mode on your smartphone and then let the application record the data while riding. Google Maps will also "photograph" the path on a map so you can view your trips, compare results and then share on Facebook.
Just remember, the information is then public!
The Pirelli app is available in English, French, German, Italian, Japanese, Portuguese and Spanish and is compatible with any iPhone, iPad and iPod Touch with OS updated to at least version 6.1 IOS and with devices based on Android 2.3 or more recent.
Download from iTunes or Google Play.