Macna has added a women's winter glove to their range, but the only thing we see that makes it suitable for women, apart from smaller sizing, is some pink striping.
In our discussions over the years with female riders, pink and purple flashes of colour do not necessarily make riding gear suitable for women.
One female rider told us that they stopped wearing pink and purple when they finished dancing in eisteddfods at the age of eight.
Instead, they say the gear needs to be safe, fashionable and fit their shape, although surely male and female hands have the same shape!
Check out our online shop for women's riding gear.
According to European motorcycle apparel brand, Macna, their Zircon gloves are suitable for women … however men with dainty hands might also like them.
They are available for $149.95 in Australia at most motorcycle shops through Australian importers Link International.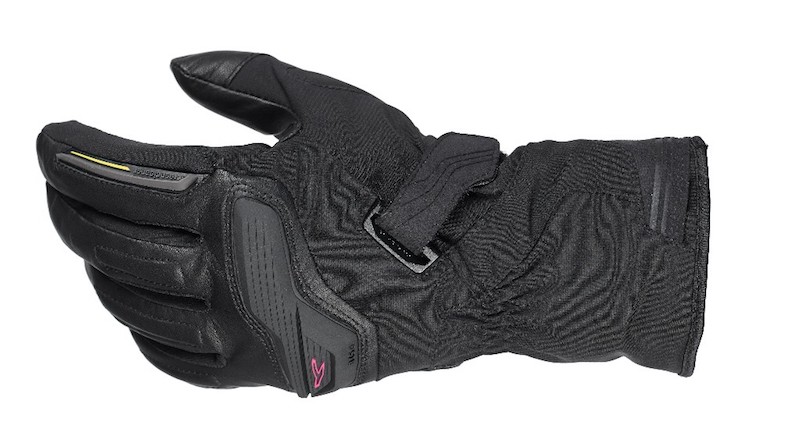 We haven't reviewed them, but here is their press release:
The Ladies Zircon gloves offer a great deal of comfort, protection and functionality for the serious rider. Fitted with a genuine Raintex waterproof and breathable liner ensuring dry hands and comfortable along with a Thermolite/ Bemberg Isofur comfort liner to keep everything warm when the going gets cold. All leather palm with double layer and padding on impact areas. TPR knuckle and finger protection with a screen cleaner on the index fingers. Cordura nylon back for greater dexterity and double closure incorporating Macna's unique 30 degree closure system for secure fitment. Each index finger is fitted with "Touch Tip" technology enabling use of your smart phone or GPS without removing your gloves.

Ready to travel – any road – any season – any weather! 

• A Grade leather and Cordura construction.

• Double layer palm and little finger.

• TPR knuckle and finger impact protection.

• Genuine Raintex waterproof and breathable liner.

• Thermolite/ Bemberg Isofur thermal comfort liner.

• Double closure including 30 degree wrist closure.

• Screen cleaner on index fingers.

• "Touch Tip" technology providing smart phone & GPS usage.

• Available in black only – Ladies sizes XS – 2XL.