Are riders ready for a hot pink Hello Kitty version of the trendy Ducati Scrambler?
It seems not.
The bike grabbed everyone's attention in an international dealer build-off, but it hasn't featured in the five finalists.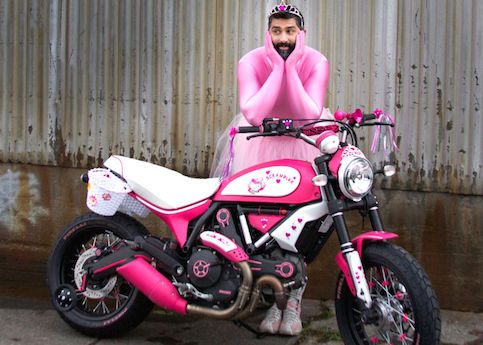 Dealers from five continents are competing in the Custom Rumble being judged by users on Instagram profile @customrumble.
They didn't rate the pink Hello Kitty bike which was built almost as a dare by MotoCorsa of Portland, Oregon, the top-selling Ducati dealership in the US.
It was one of several wild customs, including an outfit and an ice racer that competed.
One bike from each continent will now go to the final, including "Scramblegale" from the Canberra Motorcycle Centre.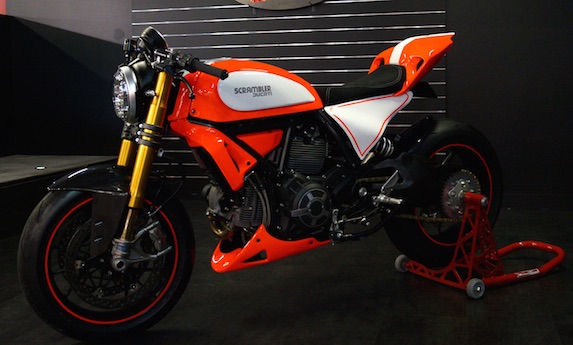 It will compete against the Ice Track Pro from Bow Cycle North, Canada; Iron Lungs by Warsaw Liberty Motors, 86 Gear Motorcycle and Pawel Swanski of Poland; Scramblarabia by Wheels of Arabia, Bahrain; and Scrambobber by Ducati Vibhavadi of Thailand. No US builders made it to the finals.
All dealers taking part in the "Custom Rumble" contest started work on their specials last September, with online voting getting underway in late October and continuing until January.
The best-looking custom Scrambler will be selected from the five finalists during "World Ducati Week" (July 1-3), the world's largest gathering for motorcyclists and Ducatisti, taking place at Misano Adriatico.
A special jury of experts, composed of designers, motorcyclists and customisers, will decide on the winner.
The dealer finalists will attend WDW 2016 together with their "Custom Rumble" entries.