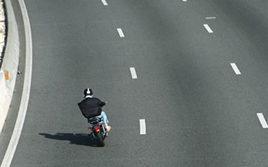 A petition has been started to stop the introduction of tolls for motorcycles in Melbourne.
Melbourne is the only city in Australia that does not charge two-wheeled powered vehicles any tolls, except on EastLink.
The Victorian Scooter Riders Association (VSRA) and the Independent Riders Group (IRG) representing Victorian motorcycle riders say the "grab for cash" is "backward looking as they penalise and discourage a modern mode of transport that creates a better urban environment".
They point out that European studies have shown if just 10% of cars are replaced with motorcycles and/or scooters then travelling time can be reduced by up to 40% for all road users, with CO2 emissions being reduced by a similar amount.
Now marketer Ryan Buckle, of Newport, has started a petition against the tolls.
Ryan describes himself on his Twitter page as a "beat mixer, day dreamer, great dane groupie, 2 wheels nutter. Oh, and I'm a ginger."
You can sign his petition here.
CityLink plans to introduce the half-price tolls for motorcycles and scooters from January 1 after 14 years of free tolls.
CityLink Media spokeswoman Suzanne Waddell says about 3000 motorcycle trips a day are recorded on CityLink and she expects that to drop by as much as half when the tolls are introduced.
However, she says the increase in traffic congestion in surrounding streets will be "negligible" as motorcycles are only about 1% of toll traffic.
About 14 years ago, CityLink became the first road toll private company in Australia to introduce electronic tolling.
"At that time our system wasn't able to do the rear licence plate imaging, so the decision was made not to toll motorcycles," Suzanne says.
"With the upgrade in technology, we can now do it."
Riders who wish to use toll roads will need to either add their rego number to a current account, create a new one, or buy a casual user product such as a CityLink Pass for CityLink only or a Melbourne Pass for both CityLink and EastLink.
The latter has always charged for motorcycles and scooters, so if you have an account with them, you need do nothing.
As in other states, riders do not need an e-TAG as video recognition technology will pick up your plate. Unlike cars, there is no charge for the image processing.
To register, click here.