Motorcycle Riding Jeans Review Summary
Review Summary
The Karl Devil jeans strike an interesting balance between motorcycle jeans and more technical riding apparel. With a chassis made from denim and a cut similar to leather track pants, the Karl Devil pants combine the style of leathers with the comfort of jeans. Protection is well sorted as well with included knee armor accessible via external pockets and Dupont™ Kevlar® lining present in potential impact zones.
Pros
Sharp appearance if one likes a "track hero" look
Heavy duty construction
Stretch denim for comfort
Slim fit keeps knee armor in place
Kevlar® lining for abrasion resistance
Cons
Pants are heavy
Not well suited for hot days
Crotch area is a bit "cramped"
Silly appearance if one dislikes the "track hero" look
Motorcycle Riding Jeans Image Gallery
Hot on the heels of my Trilobite 1860 Ton-Up jeans review is a look at the Karl Devil jeans from Pando Moto. The mission and approach of the Karl Devil Jeans couldn't be more different from the Ton-Up Jeans.
Where the Ton-Up jeans are all about offering good protection in "stealth mode", the Karl Devil jeans give the wearer the appearance of having just stepped out of the paddock. They make no attempt at hiding their mission and purpose. For some riders, the uncompromising appearance is exactly the look for which they have been searching. To others, they might just look dorky.
No matter which side of the fence one lands on, there is little disputing the fact that the Karl Devil's priority is to provide protection with a "form follows function" design. Before we get into the details, let's take a quick look at Pando Moto itself.
Pando Moto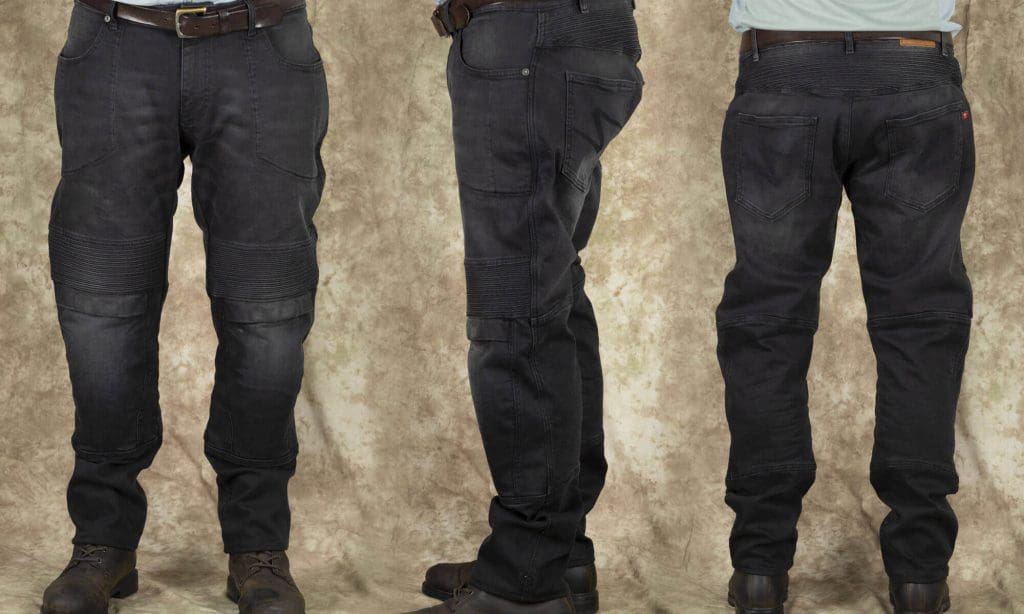 Lithuania based Pando Moto is a relatively young player in the motorcycle apparel game having started up in 2011 and launching the Pando Moto line in 2012. Over the past 6 years, they have managed to extend the availability of their riding gear from Europe to East Asia, Australia, and the Americas.
Their lineup currently includes five different riding jeans for men and three styles for women. The different styles also implement different materials with options that include a Dyneema® hybrid denim like we just saw in the Trilobite Ton-Up jeans as well as a Cordura® denim and a Kevlar® lined option that is used here in the Karl Devil jeans.
Now let's dig in and see what the Karl Devil riding jeans are made of.
Construction
One can have the Karl Devil in jeans in any color desired, as long as that desired color is black. In this case, the black color is closer to a dark gray (charcoal?) with areas that are "hand aged" to provide a sort of patina to the denim.
I think it looks better than just a simple deep black color and I like it overall. A faded blue option here might be nice to have for sunny and hot weather. Pando Moto does have other jean styles in lighter blue shades if black is a deal breaker.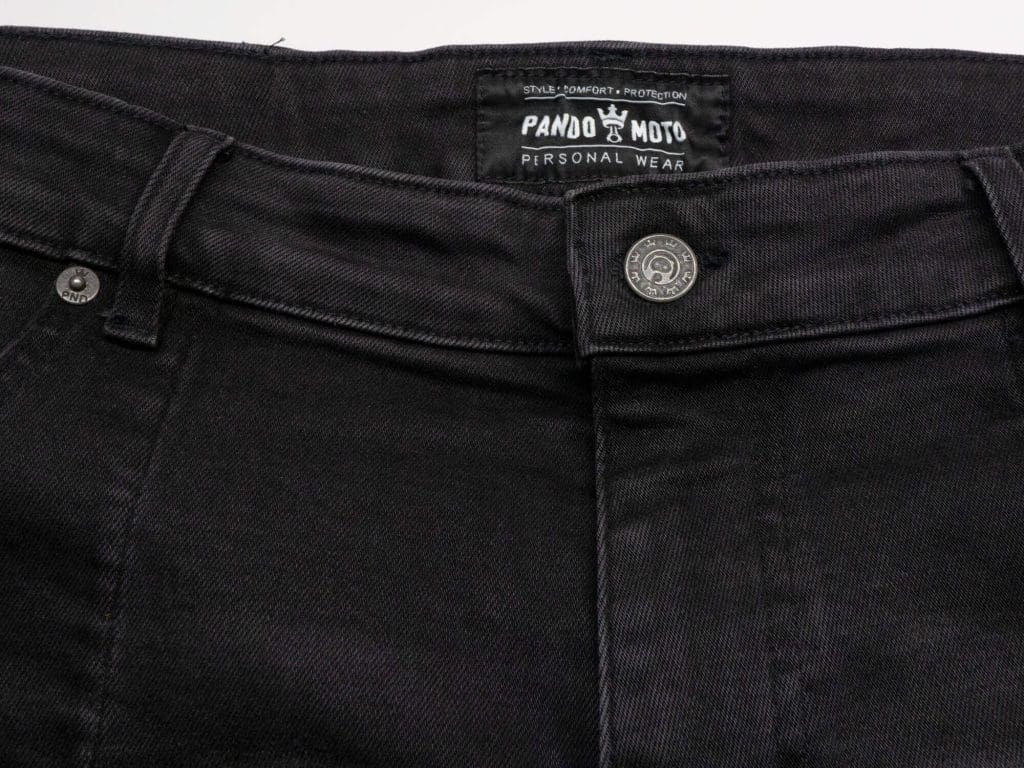 The denim used for the main chassis of the Karl Devil jeans is almost all cotton except for spandex which makes up a small two percent of the fabric. It's enough spandex, though, to allow for a significant stretch to the 13oz denim.
All major seams are double stitched and Pando Moto claims the jeans "features Kevlar® reinforced stitches". I"m not sure if that means all the stitching thread is made from this popular aramid or if it is just in certain areas. Regardless, the stitching is tight and even and the panels are cut true making for a tidy and solid looking appearance.
Pockets
The Karl Devil's drop the ubiquitous five pocket jeans design sticking with just four pockets. No coin or other additional storage areas are present but I feel this is fine considering the slim-fit cut.
Trying to get a lot in the pockets would likely be uncomfortable once in the riding position anyway. Personally, I can't stand to have items in my pants pockets when riding and keep small items in a tank bag or jacket pocket.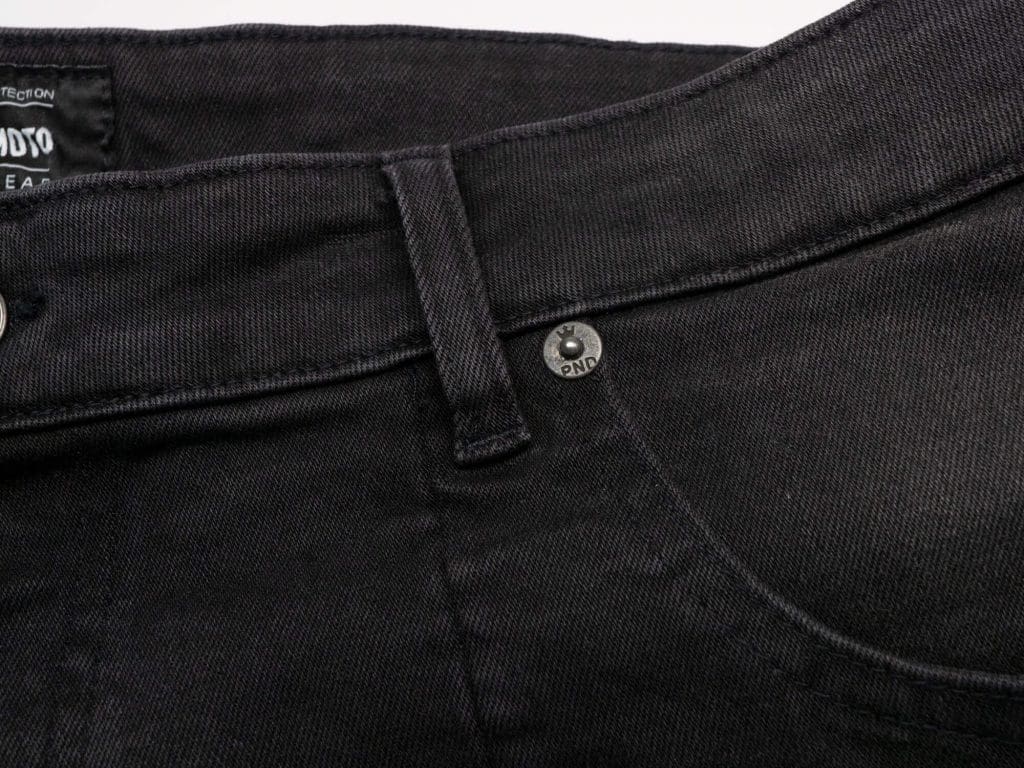 Stretch Panels
In addition to the stretch of the fabric, there are accordion style stretch panels above the knees as well as at the rear below the waist. If this sounds like a description of leather racing pants, I would agree. These aren't just for looks as the stretch panels over the knees do work well allowing a comfortable bent knee on sport and sport touring riding positions.
The stretch panel at the rear might not be as practical as there isn't an included rear jacket attachment. Of course if one has a jacket that connects via a belt, this could be a useful feature after all.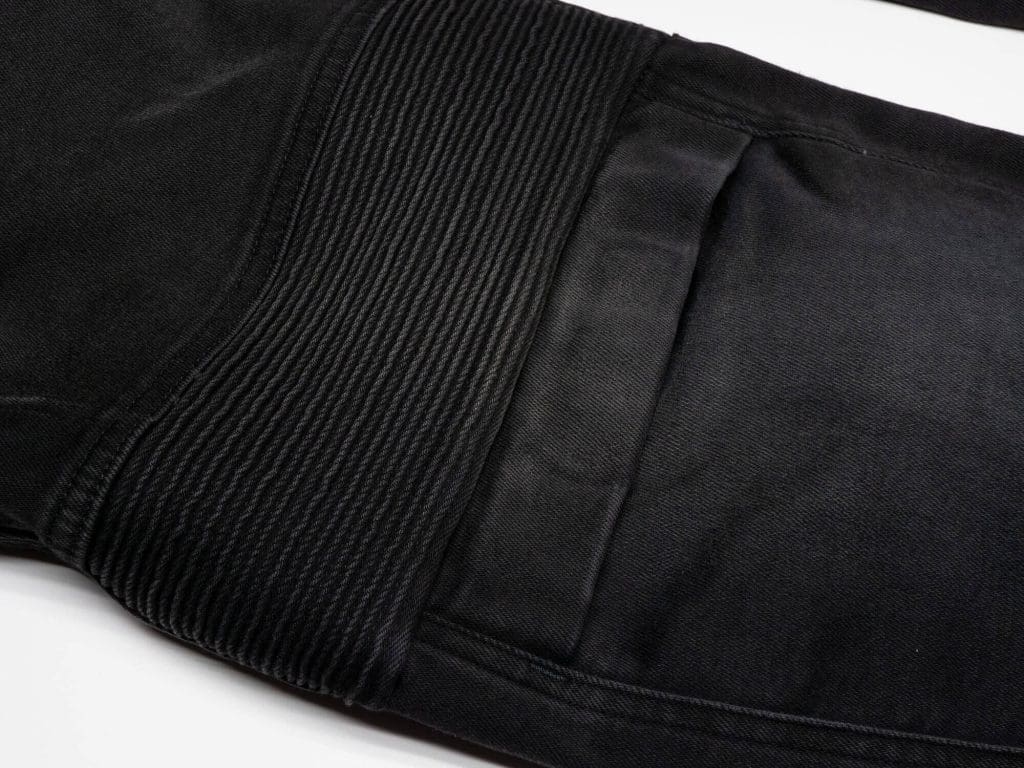 Protective Features
While the denim chassis of the jeans feels nice and durable, the cotton and spandex fabric likely won't put up much of a fight against the sliding pavement. Fortunately, Dupont™ Kevlar® is used to provide abrasion resistance in the potential impact zones. This includes the knees and shins as well as the seat and back of the thighs.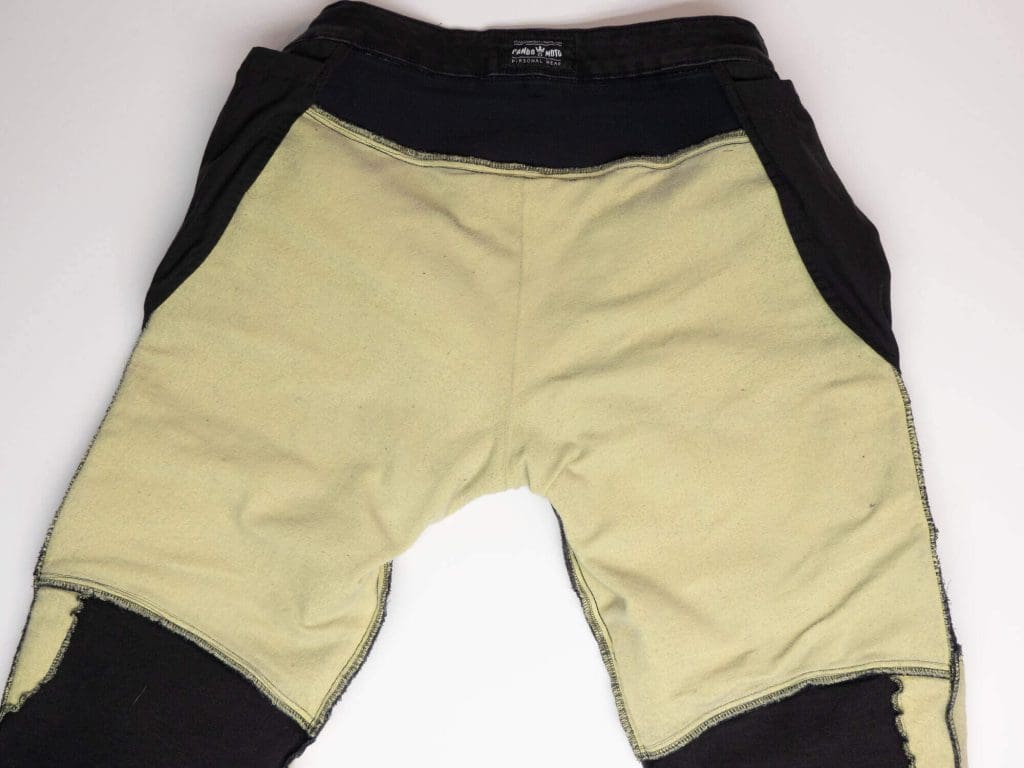 Armor
Impact protection is handled by the included SAS-TEC CE level 2 armor for the knees. These are inserted into pockets that are accessed from the outside of the pants rather than a pocket within. This makes it convenient to remove the armor without having to take off the pants.
I would like to see some adjustability in the knee armor height as there is only one position. For my 30" inseam they are landing just about right but for those longer inseams they could end up too high on the leg.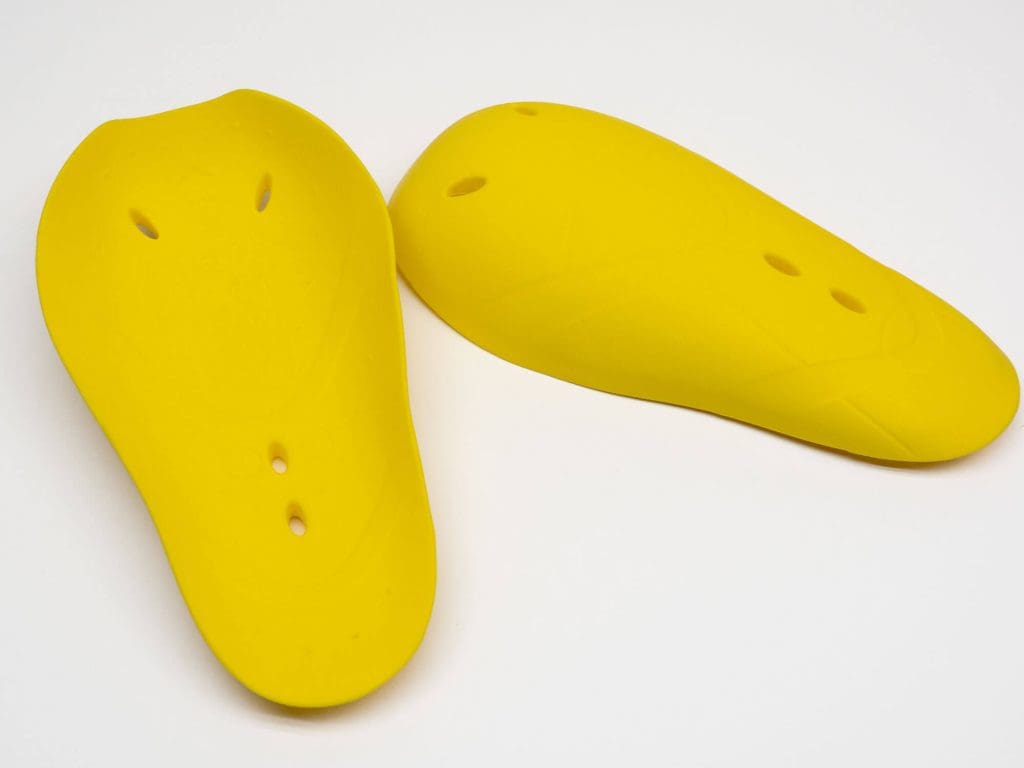 Pockets for hip armor are provided on the inside of the pants but armor is not included. I happen to have some Knox hip armor that fit into the provided spaces and it turns out the placement is excellent. The armor sits perfectly over my hip bones, better in fact, than any other riding pants I've had before. It would have been nice to have the armor included as I feel hip armor is just as important as knee armor.
Reflective Material & Other Safety Features
At first glance, there is no reflective material on the Karl Devil pants but there actually is. Unfortunately, it's on the inside of the leg cuffs so it is only visible if one rolls up the jean cuffs. This may be where fashion rears its ugly head a bit. Maybe it's expected that one will roll up the cuffs on a regular basis? I don't see that as a great idea.
For starters, at highway speeds, the wind could catch the cuff and unroll it. Also, what about taller riders who need the 34-inch inseam? Finally, since these are race styled pants, rolling the cuff would them difficult to use as in-the-boot riding pants like I do with my Dainese Fulcrum boots.
While I appreciate the inclusion of reflective material on these jeans, the implementation doesn't seem that practical.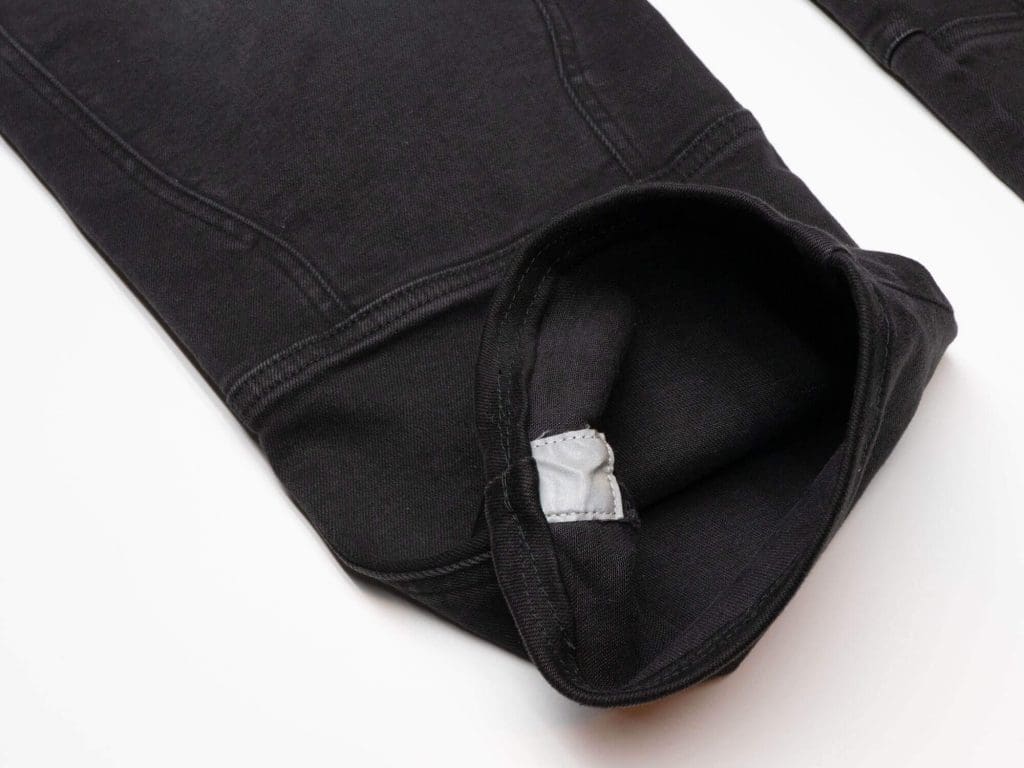 Fit and Comfort
The Karl Devil jeans are available in a relatively narrow range of sizes with 36-inch being the largest waist size they offer. Fortunately, that is the size I wear in jeans and we had asked for 36X32's to be shipped. Pando Moto made some changes around that time and the inseam on those jeans had changed to 34 inches. I didn't feel this would be a problem as there are no zippers or other features that would prevent them from being hemmed.
NOTE: The lack of size variation on the Pando Moto website could be due to simple lack of stock. If one needs a size outside the current offering it might be a good idea to contact Pando Moto and see if more sizes will be available in the future.
Turns out that the Karl Devil's are definitely as stretchy as claimed. I could see someone with a 38-inch waist fitting into these comfortably thanks to all the available stretch in the denim. The inseam was as described being just a hair over the 34-inch inseam I was told I'd receive. I had them hemmed to a 31-inch inseam which works perfectly with my 30-inch inseam when in the riding position.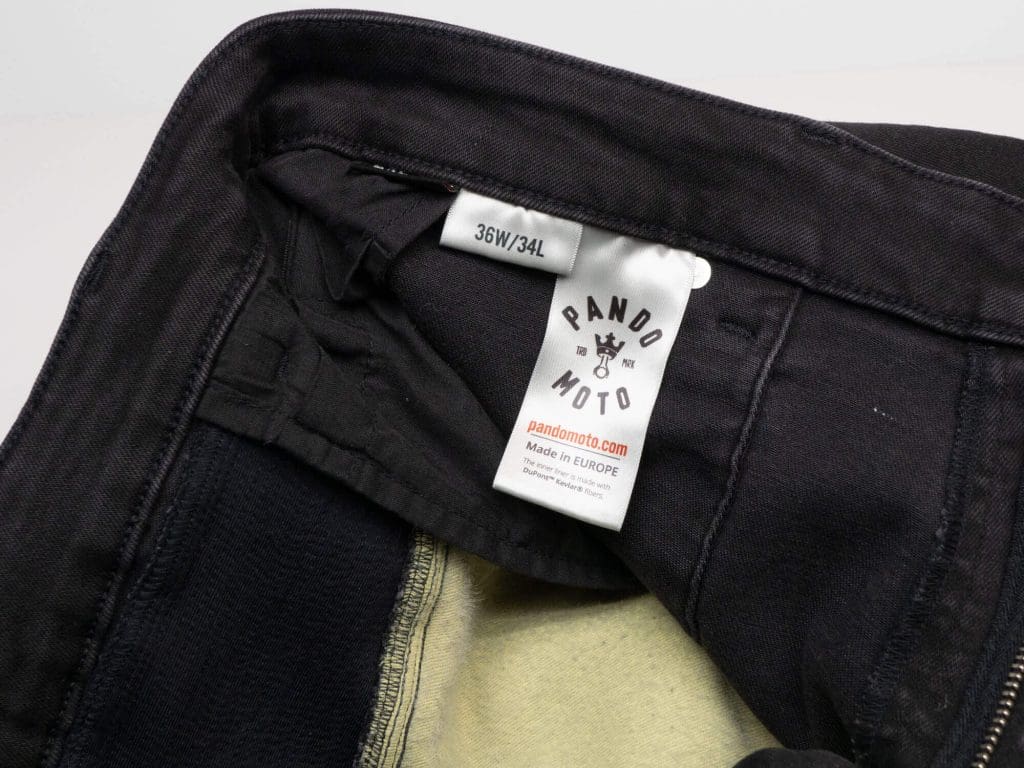 On the legs, the overall fit is "close" enough to keep the knee armor in place but is not so tight that it restricts movement. They could be even a little snugger in my opinion since they do have a lot of stretch. Still, they seem more "svelte" than most riding jeans I've seen including the Ton-Up jeans I just reviewed. Of course, how close a fit is "best" depends on the rider as some prefer more loose fitting riding pants than others.
With the stretch of the fabric combined with the accordion stretch panels I can't see any way that the jeans would restrict movement. Whether one pushes the bike under them like a dirt tracker or hangs off like Ben Spies, these jeans aren't going to get in your way, well almost.
One area that did confront me a bit is the crotch area. Maybe these are just designed to be very low waisted and that isn't necessarily bad in itself. However, when it is very low and jeans that are heavy like these, a belt is necessary to keep them in place. This typically requires the belt to sit over the widest part of the hips in order to keep the pants from sliding down.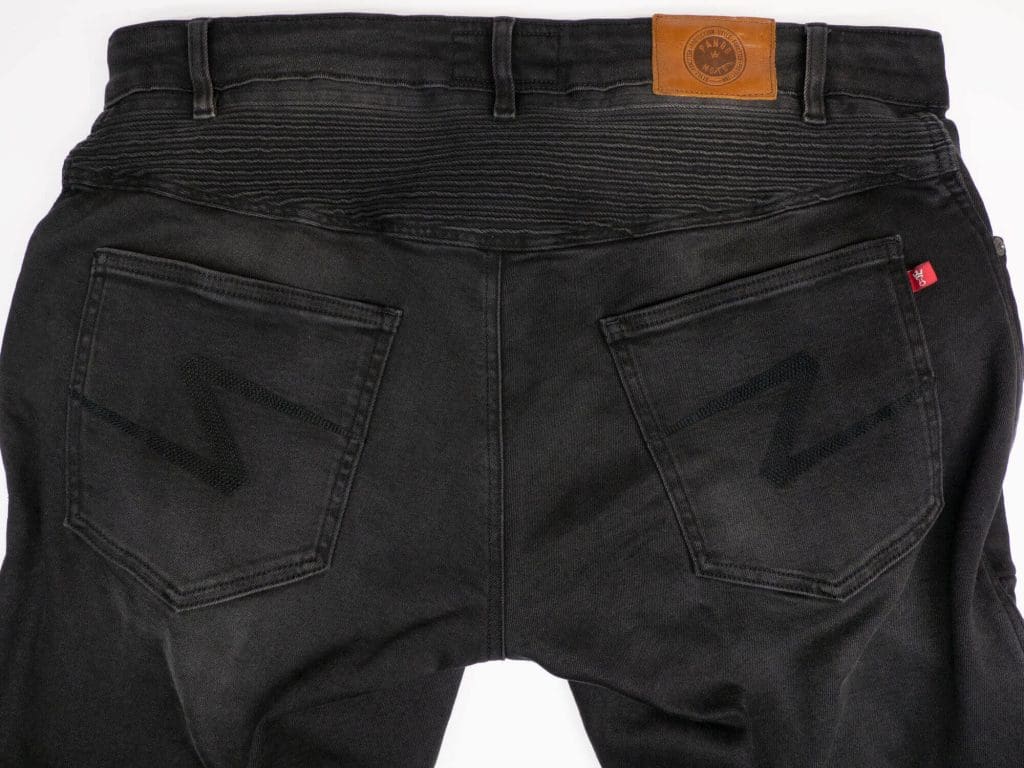 As such, getting the jeans in a position where they stay secured with a belt can leave the remaining area a bit, errr, cramped. Once in the seat, I didn't really notice this anymore but it could be a bit uncomfortable when standing or walking depending on the wearer's body shape. It's not bad enough to keep me from wearing these jeans, but just be aware that there could be tight space down below.
Breathability
Airflow is about what I expected which is not that great. This shouldn't be surprising considering the heavy duty denim and the large areas of Kevlar® lining. Fortunately, the fabric doesn't seem to trap moisture vapor so while one might feel warm, there isn't that sticky, wearing a plastic bag feeling that other kinds of textile riding apparel can produce in the heat.
To put it in perspective, I rode in these jeans yesterday and it started off at about 87 F (30.5C) and by the time I got back, it was 95 F (35C). It was pretty humid as well at around 40%.
Was I hot? Yes. Was I feeling like I was roasting? Not really, but I was keenly aware that I wasn't wearing mesh pants like I would normally be in these temperatures. All this to say that these jeans are better suited for cool to warm days than really hot ones.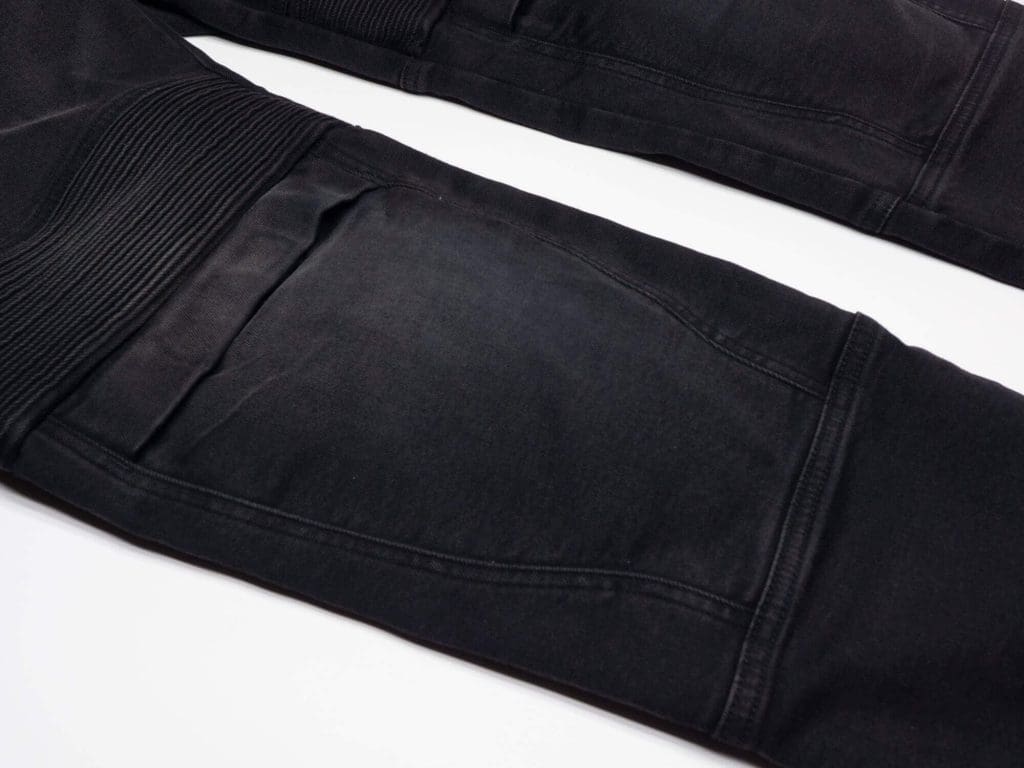 Conclusion
I will admit I was pretty skeptical when I was asked to review these jeans. I figured these would be some "fashion" jeans targeted at the long-bearded, skinny jeans wearing dude on the bobbed CB 350. I believe I judged too harshly.
At €239.00 (around $275 USD) the Karl Devil jeans aren't inexpensive but they are well made and offer up good protection for riding jeans. They also feel heavy and substantial which is something I like in protective gear. The lack of included hip armor is a little disappointing but can be remedied easily enough.
The looks might be the most divisive aspect to the Karl Devil's with their decidedly non-jeans look. An argument could be made that says "Who wants jeans that look like leather racing pants?". Well me, for one. I like the idea and in fact, I'd flip it to say "Who wants reasonably protective track inspired pants that are as comfortable as jeans?".
In the end, I give the Karl Devil jeans from Pando Moto four stars but they could have made it to five save for a couple of things.
One, include the hip armor as standard as most any low-side type of crash can impact the hip. And two, the "inside cuff" reflector at the bottom of the legs. I can't get behind the idea that rolling up the pants leg is required for that reflectivity to be available.
Pros
Sharp appearance if one likes "track hero" look
Heavy duty construction
Stretch denim for comfort
Slim fit keeps knee armor in place
Kevlar® lining for abrasion resistance
Cons
Pants are heavy
Not well suited for hot days
Crotch area is a bit "cramped"
Silly appearance if one dislikes "track hero" look
Specs
Manufacturer: Pando Moto

Where to Buy: Pando Moto

Price (When Tested): €239.00 / $277.36 (USD)

Made In: Lithuania

Alternative models & colors: Black

Sizes: 32 through 36 Waist (all 34 inseam)

Review Date: June 2018