(Pando Moto jeans review by contributor James Wawne)
Trying to find the right pair of jeans to ride in can be quite difficult, especially if you want to achieve decent levels of safety, comfort, and style.
Pando Moto claim to have the answer to this problem. They produce a range of men and women's jeans (and other clothing) to meet your needs – unless your waist is above 36 inches (which is as large as their range goes).
The company was founded in Lithuania in 2011 and position themselves as a "premium motorcycle clothing brand".
Their marketing 'bumph' says they "use the very latest in textile technologies with urban riding culture along with European standards EN 17092 (PROTECTION ZONING SYSTEM)".
So we decided to put a pair of their Karl Desert EL jeans through their paces turning them inside out to look over the key features and wearing them in a number of different scenarios to see how they performed.
Pando Moto jeans
The Pando Moto jeans arrived nicely packaged along with the included SAS-TEC® knee and optional hip armour inserts.
The first thing I like to do with any jeans review once I have removed the outer packaging, is to turn the trousers inside out to have a look at what you can see.
Laying the garment on the floor I can immediately recognise the construction format as depicted on their website.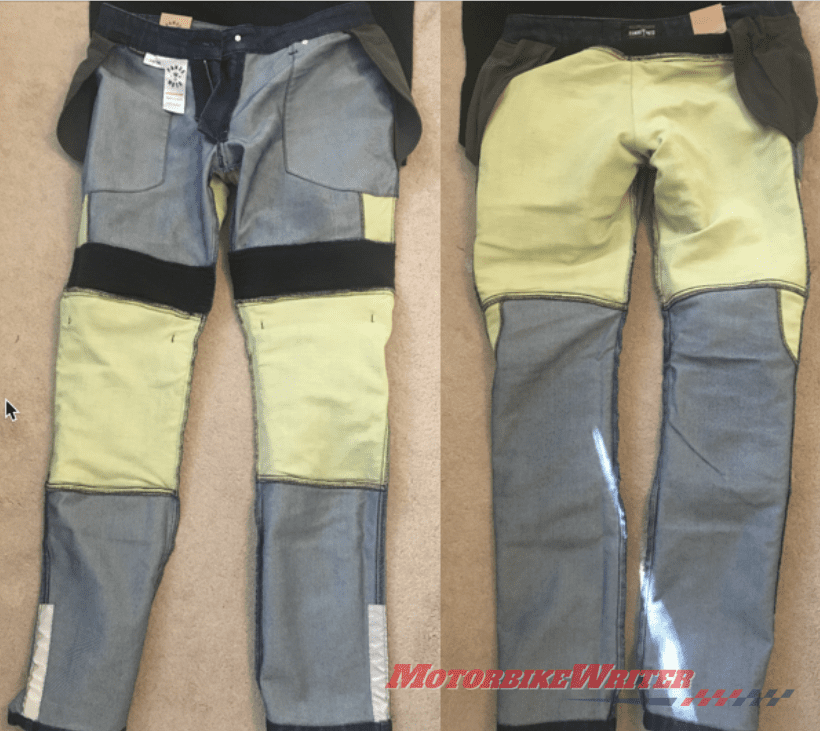 The fabric is Cordura® stretch denim (6.6 fiber) with DuPont™ Kevlar® lining and feels good quality, the cut is sharp and finish of the seams and stitch work is excellent.
The protection pads are quickly and easily installed, secured in tailored compartments which have Velcro strips at the top to ensure that they are secured.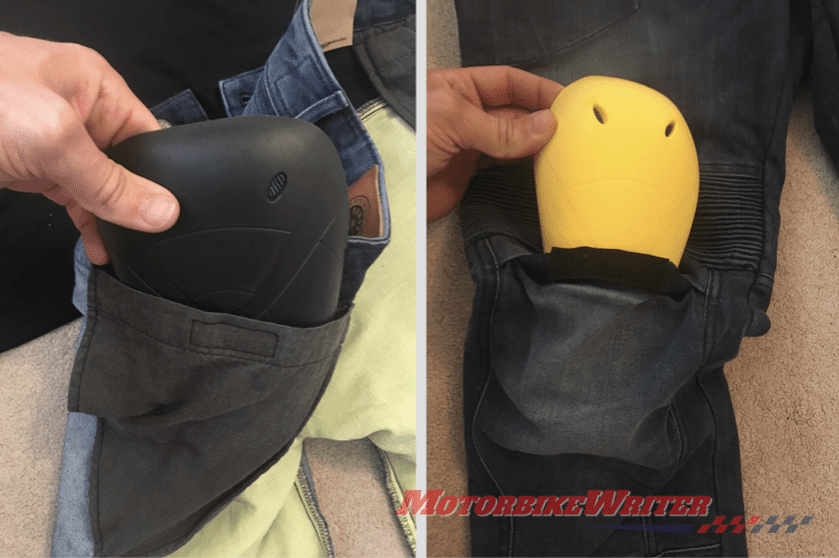 With the protection panels in, these are not the lightest of single-layer jeans in market (for my size (33W34L) came in at about 1200 grams) but they were snug fitting and comfortable and didn't feel overly heavy when on.
These jeans did not have the 'cool' feel of the Saint unbreakable we reviewed, but equally, I didn't overheat on a middling UK summer's day (25 Centigrade). Further testing in Brisbane summer temperatures will be interesting (check back for future update in November).
A minor gripe is that there are only four pockets – the small cigarette lighter/gum sub pocket is absent which is unfortunate.
The top of the waist is secured with a standard button/fly combo for quick access and even though these are slim fit the flex of the fabric means that the ankles can readily accommodate riding boots.
The turn-up has a reflective band which is a bonus though you might end up being called a hipster … or worse.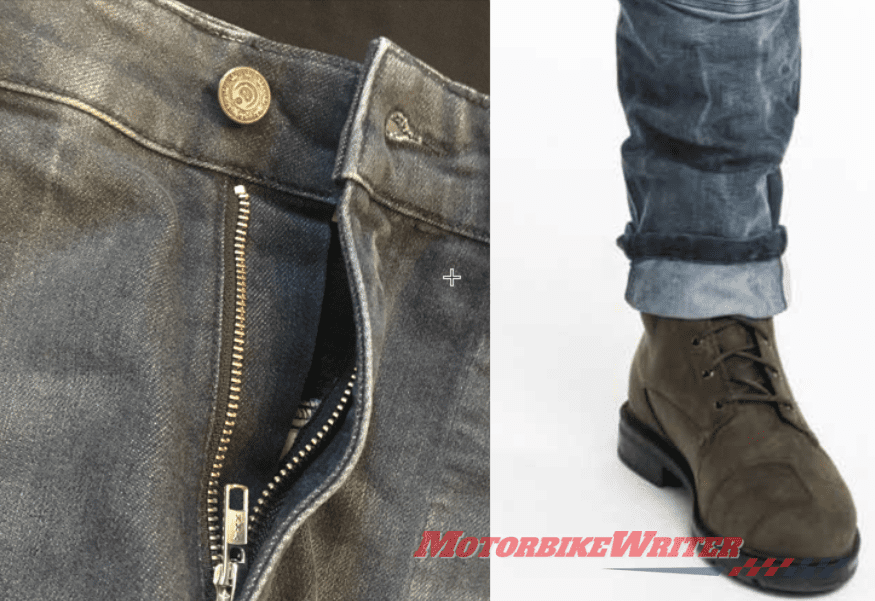 One feature that I found particularly functional was the flexible 'stretch-panels' built into the knees and the lower back/waist.
You can really see this contracting/expanding as I straighten and bend my like on the fitting frame (Thanks to Pete at Bike Stop for letting me pose on his rig to demonstrate the performance in various riding positions).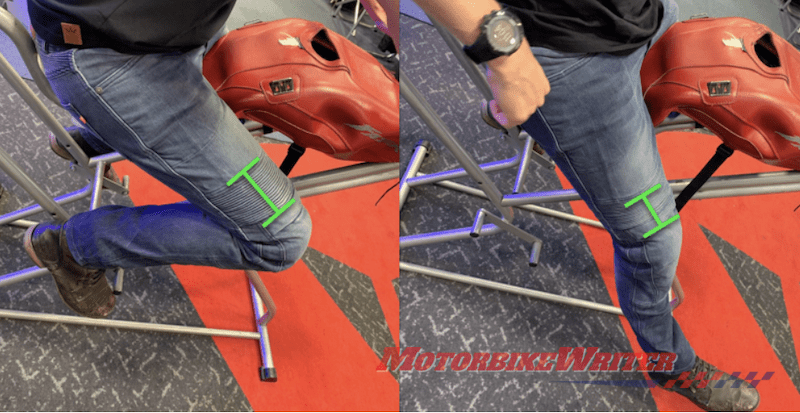 This flex prevents constriction and discomfort that can occur with some jeans which lack this design when in more aggressive riding positions.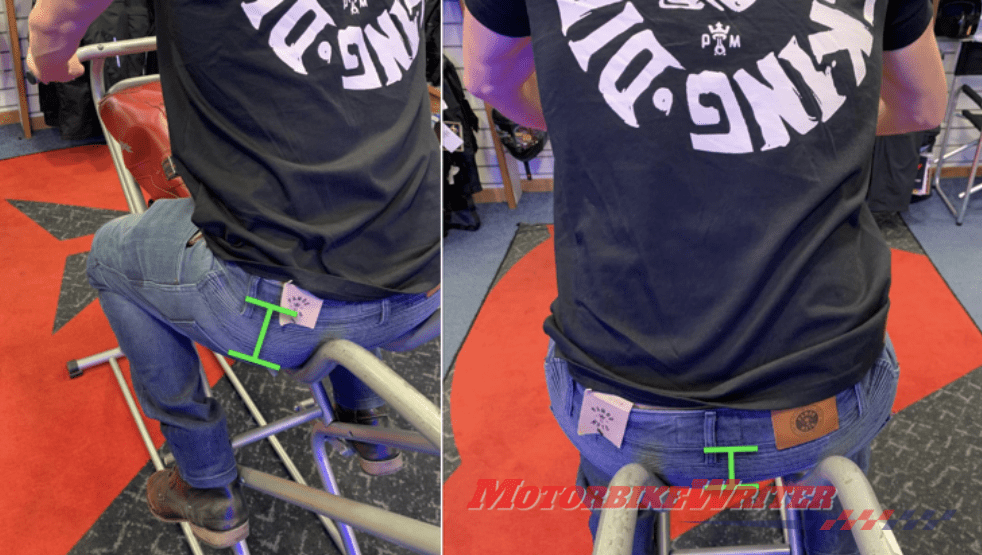 The fabrics include 12.5oz Cordura® stretch denim and feature a thick mid-layer made of DuPont™ with Kevlar® yarns lining and reinforced Kevlar® stitches.
The jeans are CE officially approved PPE under EN 17092, level AA (speed 70 km/h) and the site includes quite an entertaining demonstration of its abrasion resistance that mirrors one originally done by Australia's Draggin' Jeans.
The look of these jeans, paired with a rather 'directly captioned' T give an undeniably cool aesthetic, though that comes at a mid(ish) range price of €249 (about $A405, £220, $US275).
And so, to the closing question then: Do these jeans provide a solution to the problem of finding a blend of safety, comfort and style?
The answer to this has to be a resounding: Yes!
They are pretty good on all dimensions of evaluation  – just so long as you are 27-36 inches around your waist! 
Pando Motor Jean Specs Quick list:
Made of 12.5oz Cordura® stretch denim.

Lining: thick interlock-knit made of DuPont™ Kevlar®.

CE officially approved PPE under EN 17092, level AA (speed 70 km/h).

Featuring Kevlar® reinforced stitches.

Equipped with stretch panels on knees and back.

Reflective cuffs for safety ride.

Knee armour and inner hip armour slots.

SAS-TEC® CE approved (EN1621-1:2012) knee armour. (included)

Optional: SAS-TEC Hips – EN1621-2 approved. (not included)

Colour: Light blue, hand-made aged style.

Made in Europe.
Click here for more information on CE approved clothing.