Several motorcycle factories have halted motorcycle production as the coronavirus pandemic wreaks havoc across the world.
Australian PM Scott Morrison is banning organised non-essential gatherings of more than 500, US President Donald Trump has just declared a national emergency and countries are going into lockdown.
The coronavirus pandemic has already postponed and cancelled several motorsport events including MotoGP, F1, World Superbikes and many motorcycle rallies.
Pandemic halts bike production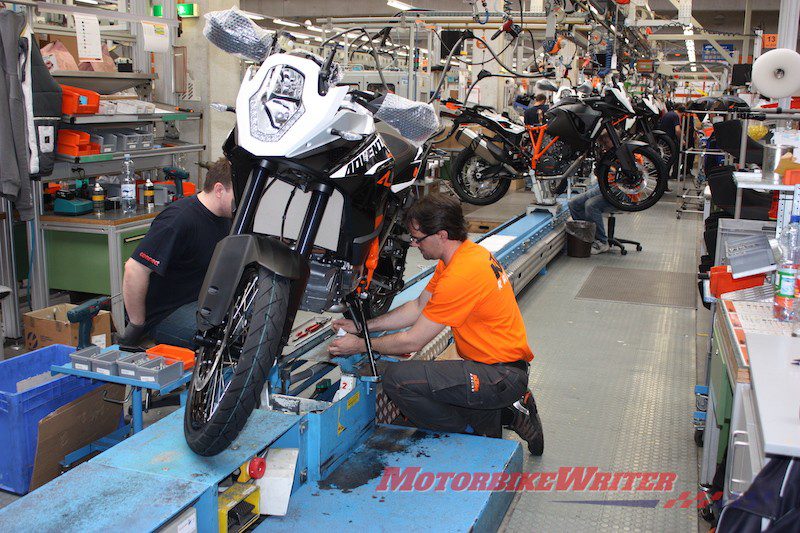 Now the KTM group, which also includes Husqvarna and GasGas, will close their Austrian factories at the end of the month for two weeks and Moto Morini in Italy has already temporarily closed.
The Piaggio Group – owner of Aprilia, Moto Guzzi and Vespa – will close its factories this weekend for a "deep clean", but we believe production will continue next week.
MV Agusta near Milan which is an epicentre of the contagion is playing a waiting game as the situation changes rapidly.
"At the moment the factory is continuing with production and we do not have any problems with the supply chain," says spokeswoman Alessia Riboni.
"We will see in the next hours/days."
Ducati has closed its museum and factory tours. Production has been suspended until next week while they reorganise the assembly lines to keep workers further apart.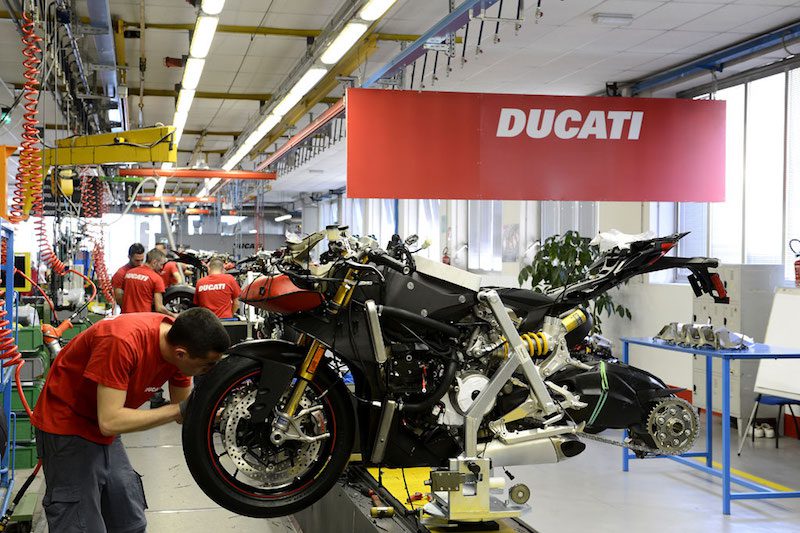 Apart from motorcycle factories, there could also be closures at component factories such as Brembo in Italy.
Davida Helmets in the UK has halted production because of a lack of components from Europe and Asia due to the virus.
So the effects for riders in coming months could be a lack of spare parts and further disruption to motorcycle rallies and races.
Even the Isle of Man TT, from 30 May to 12 June, has been cancelled.
While we are unsure what Trump's national emergency will mean for Harley-Davidson and Indian Motorcycle production, it hasn't halted the Daytona Bike week in Florida which winds up this weekend.
How to stay safe in pandemic
Despite all the doom and gloom, there is no need for riders to panic and stay at home, unless they have virus symptoms.
After all, riders wear a face mask of sorts and protective gloves while riding a bike puts us in a type of isolation, certainly, 1.5m from others. 
Riders also usually head out into the country where there is less chance of big group gatherings.
And we often stop for lunch at small coffee shops and restaurants.
We have not heard of any group rides being cancelled and planning is still ongoing for the Dubbo Rally in May.
If you are concerned, there are several steps you can take to continue riding and stay safe.
Avoid large groups;

Use your credit card instead of cash when buying fuel and food; 

Wash your hands thoroughly, even tough you wear gloves; and

Pack your own toilet paper!