A company which has supplied night-vision goggles to armed forces has now turned its attention to producing a hi-tech night vision motorcycle helmet.
Ninox has been approved a World Patent for its Ninox Genesis helmet technology designed to increase the safety of motorcycle riders by improving vision at night and in poor weather conditions.
The inventor, known only as "Patrick S", says it will provide "significant safety and efficiency features for motorcycle drivers".
"This technical invention allows users to have better visibility at any time of the day and even during various weather conditions. Built-in with so much high technology and modern features, the Ninox Genesis is something that every motorcycle rider should own," he says in a World Patent Marketing press release.

The Ninox Genesis helmet will not only include night-vision capability, but will be packed with hi-tech features such as wi-fi and Bluetooth connectivity for hands-free communication and wide-view and rearview cameras.
The New York Inventor Exchange has approved the Ninox Genesis for licensing and trading intellectual property rights.
However, there is scant information available about how the night vision will work, whether it will use the existing visor or drop-down goggles/visor.
There is also no word on when it will be available or how much it will cost.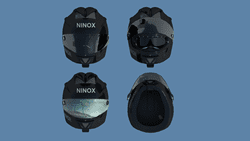 More than a decade ago, the American company provided the Australia Army with Project NINOX, named after an owl with excellent night vision, that included a suite of equipment, including surveillance devices.
They have also equipped American soldiers operating in Afghanistan with night vision equipment.