G100 Racer Motordrome Review Summary
Review Summary
The NEXX X.G100 Racer Helmet has a great retro styling but does not compromise on build materials, intermediate oval shape, excellent detailing and build finish, lacks ventilation and features.
Pros
Fit and finish
Quality construction
High comfort with removable interior
Retro style
Distortion free visor
Lightweight
Cons
Airflow
Visor fogging
Lack of features
NEXX X.G100 Racer Motordrome Image Gallery
Introduction
Last summer I purchased a 1999 Kawasaki ZRX 1100. It is a bike I liked when it originally came on the market. It is a replica of the early 80s KZ1000R, which was a tribute to Eddie Lawson's winning Kawasaki race bike.
As Cycle World put it, "a replica of a replica". I even found it in ELR green. Since that purchase, I have toyed with the idea of trying out a retro helmet to go with the original vintage of the bike. I knew I wanted it to look retro, but also be constructed of modern materials.
There are now several full face retro helmets on the market. When I was given the opportunity to review helmets from the new 2019 NEXX line up, I quickly came across the X.G100 series of helmets.
New to NEXX
NEXX Helmets are a Portuguese based company, with a full range of helmets they have divided into categories including Touring, Adventure, Racing, Sport, Garage, and Urban. According to their website, 100% of their helmets are produced in Portugal. This includes the also recently reviewed X.Vilitur, NEXX's first modular helmet.
The X.G100 Racer falls into the retro-inspired Garage category. I am not one for a lot of flashy colors on my riding gear or any clothing for that matter. I wear mostly blue, grey or black. I think it has something to do with decades of working at IBM. My wife tells me that I need to embrace color.
Well, I found something in the middle, an X.G100 Racer Motordrome in a green and black colorway, nothing too bold… baby steps. Plus, I thought the green would look awesome with the green ZRX 1100.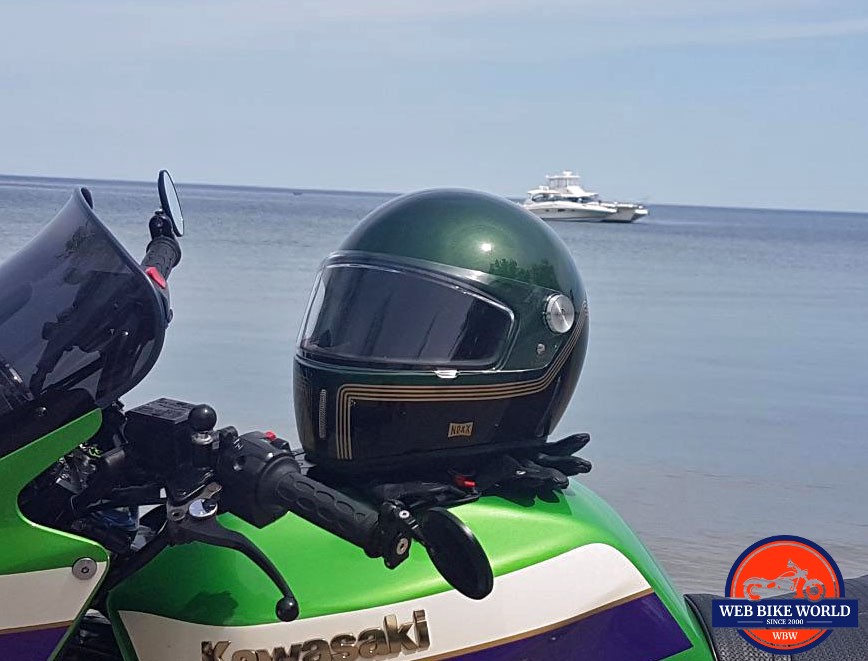 So, with that in mind, I was looking forward to trying the NEXX X.G100 Racer Motordrome.
Features
From NEXX:
 X-MATRIX Shell (multiaxial fiberglass, 3D organic fibers, special aramid fibers, and carbon reinforcement)
 Shell Sizes: 2 (XS-M | L-XXL)
 PC Lexan flat shield
 Prepared for the use of Raleri Anti-Fog system
 Double-D ring buckle
X.MART DRY Fabrics
Soft anti-sweat and anti-allergic fabric inner lining
3D Formed Pad, removable and washable
Chin wind stopper
Chin Ventilation with an adjustable position open/close
Ergo Padding System
Weight: 1350 grams +/- 50 grams (I found 1450 grams with L-XXL shell and visor attached)
Homologation: ECE/22-05,DOT FMVSS 218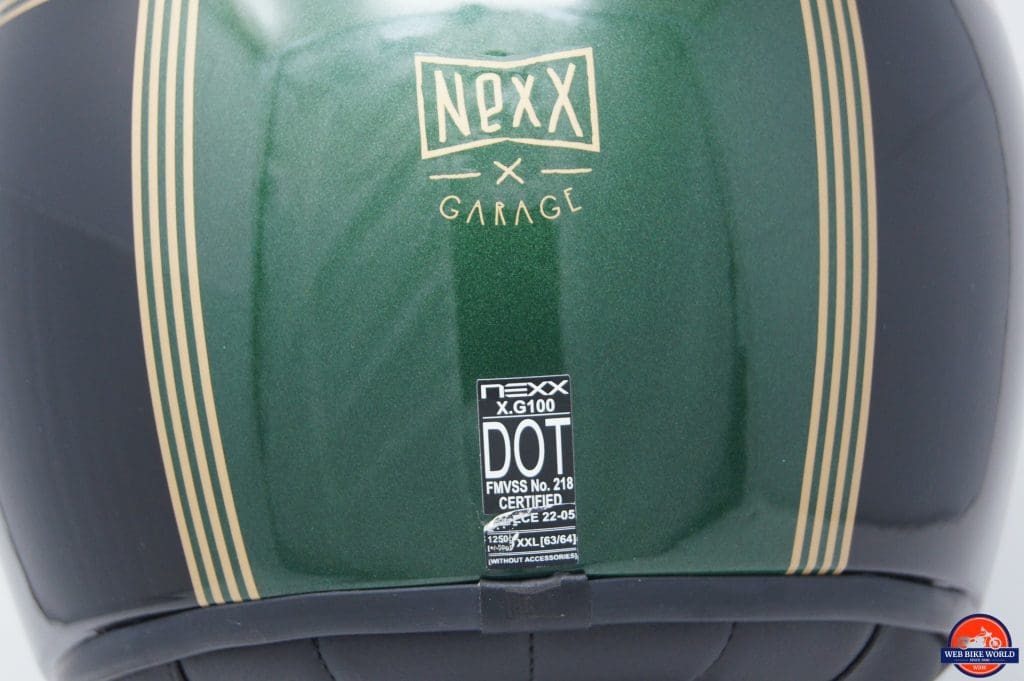 First Impressions
As I stated earlier, I am not one for flashy colors (says the guy riding the bright green bike), so at first glance, I was surprised how much I liked the color. The paint was flawless and with the brown lining, it was clear the helmet had loads of style.
After several weeks of riding, these are my thoughts on the NEXX X.G100 Racer Motordrome.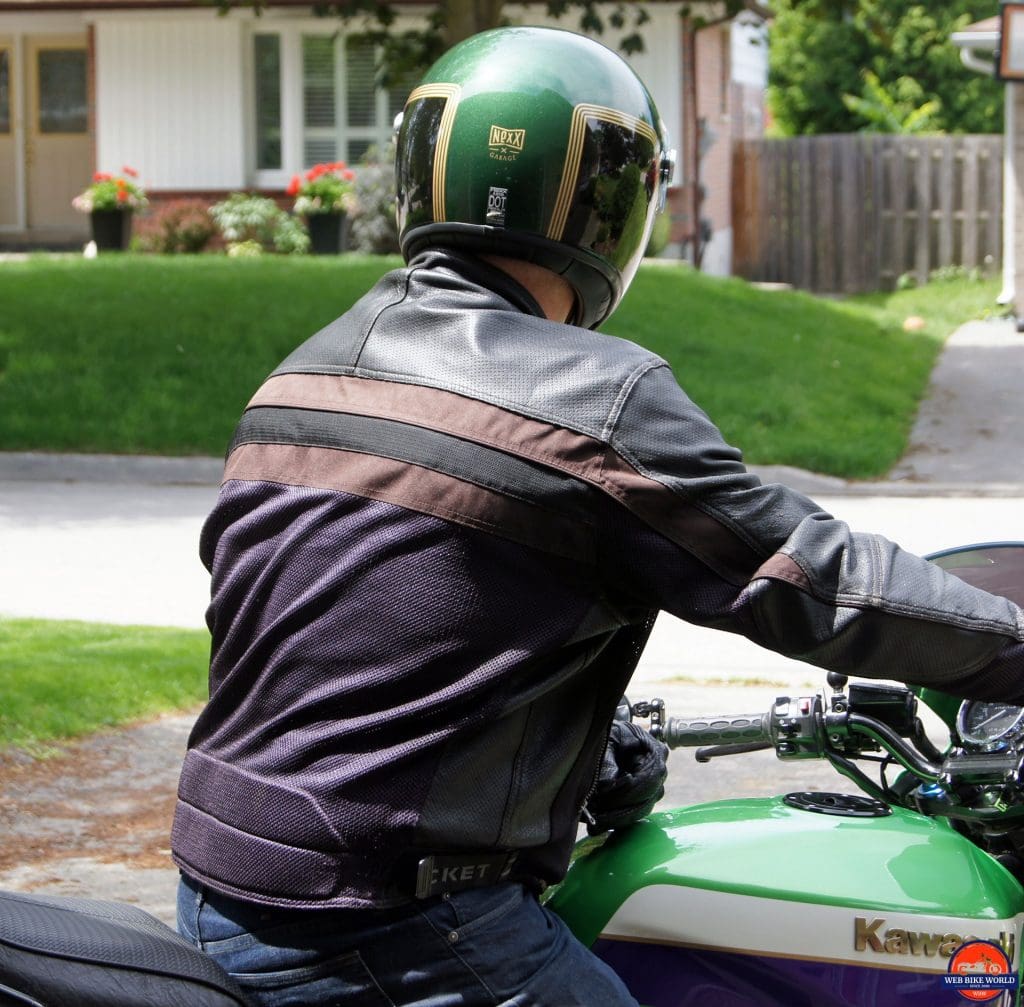 The Exterior
I don't think I have had as many compliments on the look of a helmet as I have with this one. The compliments were from riding friends and from other riders and non-riders when stopped for fuel or food.
I have to say I agree with them. The quality of paint, fit and finish are very good. This helmet, like so many retro helmets, is all about style.
All X.G100R helmets are made from Nexx X-Matrix technology, a process that combines multiaxial fiberglass, 3D organic fibers, special aramid fibers, and carbon reinforcement. There is also a full carbon version available. No compromise on materials for style here.
There are two shell sizes covering XS-M, and L–XXL sizing. The shape is an intermediate oval. I ordered an XXL, and it fit my head very well.
The back of the helmet indicates a weight of 1250 grams +/- 50 (without accessories), the spec sheet from the website indicates 1350 grams +/- 50 grams. With the largest shell and visor attached (the visor may be counted as an accessory) my imprecise scale came in around 1450 grams. I believe this compares closely to the competition.
One small flaw I did find was that the ECE sticker was peeling. Otherwise, the shell is mostly uninterrupted except for a single vertical mesh air intake in the center of the chin bar, and of course the eye port opening.
The vertical mesh intake can be opened and closed from inside the chin bar. This is the only air intake on the helmet and there are no exhaust ports.
The chin bar on the X.G100 Racer is larger than many of the retro helmets on the market. In comparison, it reduces the size of the eye port, but I did not find it to impede on the outward vision to any great degree. I believe the larger chin bar would add to the protection level of the helmet. The eye port has a flexible seal to fit tightly to the visor.
It seems to me that retro helmets are mainly a styling exercise. To keep that clean shell look there is a compromise, not in the form of build quality or material, but in the form of air intakes and ventilation ports.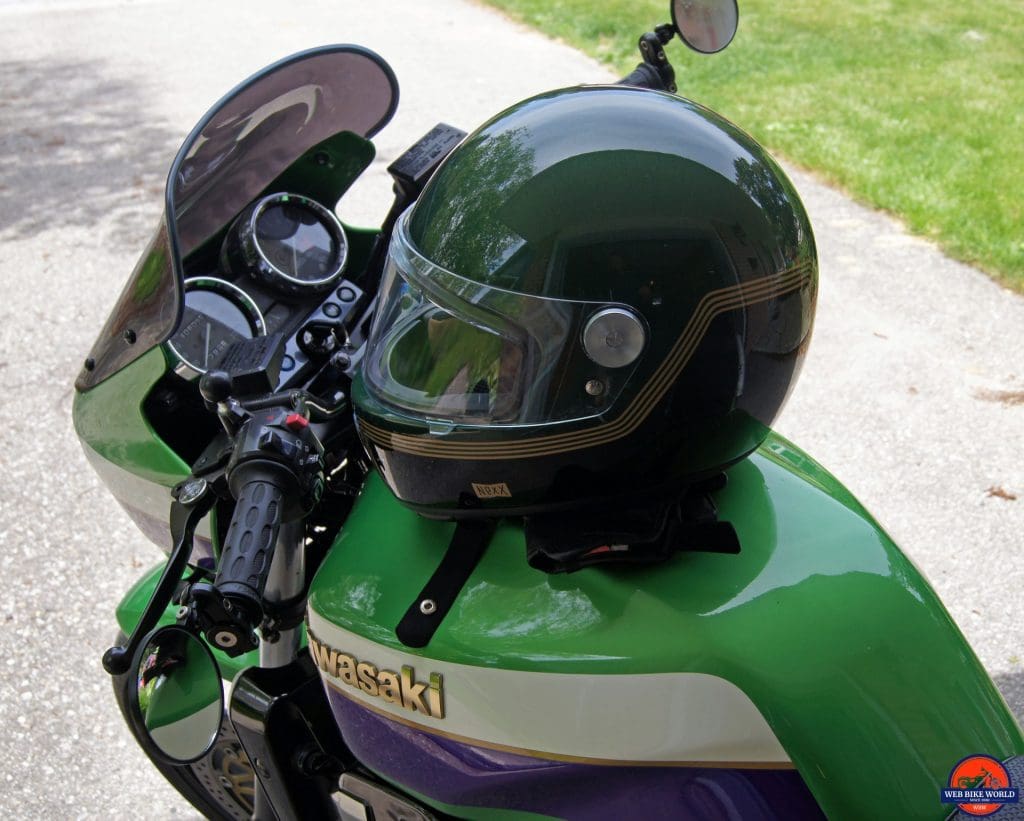 Paint & Colourways
The pattern and color options for the X.G100 Racer seem endless. The following colors are from the Nexx International site. The North American site shows a subset of these colors.
Motordrome: Titanium/Yellow, Green/Black, Two-tone White, Two-tone Red, Two-tone Blue
Record: Cream/Red/Black, Black/Grey/Gold, White/Green/Red
Lone Howl: White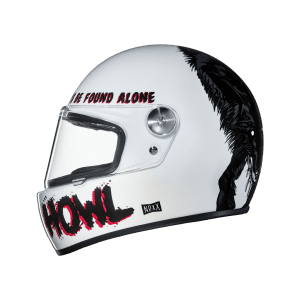 Carbon: Carbon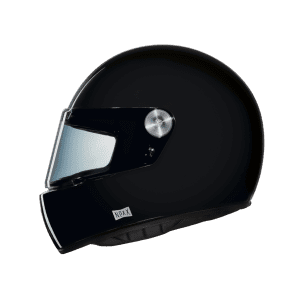 Grand Win: White/Red/Blue, Black/Blue/White
Jupiter: Red/Black, Blue/Black
Purist: Black, Matte Black, White
Billy B: White/Red, Yellow/Black, Black/White
With eight patterns and multiple colors within each, there should be something that meets your retro tastes.
I have inspected the paint after removing bugs from several rides, plus a few accidental bumps, and the paint looks as good as new. Also, all the graphics, including branding are under the clearcoat. I know a lot of riders like to de-brand their helmets, as the branding is relatively small and tasteful, I don't see this as an issue.
The Interior
The interior of the helmet carries on the retro theme and is lined with a soft brown suede-like material. There is even a splash of houndstooth pattern in the crown. I have to be honest here, it took me a while to figure out what it was called.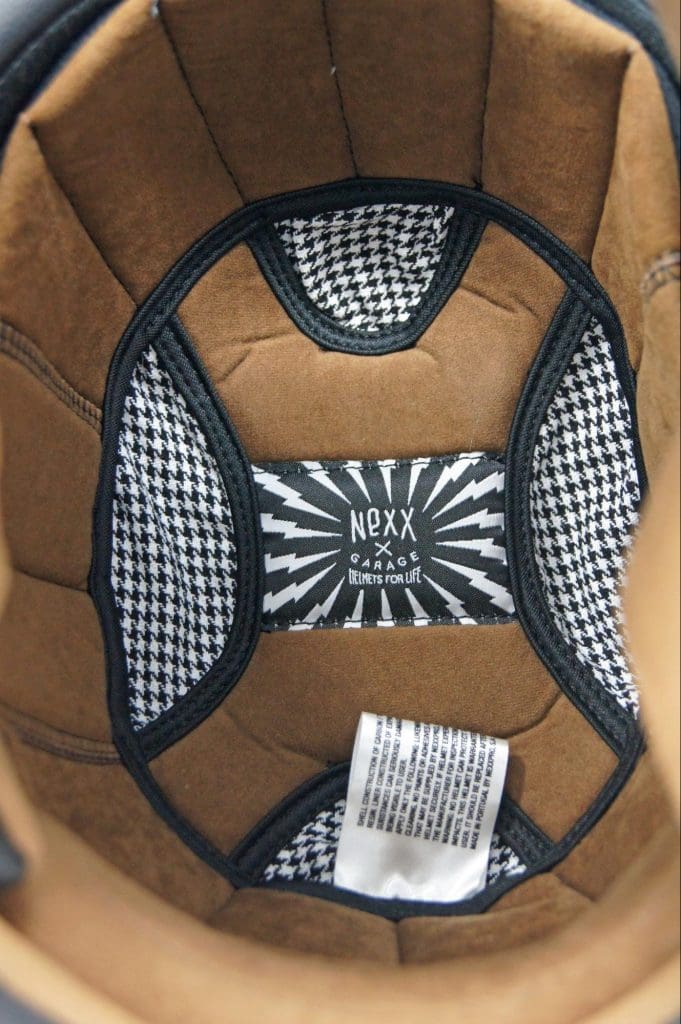 From Nexx: The X-Mart Dry technology brings a soft touch and a clever cooling system Featuring a drying rate, twice as fast as normal cotton and gives extra insulation on colder days. All the interior pieces are fully removable and washable, anti-sweat and anti-allergic.
The interior liner is made up of four removal pieces:
The two cheek pads are held in place with hook and loop (or as I like to call it… Velcro)
The crown is secured with hook and loop at the front and a plastic edging that is tightly secured between the shell and the EPS liner
The chin curtain is secured with another plastic edge insert.
The neck curtain is not removable, however.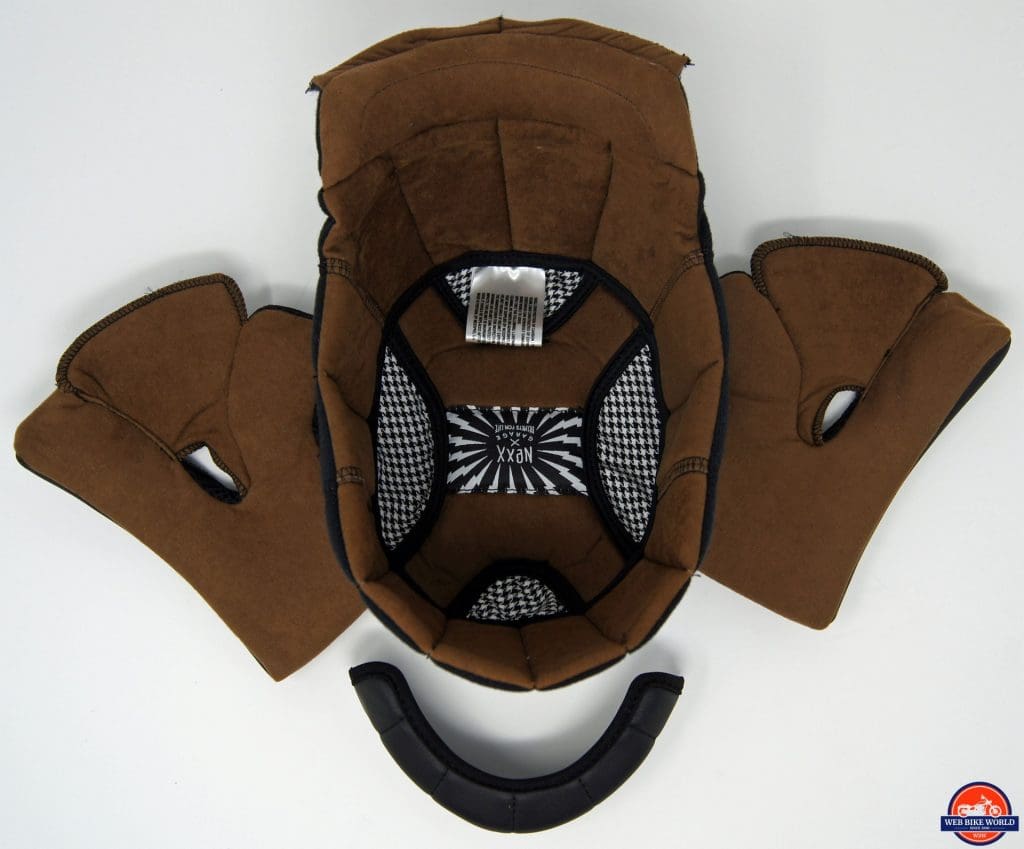 All the pieces remove and reassemble without issue. All pieces can be washed and replaced if damaged. Everything appears to be well made. If you take care of the helmet I wouldn't foresee any issues with durability.
There are no cutouts for speakers in the EPS liner. Also, no cutouts for eyeglasses. I don't typically wear glasses, but because there is no interior sun visor and it came with a clear visor, I did wear sunglasses. I had no issue putting them on or taking them off.
Overall Build Quality
NEXX helmets are fairly new to me, so I was not sure what to expect for quality. I have to say I was pleasantly surprised. The paint quality, fit and finish, and materials used all appear to be very good.
Fit & Feel
Sizing
The helmet comes in sizes XS, S, M, L, XL and XXL. There are two shell sizes available, one for XS to M, the other for L to XXL.
Based on the sizing chart, my 61.5 cm head called for an XL. Based on previous experience I typically wear an XXL. So I went with my gut and ordered the XXL. I found the XXL to fit comfortably snug. I am sure I could have fit into the XL and had a tighter fit. I found the helmet to feel light while wearing.
Comfort
The NEXX X.G100 Racer comes in intermediate oval head shape. This happens to the shape that I find to be most comfortable. The liner felt soft with no pressure points. After wearing the helmet for several hours at a time, I came away very impressed with the comfort.
The helmet also felt very stable. From around town, to 140 km/h runs down the freeway, I never felt any buffeting.
Air Management
The X.G100 Racer has only one chin intake and no exhaust ports. Even though there are channels cut into the EPS liner, because of the lack of exhaust port, there is no way for the air to move over the top of your head.
I found that the air that came in the chin intake immediately moved downward out the bottom of the helmet. I have not had the opportunity to ride in very hot weather, but I expect things could get a bit warm.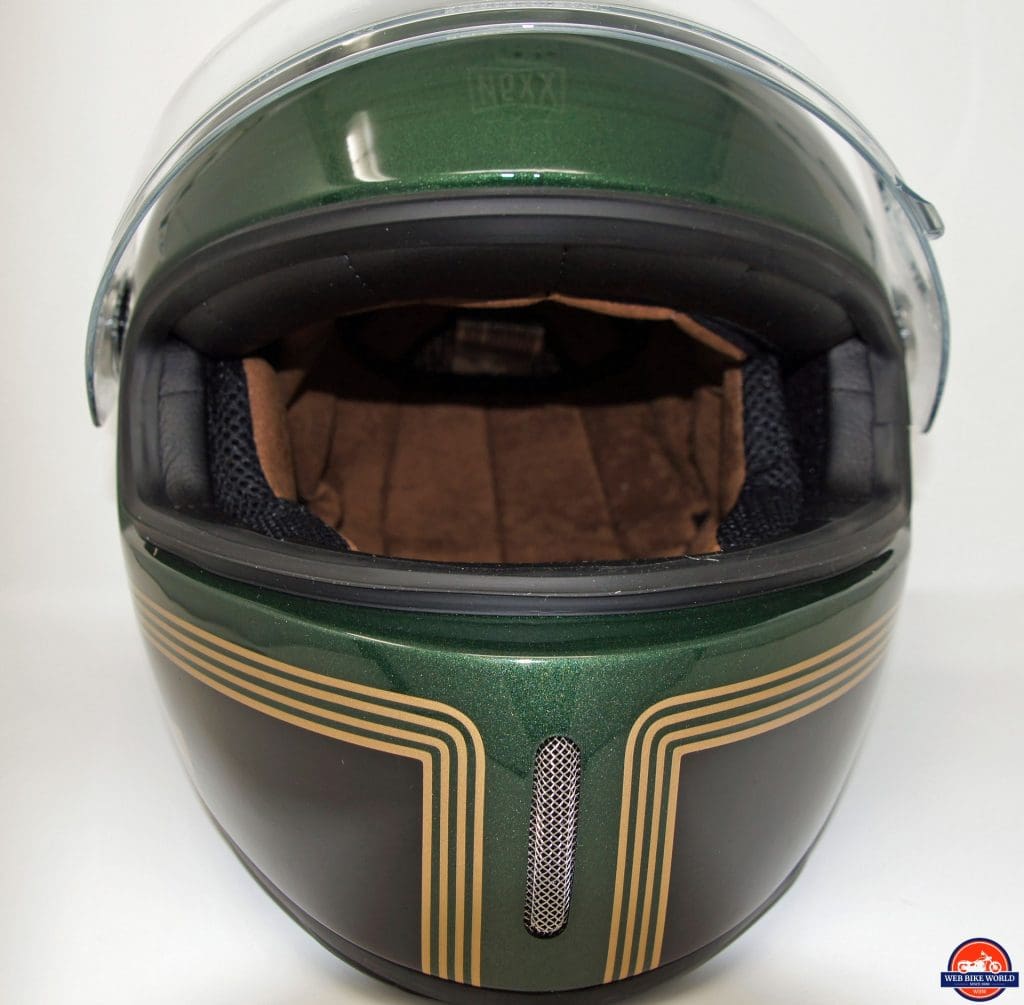 The chin intake can be closed using a slider on the inside of the chin bar. This did a very good job of shutting out air flow on cooler rides.
There is a fixed neck curtain and removal chin curtain. Neither are very large, but do an adequate job of blocking air.
The first time I took a ride using this helmet was on a cool morning. When I first started out the helmet fogged up even though the chin intake was open. This is not unusual for me and typically requires that I crack the visor open to its first setting, in order to allow a minimum of air movement across the visor.
In this case, the first detent opens the visor by over 2 cm. I found this to allow too much air into the helmet. An initial slight opening would be helpful when traveling at low speeds.
Air management is where the biggest compromise is made for retro styling.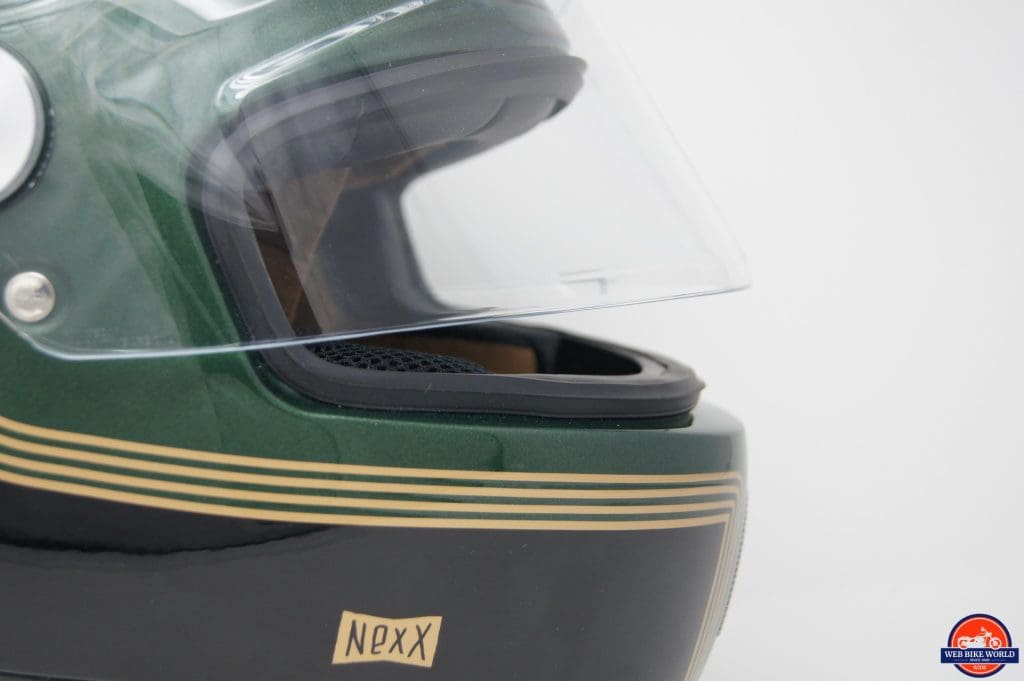 Visor & Vision
The original version of the X.G100 came with a visor that snapped onto the helmet. The Racer model added a traditional visor. To me, the addition of the visor makes a much more user-friendly helmet.
The visor itself is very thick with a solid feel and seals tightly to the rubber seal on the helmet. It has a flat viewing surface made from PC Lexan and is distortion free. It has 4 solid detents. As I mentioned earlier, an additional smaller initial detent would be nice.
The low speed fogging issue could also be solved with the purchase of an optional anti-fog lens insert at a cost of $50. This is not a Pinlock, rather an inner lens that adheres to the visor.
In keeping with the retro styling, the visor is held in place with brushed metal rings. This looks great but will require a screwdriver to remove and install the visor. So, if you want to change to one of the 8 color and tint combinations, it will take about a minute. Not a big issue to achieve the retro look.
Replacement visors cost about $48 for clear, and $58 for color and various tints options.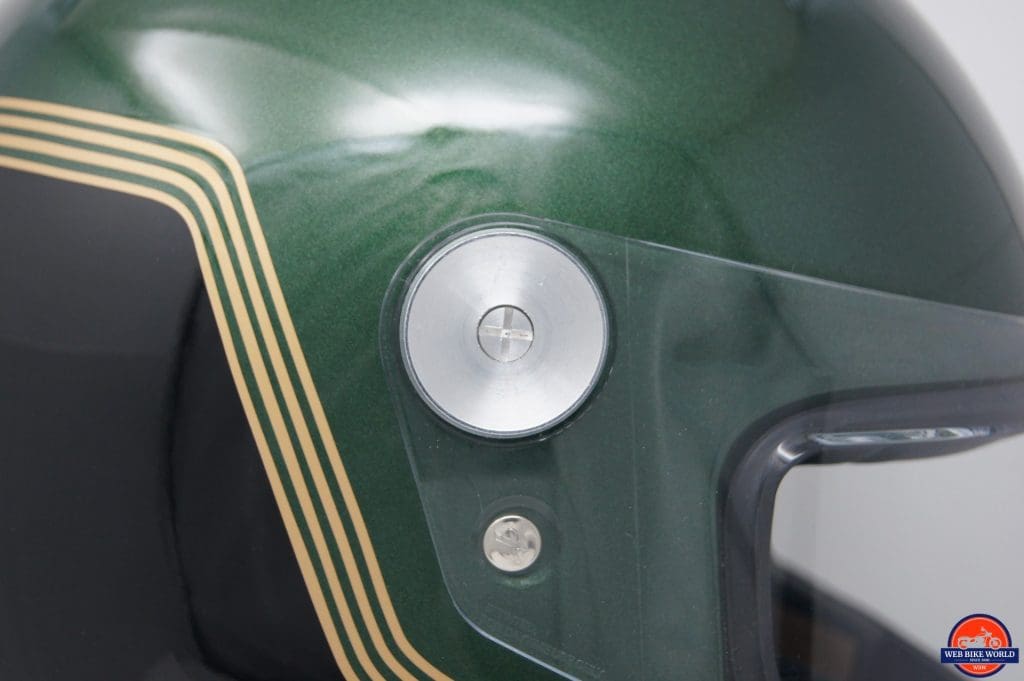 The eye port is far from being the largest around. I could just see the edges in my peripheral, as well as the top of the chin bar. I did not find this at all distracting while riding.
Noise Assessment & Management
Noise assessment, without the tools and skills to measure decibel levels under a multitude of test conditions, is purely subjective. So, as I do not have any highly calibrated tools or the skills to use them, I will attempt to assess the noise levels I experienced using the NEXX X.G100 Racer.
In terms of noise management, this helmet has only one air intake (closable) and no exhaust ports to create air turbulence. Also, the eye port has a tight-fitting seal to the visor. The bottom side of the helmet has a neck curtain and removal chin curtain. While the lack of ventilation deters in some areas, it should help in terms of noise management. I think it does.
I used the helmet on two different bikes, one a naked with a small bikini fairing (Kawasaki ZRX 1100), the other a cruiser based touring bike with a full fairing (Yamaha Stratoliner). I usually ride with earplugs, but for the purposes of this review, I also spent time riding without them.
Behind the full fairing, the helmet was extremely quiet, with or without earplugs.
Riding the ZRX was a better test of noise management. Again, I was pleasantly surprised at the noise levels. It appeared to me most noises were coming in from the bottom of the helmet. The tight seal around visor allowed for very little noise intrusion. 
Given my conditions for testing, I would assess the noise management as very good.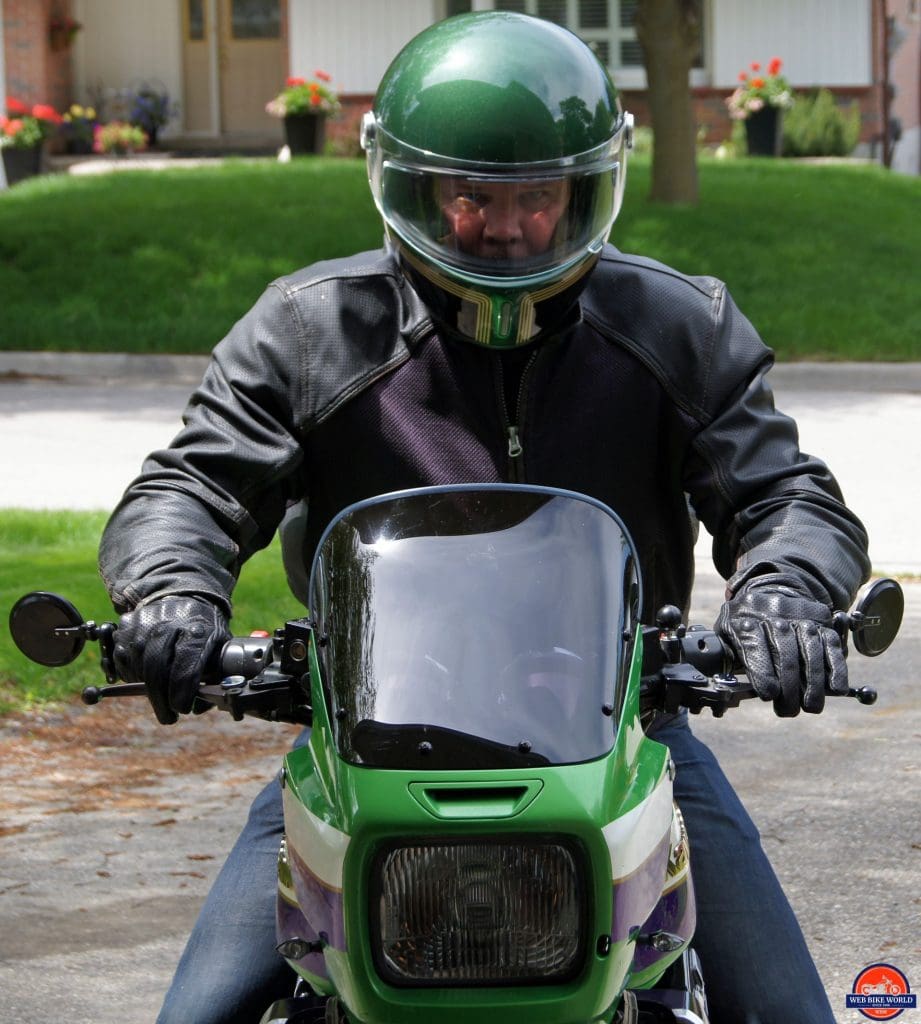 Conclusion
At the sake of sounding like a broken record, most retro helmets are about style and to achieve the retro look there are compromises.
In the case of the NEXX X.G100 Racer, the main compromise is airflow. Extra air intakes and an exhaust port would nice. Also, at this price point, I think the anti-fog insert should be included.
Where there was no compromise, is in the use of quality materials along with fit and finish.
Would this be my helmet of choice if I were going on a multi-day trip… no. Would this be my helmet of choice for an all-day 500 km plus ride… maybe, but not likely. Would this be my helmet of choice for a couple of hour ride with the gang for lunch… ABSOLUTELY!
What it lacks in features it more than makes up for in style. I, for one, really like this helmet. Maybe next time I will try one with bolder graphics and colors… baby steps.
Pros
Fit and finish
Quality construction and materials
High comfort with removable interior
Retro style
Distortion free visor
Lightweight
Cons                     
Airflow
Visor fogging (anti-fog optional)
Lack of features
Specs
Manufacturer: NEXX
North American Distributor: NEXX North America
Price: (When Tested) $429.95 USD or $569.95 CAD
Made In: Portugal
Colors: Multiple colorway options available
Sizes: 2 Shell Sizes: XS, S, M & L, XL, XXL
Review Period: May & June 2019