There is little doubt that MV Agusta is the maker of some of the world's most beautiful motorcycles and now their Superveloce 800 Serie Oro has won a distinguished design award.
The neo-retro motorcycle will be available next year in Australia for $49,990 ride away and $54,990 in New Zealand.
Made on the shores of Lake Verase, the Superveloce has been recognised as one of the Lombardy's region's "Design Excellences".
The region sure knows about art and style with masters such as Leonardo da Vinci's The Last Supper housed in a local convent.
MV Agusta has also won two "Most Beautiful Bike of the Show awards at the EICMA motorcycle show in Milan and was second in our readers' poll of beaut bikes at this year's show, narrowly beaten by Ducati's Streetfighter V4.
Their 1997 F4, designed by the late Massimo Tamburini, has long been considered the most beautiful motorcycle of the 20th century along with his other creation, the Ducati 916.
Design award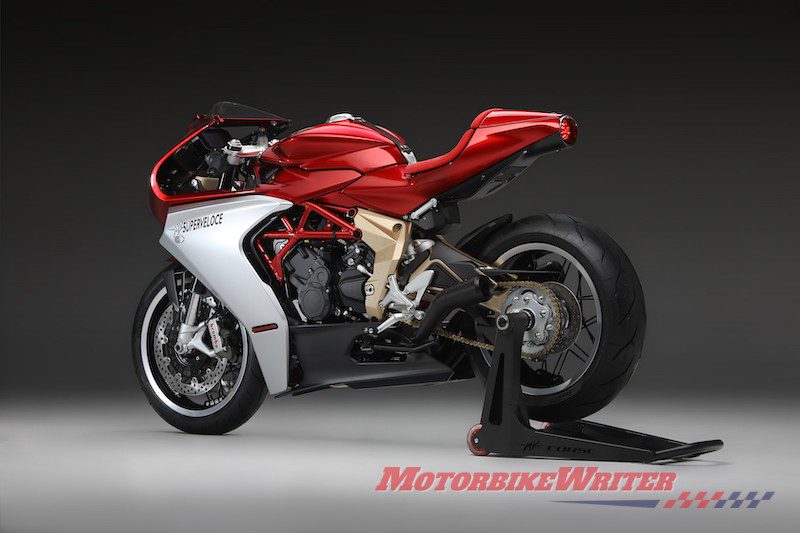 Now the  Design Excellences award's jury was won over by MV Agusta's Superveloce for its "timeless elegance and breathtaking looks".
The Association for Industrial Design and Lombardy's Regional Government have recognised the work of MV Agusta's Centro Ricerche Castiglioni styling team, headed by Adrian Morton, in "bringing significant innovation and originality to the normally conservative vintage-retro segment".
Superveloce 800 is also a candidate for the prestigious Compasso d'Oro 2020 award from the ADI Foundation, whose objectives are the protection and the dissemination of design culture, and also of its legacy, promoting a design ethics of sustainability and quality.
MV boss Timur Sardarov says the award recognises the "hard work and the passion of all the women and men of MV Agusta who contribute, with their daily work, to the crafting of true pieces of motorcycle art".
"They accomplish the daily miracle of shaping beauty and performance into a single object of desire," he says.
MV Design director Adrian Morton says that to receive recognition outside the motorcycle sector is an "incredible honour and a testament to the energy and passion we dedicate to every project".