New importers and distributors of MV Agusta motorcycles have kept a lid on prices, dropped all non-ABS variants and introduced a limited-edition F4 RC which Leon Camier is racing in World Superbikes.
The Briton puts the F4 RC through its paces in the above video. The new race special model was shown at the first round of the WSBK at Phillip Island. The limited-edition model will be available in road and race-ready configuration with 158kW of power (212hp) and 175kg dry.
The video reveals the bike's enviable stats: limiter at 13,600 rpm, 1970 gram lightweight carbon fibre fairing, 1150 grams lighter thanks to the use of titanium, crankshaft lightened 487 grams, 333 titanium bolts, 250 units manufactured, 212 maximum horsepower in "race" configuration, 11 magnesium covers, 11 parts in carbon fibre.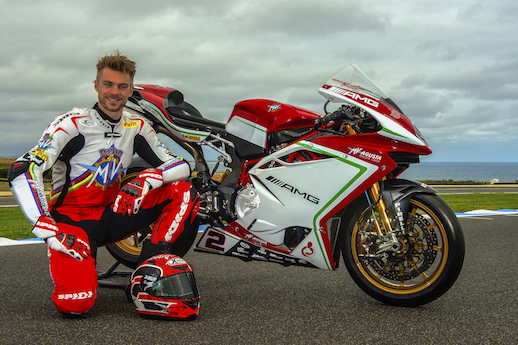 Meanwhile, the big news for MV Agusta fans is the big price savings across the line-up, especially in the models where the non-ABS variant has been deleted.
For example, the Brutale 800 RR was $21,490 for the non-ABS model and $24,490 for the ABS vacant, but is now just $19,999 with ABS as standard which is a $3500 saving.
It's a similar story with the Brutale 1090 RR which was $21,490 and $24,490, but is now just $22,990. Other examples are the F4 range where the new price sits between the previous prices for the non-ABS and ABS models.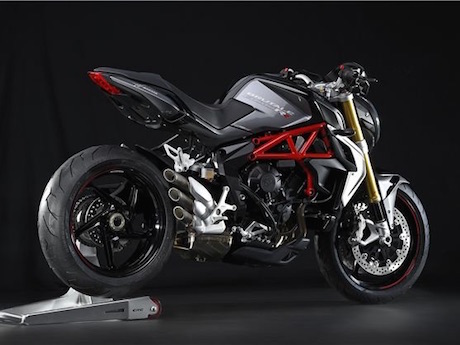 Only two models have had price increases. They are the F3 675 and Brutale 800 which are up only $200.
Urban Moto Imports recently took over as the new distributor of the MV Agusta marque in Australia.
It now distributes Royal Enfield, Erik Buell Racing (EBR), Benelli, Bimota, Confederate and Viper Motorcycles and has a dealer network across Australia and New Zealand.
The new MV Agusta dealers are: Moto Tecnica, Artarmon, NSW; Pollock Prestige Moto, Phillip, ACT, Peter Stevens Motorcycles, Melbourne; Mototecnic, Knoxfield, Victoria; Gold Coast Motorsport, Nerang, Queensland; Motosport Bayside, Capalaba, Queensland; Rising Sun Motosport, Mundingburra, Queensland;Peter Stevens Motorcycles,  Adelaide; Rick gill Motorcycles, Perth; Darwin Motorcycles, NT.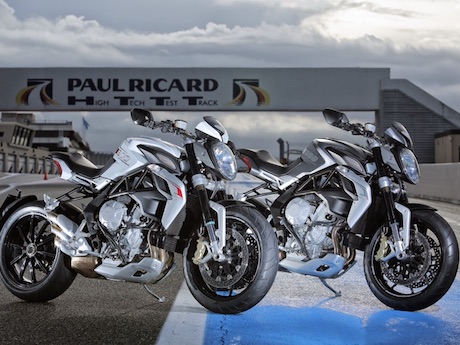 The first two new models received by UMI are the Stradale 800 and Brutale 800 Dragster RR which were showcased at the weekend's WSBK expo at Phillip Island. Stock orders are on their way to Australia.
The next new models for Australia will be the Tursimo Veloce and Turismo Veloce Lusso, but no prices or arrival dates have been confirmed.
2015 MV Agusta price list:
(Former non-ABS and ABS prices in brackets)
Brutale 1090 $19,999 (was $17,990 for non-ABS and $19,990 for ABS)

Brutale 1090 RR $22,999 (was $21,490 and $24,490)

Brutale 1090 Corsa $27,999 ($28,990)

F4 $24,499 ($22,490 and $25,490)

F4 RR $33,999 ($31,990, $35,990)

* F4 RC $55,880

F3 675 $18,699 ($18,490)

F3 800 $19,999 ($20,490)

Brutale 675 $15,799 ($15,990)

Brutale 800 $17,699 ($17,490)

Brutale 800 RR $19,999 ($21,490, $24,490)

Brutale 800 Dragster $20,499 ($20,490)

* Brutale 800 Dragster RR $22,999

* Stradale 800 $19,999

* Turismo Veloce 800 TBA

* Turismo Veloce Lussa 800 TBA
* New models
(Pricing does not include on-road costs. Motorcycles come with 24 month unlimited km warranty and 24 month premium roadside assistance.)