It seems Italian sports bike manufacturer MV Agusta is spreading its wings under new ownership by Mercedes-AMG.
They have just released their first touring bike, the Turismo Veloce 800, and now look like also venturing into the lucrative and rapidly growing adventure market.
CEO Giovanni Castiglioni has confirmed that they will have three new 1000cc models in 2016, including a new F4, Brutale and a "crossover".
That could only mean adventure, but to what extent we are not sure.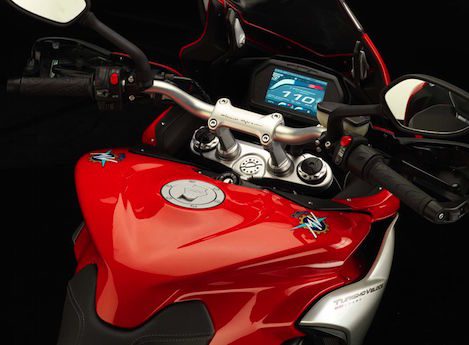 We suspect they will be more like the Multistrada from their fellow Italian manufacturer, rather than Germany's all-conquering BMW R 1200 GS.
Given the AMG influence, we suspect it will be more like the two-wheel equivalent to a Mercedes M-Class than a Jeep Wrangler.
There certainly is a growing demand for "adventure" bikes that are more sports oriented. Just look at new KTM 1290 Super Adventure and the BMW S 1200 XR.
Given the MV Agusta tradition of beauty established in Massimo Tamburini's designs, a big adventure bike will be a real challenge. How do you make an adventure bike sexy? BMW certainly hasn't achieved it. Neither has Moto Guzzi, Yamaha or Honda, although KTM has made a decent effort.
Still, it's a long way from the MV Agusta F4 which has even been shown in art galleries and museums.
Giovani also told a recent congregation of riders at the Gli Amici di Claudio in honour of his father, Claudio Castiglioni, that the new 1000cc MV bikes will be completely redesigned with a new engine and frame.
He says the improved financial status of the Varese company since AMG's involvement would help develop the brand further.