Riding gear with multiple layers usually rates higher for abrasion safety than comparative gear, according to the MotoCAP safety and thermal comfort ratings system for motorcycle jackets, pants and gloves.
For example, leather alone provides about four seconds of protection before failure, but backing the leather with foam, 3D mesh or a leather patch can improve resistance up to 10 seconds.
The Doc explains multiple layer protection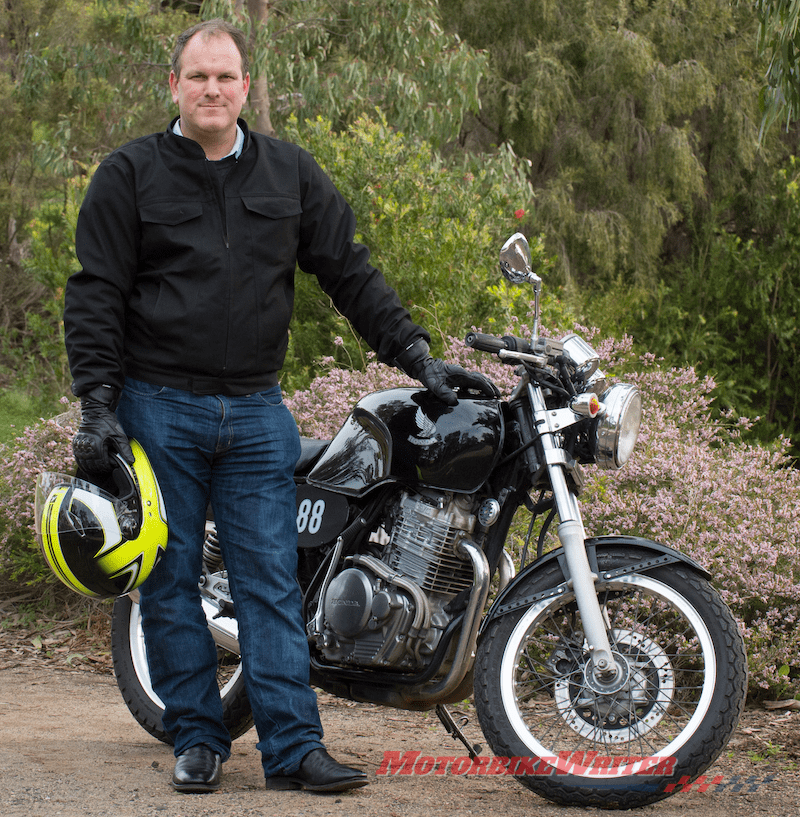 Dr Chris Hurren who manages the Deakin University laboratory that undertakes testing for MotoCAP explains:
The reason it works is because when a garment hits a moving surface it is partially damaged by the initial contact with the road. If there is more than one layer and the outer layer is able to withstand bursting open on initial impact. It then protects any further layers from being damaged and the result is that the combination lasts longer.
MotoCAP, which was launched in September last year, has now rated 201 items of clothing, including 50 pairs of pants, 90 jackets and 61 pairs of gloves.
Last year MotoCAP won a Fédération Internationale de Motocyclisme (FIM) road safety award.
Dr Hurren provides a more scientific explanation for how layers of material offer better rider protection.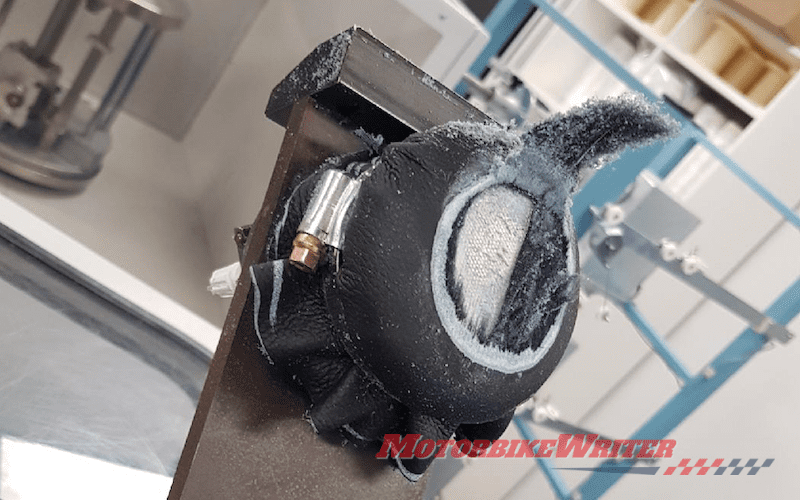 Physics wise, the failure of protective materials is from ripping out of fibres by the macrostructure of the road. This is the same for leather and textiles as leathers are also made up of fibres.

Abrasion damage is affected most by force and area. A small force on a large area will have low abrasion, the same force on a smaller area will have increased abrasion. So considering a glove our body puts a fixed amount of force down the arm on to the ground. If we have the palm of our hand in contact with the ground then the area involved in abrasion is much larger than if we have only the side of the hand and little finger even though the force remains the same.

This is why a little finger in a glove should have a double layer of leather to better protect it than the palm where the force is spread over a larger area. 

Alpinestars GP Plus R2 motorcycle gloves are only the second pair of gloves to be awarded a full five stars for safety by MotoCAP.

When we first hit the road the downward force is very high as we are falling from some height to hit the surface either in a low or high side crash. Of course a high-side crash will have more downward momentum than a low side. This results in large initial tearing of fibres from the surface of the outer material that leads to premature failure.

Once our downward momentum is stabilised and turned into forward momentum only the weight of our body is applying force to cause abrasion. When we have two layers the first one is damaged in the initial hit with the road and then the second layer when exposed is untouched and can withstand a longer abrasion time. It may also have some of the previous layer present at the early stages of the second layer abrasion further helping abrasion resistance. 

Now all of this does not work if the outer material is weak or really stretchy. In both of these cases the outer layer bursts open on impact and the second layer is loaded up and stressed as well. This is why we see a number of the protective layer lined hoodies and ladies leggings performing poorly in MotoCAP. The outer layer bursts open on impact loading the protective layer up to forces it was not designed to be exposed to.

Leggings

An example of this would be a para-aramid liner gets 3 seconds abrasion time under a piece of denim but only 0.8 seconds under a hoodie fleecy fabric. Stretch causes problems because it lengthens the time and force of the initial road impact causing larger forces to be put through the outer fabric. Stretchy fabrics are far more likely to burst open on initial impact with the road due to this phenomenon.