The new Motoz Tractionator GPS adventure tyre can be used in one direction for 50/50 dirt/tar or fitted in the reverse direction at the rider's discretion for "mostly off-road" performance.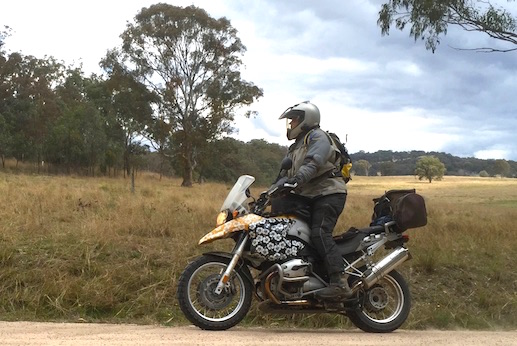 Fellow adventure rider Jim Feehley of Brisbane, who rides an Okanui-printed 2005 BMW R 1200 GS, has been testing a beta version of the rear tyre fitted by Tyres for Bikes in the reverse direction for better dirt traction.

"This Motoz is a bloody good dual-sport tyre in terms of performance and wears improbably well," he says. 
The Motoz Tractionator GPS fitted to Jim's GS has lasted 8700km and he says it could be made to stretch "a little further", but not for another big trip.
"I have never had a rear tyre last more than 5500km, until now," says Jim who usually wears out a Continental TKC80 or a Metzler Karoo in 2000-2500km, and a Continental TKC70 or a Hidenau Scout in 5000-5500km.
He says the tyres have seen "60% dirt and 40% bitumen to get to the dirt" and he runs 38-40psi in the rear and 34-36psi, cold. His Beemer's tyre pressure monitor shows it gets to 45psi hot.
"Very occasionally, in bastard sand or other soft stuff, I will drop the pressures to 28-30/25-27," says Jim who describes himself as "a big unit".
"The grip on the dirt is as good as the Hidenau and much better than a Continental TKC70, a much more bitumen-focussed tyre," he says.
"I have not been able to detect any great side-grip disadvantage compared with a block-pattern rear, like the Continental TKC80 or the Metzler Karoo, but the block tyres do drive better.  
"What the hell, spinning up is fun, particularly when you know you are not tearing up money doing it." 
Jim says tar grip is not as secure as a Hidenau, but the Motoz has never given him any frights when pushing it on the tar.  
"Bitumen grip is better than the TKC80 or the Karoo, which I find OK on the bitumen if you don't chuck too much at them at once – turn more slowly so you feel for max grip rather than just expect it like you can with a good road tyre," he says.
"I have a block-pattern tyre on the front, so the Motoz rear has had the 'slower turn' treatment and it is good with that. Can still occasionally touch the foot pegs down on a good surface."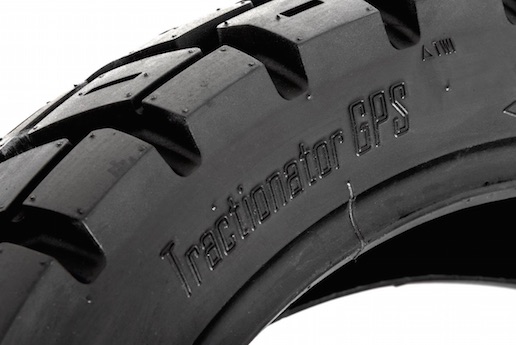 Australian-designed and Thai-made Motoz Tractionator GPS tyres cost $259 for a rear tyre (130/70B 17, 150/70B 17, 150/70B 18, 140/80-18) and $129 for front tyre (90/90-21).
Motoz says that in 50/50 direction, the GPS is a "well-behaved street-able tyre with smooth cornering transition from centre to cranked all the way over".
In "Mostly Off Road" direction the aggressive straight line hook-up is engaged.
They claim it is "technically 25% stronger" and has a deeper tread than most adventure tyres.