Will riders of the future be riding on tyres made from egg shells and tomatoes?
In Australia alone, 48 million used tyres are disposed of each year with two out of every three going to landfill, illegally dumped, sent overseas or simply stockpiled. Only 16% is recycled.
It's a huge environmental issue.
Now Ohio State University scientists are experimenting with a "greener" alternative — tyres made with egg shells and tomato skins.
Tyres are made of rubber and about 30% carbon black which is made from petroleum.
The egg shells and tomato skins would be ground down to powder and used to replace the carbon black.
Researchers Katrina Cornish and Cindy Barrera (pictured) have found that the shells and skins make the rubber stronger without losing any flexibility.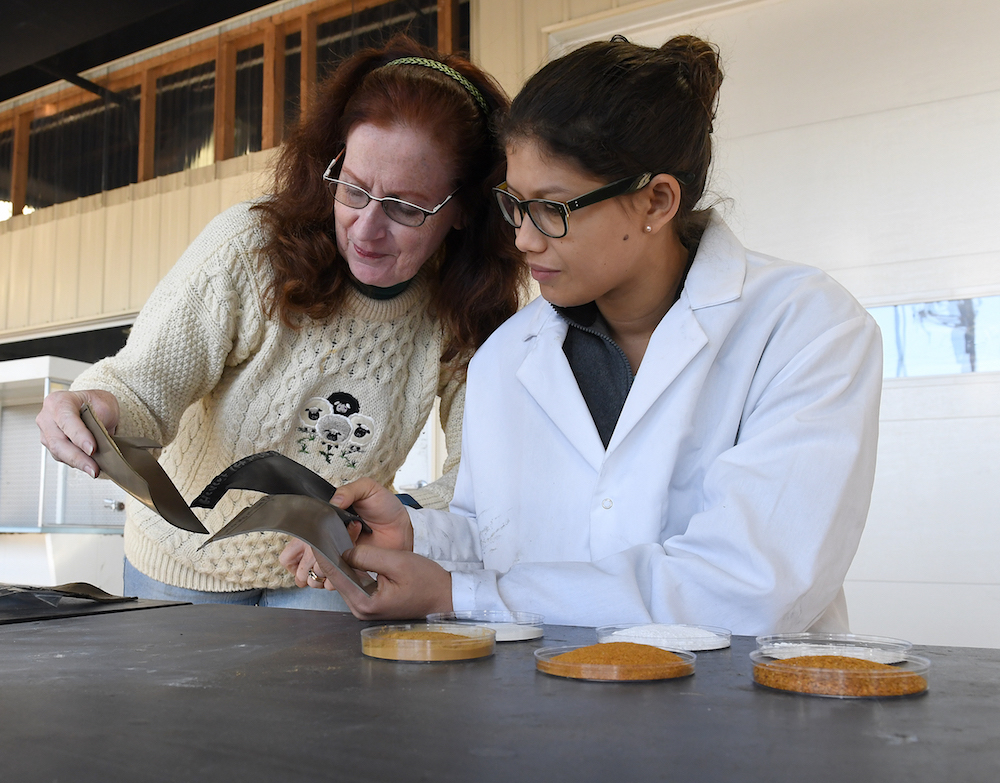 They claim it is due to the porous nature of egg shells while tomato skin particles have tough fibres and remain stable at high temperatures.
It sounds like a good combination for making reliable and sticky motorcycle tyres!
The other advantage is that egg shells and tomato skins are readily available and would make tyre production and disposal more sustainable.
The only drawback is that the tomatoes seem to make the tyres look a tan colour.
That would be fine for brown burnout smoke, but the researchers are considering adding clouding agents to make the tyres black.
Recycling issues
Meanwhile, the Australian tyre industry is considering using old tyres in road materials to make them stickier.
The Tyre Product Stewardship Scheme is exploring the potential for new industries and products from recycled tyres. It will also improve the collection and recycling processes and the reduction of unsustainable disposal practices.
About three-quarters of a tyre is rubber, the rest is mainly steel and textiles. About 95 per cent of all used tyres are left at the tyre dealer where they are stockpiled for collection.
The problem is there is no large-scale recycling program available, so the tyres are stockpiled or illegally dumped which they become breeding sites for mosquitoes and vermin.
If they are used in landfill, they take ages to degrade, meanwhile creating potential fire hazards and collect landfill gases. Sending the problem overseas is also an environmental disaster as many countries burn old tyres for fuel.
Major tyre manufacturers Michelin, Yokohama, Continental, Goodyear-Dunlop, Toyo and Pirelli have financially backed the establishment and the initial operation of the Tyre Stewardship Australia.
The voluntary scheme, authorised by the Australian Competition and Consumer Commission, will focus on promoting innovative use of tyre-derived products and development of new markets, as well as educating industry and the public about the benefits of sustainable recycling.
Apart from old tyres being used to make safer, stickier road surfaces, they can also be used for soft fall playground surfacing, brake pads, industrial and commercial flooring, explosives, or in civil engineering and for fuels for energy recovery.