There are motorcycles all over the official trailers for the upcoming Tom Cruise Mission Impossible 5 movie.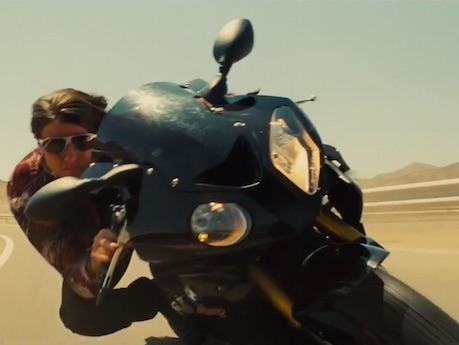 If it's any indication, the fifth instalment, called Mission: Impossible – Rogue Nation, should be an action-packed motorcycling bonanza.
Featured bike seems to be blacked-out BMW S 1000 RR sportsbikes. Tom rides one, the baddies ride them; everyone seems to have one!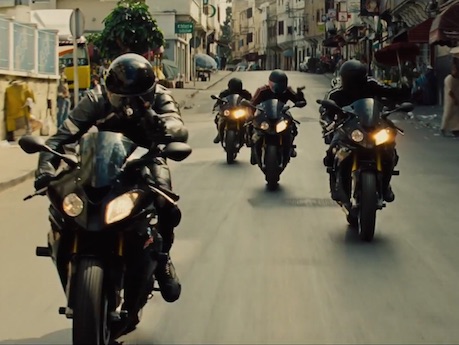 We all know Tom is a bike nut and it seems he must include a motorcycle component in any movie contract he signs.
It all seemed to start over 30 years ago with Top Gun where he famously races a jet on the tarmac with his Kawasaki Ninja GPz900R.
Other movies in which Tom has starred alongside motorcycles include other Mission: Impossible 2, Oblivion, Knight and Day, Edge of Tomorrow and even when he is not riding bikes in his movies, he often rides to the set on one of his many motorcycles.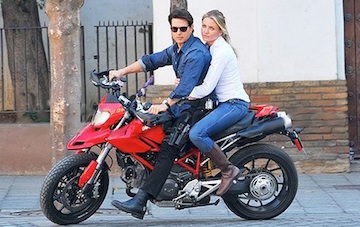 Tom seems a capable rider and has done much of the stunts in movies, even with Cameron Diaz on the back in Knight and Day.
In this Mission Impossible 5 trailer, he appears to almost get his knee down while riding a BMW S 1000 RR on the highway – without a helmet!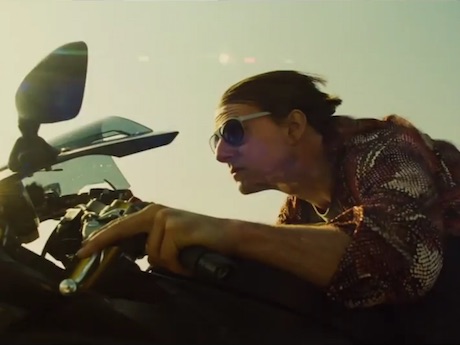 We're not sure if this was done in a studio with a green screen background, but it sure looks real!
Tom began riding at the age of 10 and owns several motorcycles including a Vyrus 987 C3 4V worth more than $100,000.