The only good news about the economic downturn and consequent drop in motorcycle sales in Australia is that your motorcycle is now a little bit safer from theft.
Motorcycle thefts were down 3% to 8056 in the 2016/17 financial year with the biggest drops in Western Australia.
According to National Theft Reduction Council executive director Ray Carroll, the mining downturn in WA has decreased demand for bikes.
"A very large contributor to the overall decline has been WA which traditionally has had a very high level of motorcycle theft," he says.
"The timeframe of the decline in WA has pretty closely mirrored the decline in the WA's economic fortunes since the mining downturn. 
"Contrary to popular belief, theft doesn't always go up when economic conditions deteriorate.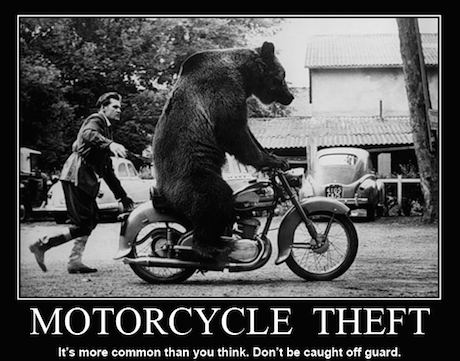 "Rather, when economic times are good and there is a more discretionary expenditure available demand is higher and more activity and trading takes place. 
"Crooks also respond to this higher level of activity and more theft is likely to take place." 
Ray says most of the other states have been fairly flat in theft rates.
"Although the increase in Victoria mirrors the very large increase in all vehicle theft that Victoria has experienced over the past couple of years," he says.
THEFT RATES 
(2015/16 to 2016/17)
State or Territory
2015/16
2016/17
% change
Thefts
Thefts
ACT
111
106
-4.5% 
NSW
1,377
1,560
13.3% 
NT
141
124
-12.1% 
QLD
1,447
1,527
5.5% 
SA
584
547
-6.3% 
TAS
118
109
-7.6% 
VIC
2,301
2,167
-5.8% 
WA
2,227
1,916
-14.0% 
AUS
8,306
100.0
8,056
100.0
-3.0%
Other interesting motorcycle theft statistics:
45% of stolen bikes (3625) were recovered;

Unregistered and off-road bikes account for 33% of all missing motorcycles;    

Unlike other vehicles—newer motorcycles (made between 2007-2015) make up 64% of thefts and are more at risk than older ones;

Bikes with engine capacities of 200cc or less were the biggest targets (26%), followed by  those in the 201-250cc range (11%).  Large bikes above 750cc made up just 8%.

The risk of multiple thefts from a single location is much greater; and

In thefts notified to police—in respect of non-registered motorcycles—the VIN is reported in only two in five cases.

Be vigilant at home
Ray says riders should be vigilant against theft, even at home.
"Where theft location is known, almost 70% of motorcycles were stolen from the home compared with just 12% from the street," he says. 
The low recovery rates of stolen motorcycles are driven by the ease with which motorcycles can be disassembled and sold for parts.
In the case of off-road motorcycles, recovery is more difficult because of the absence of "mandatory" transactions at which a suspicious vehicle may be detected.
"Developing effective interventions for any vehicle outside the mainstream registration system is extremely difficult for this reason," Ray says. 
"There is general consensus that for on-road bikes the demand for parts is the principal driver of theft.
"In some cases, the value of separated components is considered to exceed that of complete units.
"There are also anecdotal reports that many stolen motorcycles are broken down and used for spares in amateur motorsport events."