Motorcycle sales continued to tumble in the first half of this year, down 5.9% on the first half of 2017 and 10.5% on the 2016 half-year result, according to the FCAI figures.
It's not good news for the industry, but good news for riders with July sales expected.
The only good news was a 10.9% resurgence in scooter sales which have suffered massive declines for several years, dropping to just 4.4% of the market. The biggest mover was the Honda Dio scooter (top image), up 114.4%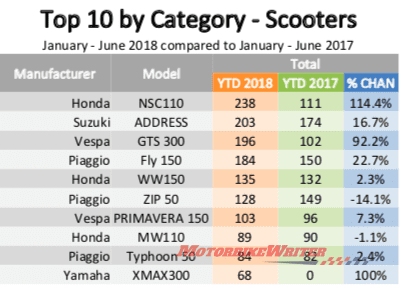 Sales tumble
Sales of all scooters, road and off-road bikes and ATVs totalled 47,942 compared with 50,939 for the same period in 2017 and 53,084 in 2016.
Road bikes are still the top seller with 39.8% of all sales, but took a 5.3% tumble to 19,075.
Honda was the leader selling 3853 or 20.2%, followed by Harley-Davidson selling 3629 (19% share), which was an 18.1% decline over the same period last year.
Yamaha was third selling 3014 units (15.8%), increasing its share of the segment by 5.2%.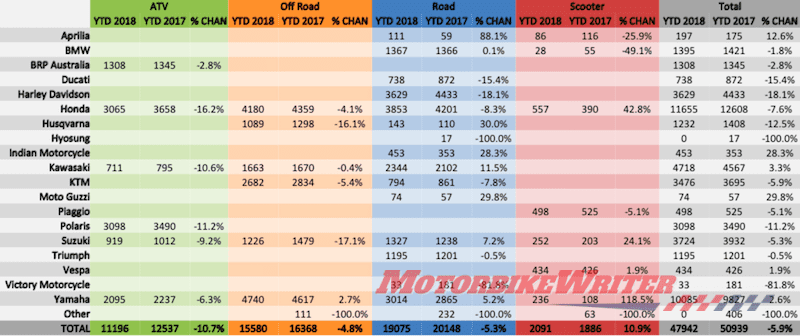 The segment most affected by the 2018 downturn was ATVs and SSVs with a 10.7% fall.  Off-road bikes were less affected but declined 4.8%.
The overall market leader was Honda, selling 11,655 new bikes (down 7.6%), but still commanding 24.3% of the overall market.  Yamaha was the second largest seller (10,085 units), an increase of 2.6% on the same period last year and with a 21% overall market share.
In third place overall was Kawasaki, selling 4718 (9.8% share) and also increasing its share of the overall market by 3.3%. Suzuki came fourth with 3724 or 7.8% of the market, while Harley-Davidson was fifth with 3629.
It should be noted that manufacturers not included in the official FCA figures are mainly small-volume brands such as Benelli, Bimota, Bollini, CFMoto, Confederate, Daelim, EBR, Kymco, Laro, Megelli, Mercury, MV Agusta, PGO, Royal Enfield, SWM, SYM, TGB, Ural and Viper.