(Article by Mike Ray*)
Few countries promise such fantastic motorbiking opportunities as Australia. With endless kilometres of the open road and some spectacular vistas, it's little wonder that many people come to the nation to enjoy the ultimate motorcycle road trip.
Recently we've seen an explosion in the popularity of motorbiking. Motorcyclists and their clubs have been frequently portrayed in movies and the media generally, giving rise to a "biker culture". This has gone out to influence anything from the looks of other sub-cultures such as punk and heavy-metal to tv shows like Sons of Anarchy and legendary games like GTA. Its influences have even been felt in the iGaming industry too, where a great deal of online pokies in Australia feature slot games that are trying to embrace this feeling of liberty and give players a taste of adventure. So it's no wonder that more and more people are answering the call of the open road to feel the wind on their faces and observe different sceneries zoom past their eyes.
But what are the must-see destinations in your Australian motorcycle road trip?
Western Australia – Walpole To Albany
We have already revealed that there's no shortage of great rides in Western Australia. This vast state is packed full of beautiful destinations for a good bike trip. But there's little denying the fact that the route from Walpole to Albany offers perhaps the best ride.
This trip takes you all the way down the South Coast Highway, and you'll get to check out numerous quaint small towns on your way. Keep your eye out for oddities like the Denmark Dinosaur World, but ultimately this bike trip is all about the beach.
By the time you get to the coastal city of Albany, you'll be ready for the perfect picnic on excellent beaches such as Middleton Beach or the quieter Little Beach. After all, you'll have travelled well over 100 kilometres from Walpole, so you'll need a break.
Queensland – The Lions Road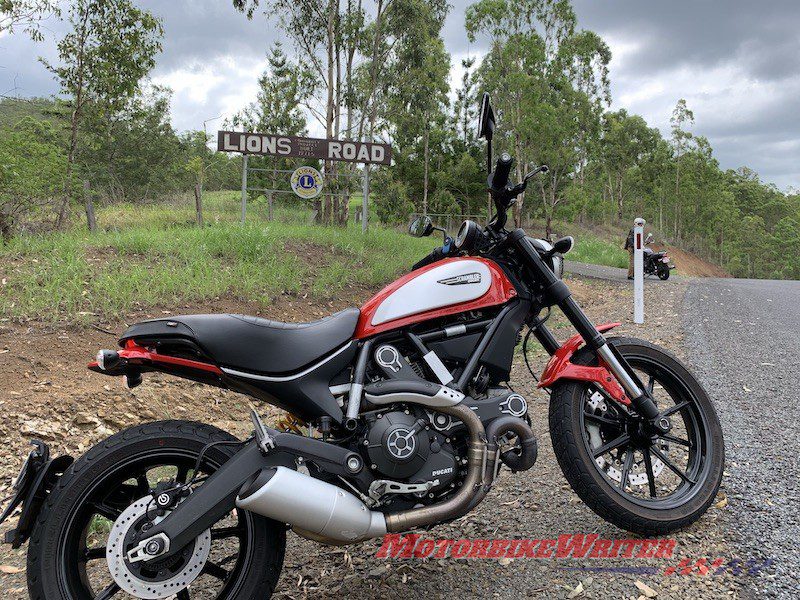 The Lions Road is one of the most famous motorbike rides in Australia, so there was no way that we were going to miss this road from our shortlist.
After all, it's an endlessly enjoyable ride through nearly about 50km of the stunning scenery that takes you across the Queensland/NSW border. The Lions Road was initially built to help farmers move produce but now also serves travellers exploring the lush forests of the Scenic Rim.
There's plenty of fun to be had in navigating the twists and turns as you pass through the Border Ranges National Park. Just don't forget to stop off at top cafes like the Shed Cafe at Rathlogan Olive Grove or the Bean To Cafe in Beaudesert. 
New South Wales – Kangaroo Valley
If you are willing to take your motorbiking up a level, then you should definitely consider heading out to Kangaroo Valley. This twisty route will take you between the imposing Cambewarra and Barrengarry mountains, and the stunning rainforests and surrounding countryside will make the trip a ride to remember.
Some of the highlights include the Hampden Bridge that crosses the Kangaroo River but don't forget to check out the 822-metre Fitzroy Falls. You can only get here by navigating through the single-lane Illawarra Highway, but it's all part of Australia's most beautiful valley and is perfect for a good bike trip.
Tasmania – The West Coast
Tasmania is one of Australia's overlooked gems when it comes to motorbikes. But there are many reasons to head to the island, as everything from the agreeable weather conditions to the well-kept roads and relative lack of traffic make Tasmania a biker's paradise.
There are many places to enjoy on this island state, but we'd recommend taking a trip down the wild and astonishing West Coast. As soon as you leave Hobart via the Derwent Bridge, you'll be treated to magnificent waterfalls, old mining towns, and some seriously unique landscapes.
We'd recommend taking a slight detour through the Franklin-Gordon Wild Rivers National Park. This is home to endless mountains, gorges and tranquil rivers, and would make for the perfect stopping off point for yet another relaxed picnic on the road.
About the author
(*Author Mike Ray is a motorbike enthusiast and adventure lover who grew up watching motorbike races and now is on a mission to travel the world and discover awesome places.)