What's cooler than riding your motorcycle with your headphones on cranked up to your favorite track while riding? Wearing a pair of headphones beneath a motorcycle helmet previously seemed impractical, but now it's a reality. How is this possible? It's really not that complicated.
There are several varieties of headphones for installation in a motorcycle helmet on the market. Obviously, these devices come in different styles and possess additional features. Arriving at the perfect headphones can be confusing without having an informed position and riding also has additional concerns compared to driving. Forget all that if you are the passenger on the back and crank up the jams! Ok, at least pay attention a little bit, you are the co-pilot. So in order to make an informed decision, you need to know the options. Here are the:
Top Selling Headphones for your Motorcycle Helmet
So everyone wants their headphones to produce a quality sound and comfortably fit. The latter is a concern and consideration for installing these into your helmet. Do they remain on or around your ears? Headphone 4; Skullcandy model comes with an amazing design that gently slips onto your helmet ear pads. Later designs come with adhesive which are fastened to the inner helmet wall. There are some designs where a clamp attaches the headphones to the helmet.
Is a microphone necessary? Advanced headphone communication kits contain headsets which permit phone calls without having to remove your helmet, or you can go with a fully equipped Bluetooth Helmet. You can also play your music of choice from your phone music player. All it takes is to synchronize the connection. Most of the helmet headphones have their controls for volume on their cord so you can access them when riding. Certain models are glove-friendly; controls can be adjusted without taking them off. Wireless models exist too.
Reviews – The Best Headphones for Motorcycle Helmets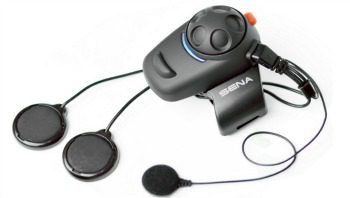 1. Sena SMH5-02
Our reviewers rated this as the top gadget. The decision probably arises from the advanced technology it displays. Its small speakers deliver quality sound. The Bluetooth 3.0 feature permits connectivity between your phone, music player and GPS. The intercom feature enables up to three of you riders communicate.
Simple voice commands activate these features so your navigation and focus remains on the road. The high level of safety which comes with the Sena SMH5-02 puts it at the undisputed number one spot.
With a simplistic and durable design two speakers are linked by a thin wire and to deliver engineered studio quality sound.  Helmets embedded with ear pouches are best to accommodate audio drop in headsets. Your helmet receives its signal reception wirelessly via bluetooth, and add in resistance to sweat and water.
These also include built in microphones to allow receiving calls when connected to your phone. Ideally, adding these to a half helmet will allow easy operation of the buttons without removing your gloves.
3. IASUS XSound 3 – 
The Xsound 3 delivers maximum sound
experience. In IASUS the speakers are crafted with aluminum with wires out to protect the circuitry integrity and audio quality. The device produces smooth and solid notes bass notes and the quality of the treble is crisp. The thin speakers have a wider depth to facilitate audio reverberation, which needs to be accounted for when installing them into a full face helmet. They are slid into ear pouches like the OT0032.
There are raving reviews about these headphones because of their quality and ease to use. They have 2 cables one for music control another for audio only. During testing we found that there is a big improvement in terms of quality. There are adjustments for armature drivers, new shell acoustics and diver placement.
It's important to install speakers or headphones into your helmet well. All of the above headphones are amazing but only if you install them correctly. Before installing them you need to crank the headphones all the way up (not for too long though) and see how loud they get. This will help decide where to place them. Should you install them directly over your ears and they accidentally get turn all the way up, you wont encounter any dangerous situations on the road.
Even if you have a modified intake and you have extremely loud exhaust on your bike, with right headphone installed you can still enjoy your favorite music at freeway speed. Happy riding!
[schema type="review" url="http://webbikeworld.com/motorcycle-helmet-headphones/" name="Motorcycle Helmet Headphones" description="Not all headphones are suitable to go into your precious motorcycle helmet. These are." author="Karl Steinmeyer" ]
See also: Noise Cancelling Earrbuds