Motorcyclists are fond of accessories, gadgets and hi-tech gizmos that make their life easier and their riding more enjoyable.
Here is the latest list of interesting gadgets and gizmos:
PHONE MOUNT
Your smartphone is now one of the most vital gizmos on your bike, replacing your GPS, camera, iPod, etc. The Interphone Smartphone Pro Case Bar Mount Holder allows you to see and access your phone while keeping it safe from water, dust and impact. It is also glove-friendly and costs just $89.95.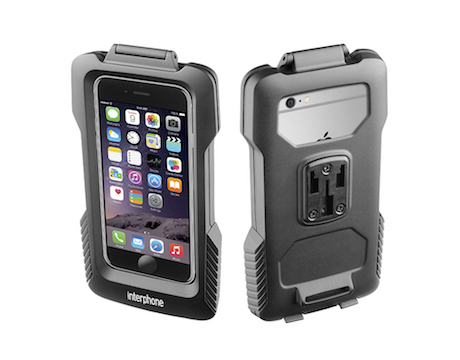 HELIX LANTERN
Adventure riders who sleep under the stars need a lightweight and compact light such as the Helix Lantern Series which has up to 50 hours of bright (250 lumens), rechargeable light operated by a smartphone that controls the dimmer. The lights weigh from 150g to 358g and are water resistant. Prices range from $79.95 to %199.95.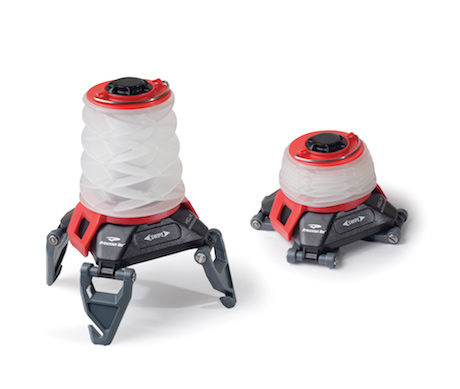 DIGITAL TYRE GAUGE
While a mechanical tyre gauge is the most accurate, the Oxford Digi Tyre Gauge has a large back-lit display for easy reading in the dark and a wide choice of pressure scales. It also features a rotating dual valve system to access any valve stem and a pressure release valve. Price is $39.95.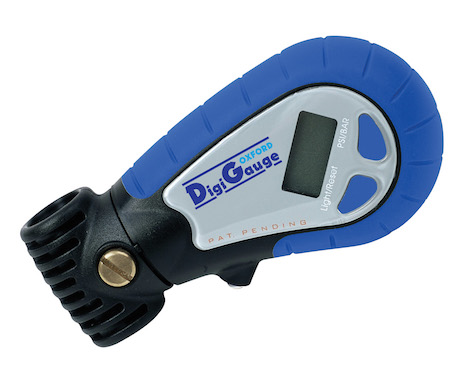 OFF-ROAD TOOL KIT
The Velo Sport Off-Road Tool Kit has everything you could need and more. It consists of 8, 10, 12, 13 and 14mm wrenches, a spring puller, 9piece metric hex ball end set, a pair of tyre irons, an air pressure gauge, locking pliers, an adjustable wrench, a 2-in1 spark plug socket, 6-in1 screwdriver, 6-in1 spoke wrench, 3 way T-handle with 8, 10 and 12mm sockets, a valve core remover and repair tool, a tyre repair kit (rubber cement, scuffer and patches), an assortment of metric bolts, and some zip ties. It costs $159.95.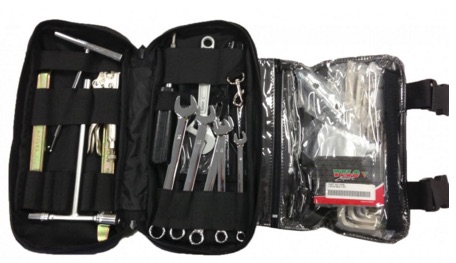 CHAIN LUBRICANT
You should always have a can of chain lubricant in your saddlebags. This Ipone racing chain lubricant from Japan costs $23.95.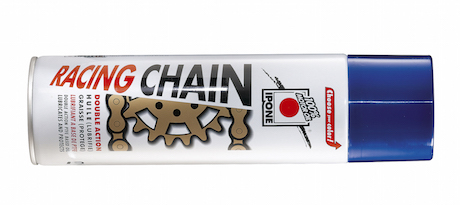 MOTORCYCLE COVER
Oxford know how to keep the rider warm and dry and their Rainex Deluxe Cover does the same for your motorbike. It also features handlebar air vents to prevent condensation and a soft liner to prevent scratches. A notable safety feature is the heat resistant lining, in case the cover comes into contact with a hot exhaust. Cost is $99.95.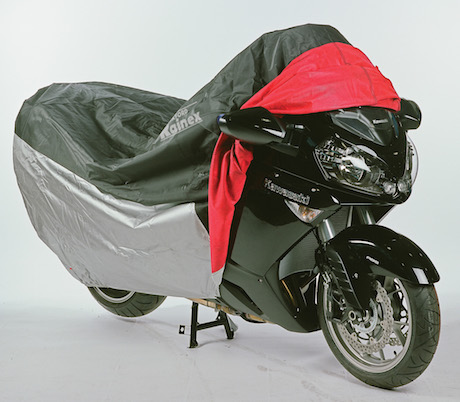 STAR WARS WATCH
And if you are super-hi-tech and money is no object, you might want to check out the Devon Star Wars Watch. Ok, it's not really motorcycle oriented, but how cool is it! You'll look like darth Vader with one of these. It's powered by a belt-drive system with four glass-reinforced nylon time belts paired with four microstep motors to display the time. There is a total of 313 electrical contacts and 350 individual parts. But wait for it … the price is $US2500 just for a deposit. the watch actually costs $US28,500! For that you could buy another bike.