Moto Guzzi retains its retro good looks and that traditional formula of shaft drive and a transverse 90-degree V-twin air-cooled engine with the new V9 Bobber and Roamer models which have just arrived in Australia.
While other retro manufacturers like Triumph have moved to water-cooling for their Bonneville models to meet tough new Euro 4 emissions targets, the Italian brand's iconic V-twin still sticks its heads out in the breeze for an efficient, low-maintenance cooling system.
They just wouldn't be Guzzis if they did anything else!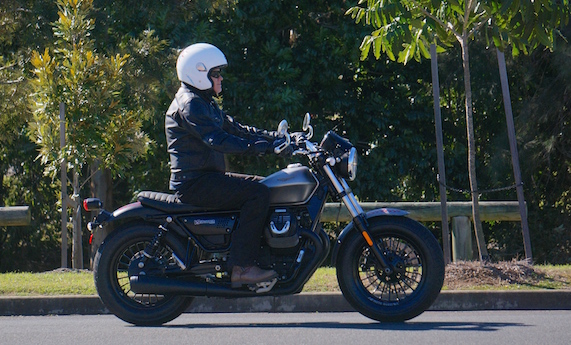 The V9 Roamer and Bobber arrive at $16,500 ride away, which makes them $2500 more than the V7 II Stone and more expensive than Triumph's 900cc Triumph Street Twin at $13,350, but less than the 1200cc T120 at $17,000.
The completely new V9 platform is basically a slightly beefier version of the retro 750cc V7, but with a much smaller 15-litre tank compared with the V7's 22 litres.
So it is more of an urban-cool cafe machine than a country tourer.
Moto Guzzi Australia boss Ezio Forcella describes them as "city bound".
The V9 Roamer comes in Giallo Solare (yellow), Bianco Classico (white) and Rosso Rubino (ruby red) while the V9 Bobber comes in Nero Massiccio (black) with yellow highlights on the tank and guard and Grigio Sport (grey) with red highlights on the tank and guard.
Ezio predicts the Roamer will appeal to an older demographic, while the fat-tyred Bobber will appeal to the younger crowd which is who he wants to attract and which may be why it's the bike I was supplied for this test.
Even though it costs an extra $2500 over the V7, Ezio believes it could overtake the 750 as the most popular model in the Italian's fleet. After all, many believe there is no replacement for displacement.
The V9 bikes look like they have already been customised, yet Moto Guzzi also has a range of accessories for further personalisation as well as a dedicated range of rider clothing and even open-faced Euro-approved helmets that match the two bikes' colours.
This is part of Guzzi's new drive to create brand loyalty.
Close inspection of these bikes reveals high levels of detail and excellent build quality which has been the case since Piaggio took over ownership in 2004.
The test bike also came with some high-quality aftermarket accessories such as bar-end mirrors, chromed grips and engine covers.
I particularly love the frosted black feel and look of the Roamer's bars, valve covers and exhaust.
As an older rider, I was initially drawn to the prettier Roamer with its flashy gloss paint and chromed pipes.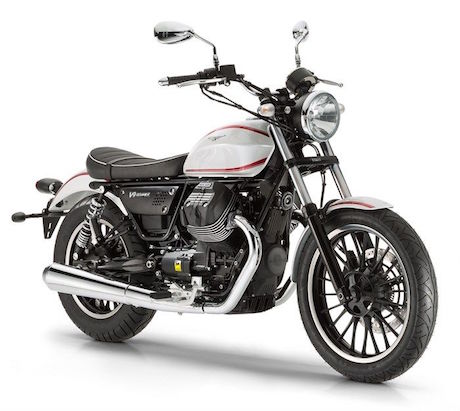 However, the Bobber's bobbed fenders, balloon tyres, blackened exhausts and smaller 16-inch front wheel create quite a macho impression.
Throw your leg over them and they feel like many other Guzzis – asymmetrical and odd. If you're tall, your knees or shins may hit the heads or intakes and the tank won't quite sit square between your legs.
The Bobber has a more natural riding position with a slight reach to the higher drag bars, while the Roamer bars are just way too close for me.
The Bobber seat is 5m lower than the Roamer at 780mm, but it's narrower than the Triumph and most people should comfortably get their feet on the ground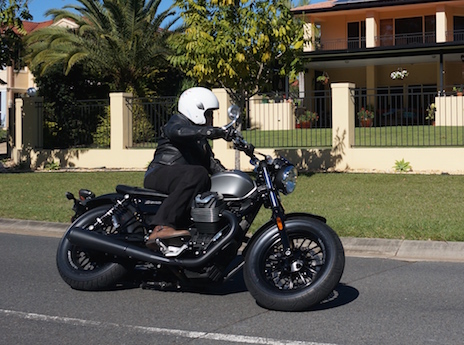 Pick the bikes up off the side stand and they initially feel heavy at 199kg dry. However, the centre of gravity is low so they feel lighter as you bring them to their balance point.
Controls are fairly standard, but there is a "Mode" button in the middle of the classy left switch block that toggles through all the new electronic features and provides a comprehensive array of information from the single-pod instruments including a quirky daily trip meter that resets if not used for several hours. You can also key in a personal pin code to immobilise the engine to deter thieves.
And if you download the Moto Guzzi Multimedia app and attach your smartphone to the bars, you can get a whole lot more info on your screen – not just speed, rpm, instant and average fuel consumption, average speed and battery voltage, but also engine power and torque, lean angle, longitudinal acceleration and an extended trip computer.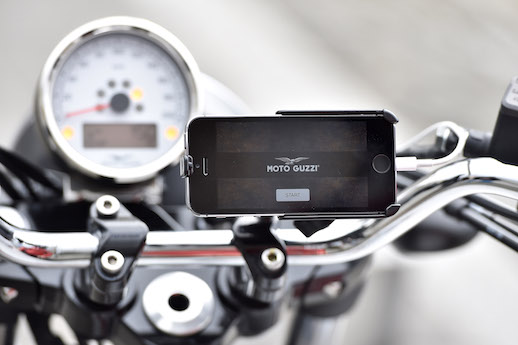 It also records the position of the bike in case you forget where you parked it, shows you where the fuel stations are when you get low on fuel and even guides you on how to ride economically.
If you need to power up your smartphone, there is a USB socket under the seat.
So it may look very retro, but it's also ultra-modern.
Yet, it's sadly and strangely missing a fuel gauge and self-cancelling indicators, something most competitors have had for some time.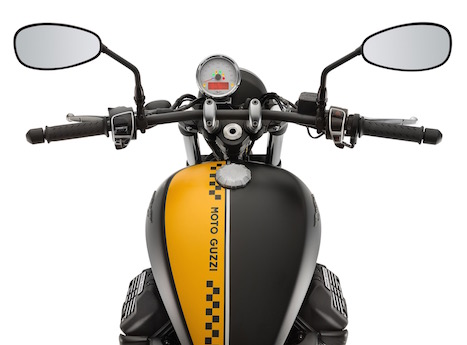 Despite all that hi-tech gadgetry, it still feels like a Guzzi when you fire up the V9 with the bike shuddering side to side in a pulse that Guzzi fans adore.
That sideways shuddering can make it feel unsteady at slow speeds, but translates to a nimble feel when you get moving.
Old Guzzis had an characteristic torque effect that made the bike unnervingly lurch to the right when you blipped the throttle.
It's still there in the V9, but it has been watered down by a heavier flywheel for 30% more engine inertia. However, you should be aware that, if you give it a bit of throttle it will lean a little more in a right corner and stand up in a left corner.
The combination of the smaller 16-inch front wheel with fat 130mm rubber makes it steer nimbly, but also provide plenty of grip confidence for throwing it into a corner.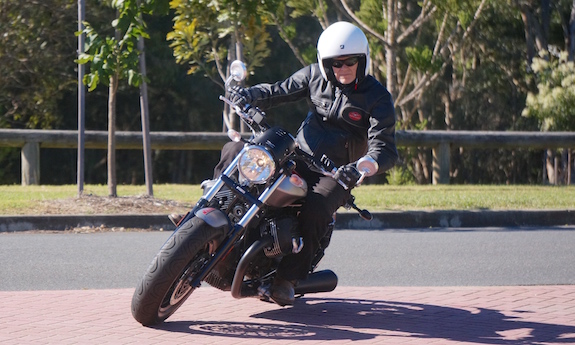 However, the lack of clearance will soon have you grinding the footpegs and the sidestand (in left corners). In fact, the lean angle is even less than on my 2010 Triumph T100.
The suspension is much better than my Bonnie, though. It's firm, but has good damping so it hugs the road while letting you know the every contour of the road surface.
The rear shocks are adjustable only for spring rate in case you are heavy or want to double someone on the shortish bench seat.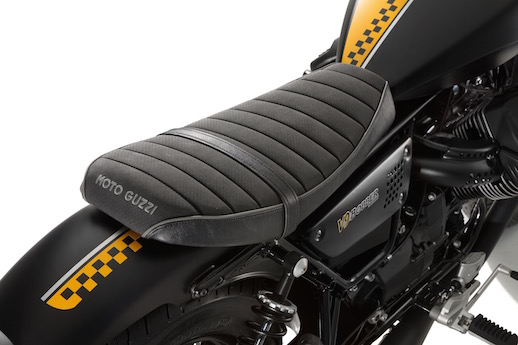 Ezio says you can also get a solo seat or a longer two-up seat.
Hopefully they are more comfortable than the thin and firm standard seat. After more than half an hour, you will be hoping the smaller tank is starting to get low and you can pull over for a top-up.
The new 853cc four-valve twin has all the character we expect from a Guzzi. It vibrates the mirrors at idle, but smooths out to a tingle at higher revs.
There is a healthy amount of torque low down, but it seems quite flat through the midrange before becoming excited again at higher revs. And doesn't it love to rev!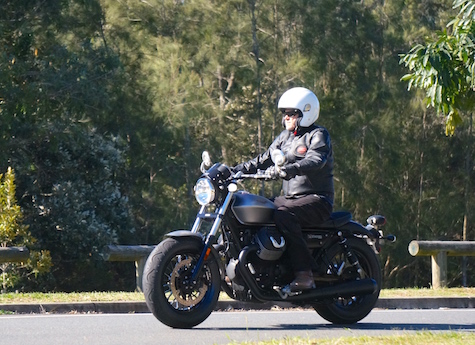 It has strong power but nothing scary. I turned off the two-stage traction control and had difficulty forcing the wheels to spin, however it was handy for a couple of days riding on wet roads.
Strangely, with 40.44kW of power, it's not much more than the 744cc V7 at 35kW and has exactly the same amount of torque at 60Nm.
It's difficult to know at what revs the V9 livens up because there is no tacho, but at 100km/h it feels best in fifth gear. Sixth gear is really only for use on the autobahn or in the Northern Territory.
First gear is also tall and the ratios are wide and evenly spaced up to sixth. You will find you are using one gear lower than normal just about everywhere.
Yet it's quite suitable for around town and highway riding with the torque allowing some lattitude on gear changes.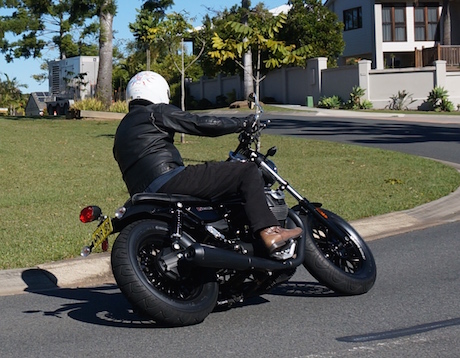 Although first gear makes a clunk when engaged, the transmission is silky and light with easy shifting, no "angle gears" and neutral easy to find.
Even though the gears feel light, the clutch is moderately heavy for commuting.
There isn't a lot of engine braking affect, so you will be using your brakes a bit more.
Thankfully the brakes are stronger with plenty of bite from single front disc as it has a lusty Brembo four-pot calliper.
The rear is also sensitive and effective. ABS works smoothly and progressively so it doesn't shock the rider.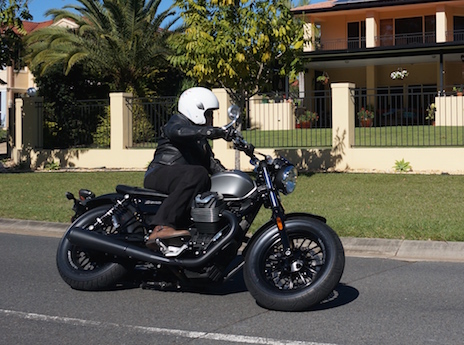 If you buy a longer and more comfortable seat, add some aftermarket luggage and head out for some touring, you'll find the 15-litre tank isn't a hindrance as it achieves about 4.8L/100km, which means a bit over 300km in range.
The V9 Bobber and Roamer might be asymmetrical and quirky, but they certainly can't be accused of lacking in character.
We suspect that, like the V7, there will also be a cafe racer and scrambler to come and maybe even a cruiser.
While it might be time to consider upgrading my Bonneville, if I had a V7, it would be difficult to justify the extra $2500 for similar power, technology and style, but less range in the V9.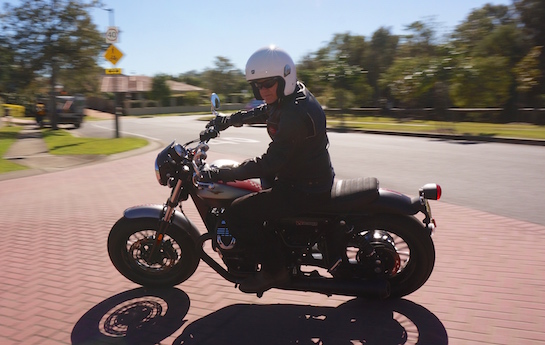 Moto Guzzi V9 Bobber and Roamer
| | |
| --- | --- |
| PRICE | $16,500 ride away |
| ENGINE | Air and oil-cooled 853cc 90° V-Twin engine, 4 stroke, OHV, 2 valves per cylinder |
| | |
| BORE AND STROKE | 84 x 74 mm |
| COMPRESSION | 10.5:1 |
| POWER | 40.44Kw (55 HP) at 6250rpm |
| TORQUE | 62Nm at 3000rpm |
| FUEL SUPPLY | Marelli MIU single-body electronic injection, integrated management of traction control on 2 levels |
| STARTER | Electric |
| EXHAUST | Stainless Steel, 2-in-2 type, three-way catalytic converter with double lambda probe |
| EMISSIONS | Euro 4 |
| GEARBOX | 6 speed |
| PRIMARY DRIVE | With helical teeth, ratio 21/25 = 1:1.190 |
| FINAL DRIVE | Double universal joint and double bevel gear units (8/33 ratio = 1: 4,125) |
| CLUTCH | 170 mm single disc with integrated flexible couplings |
| CHASSIS | ALS Steel twin tube cradle frame |
| WHEELBASE | 1465 mm |
| TRAIL | Roamer: 125.1mm – Bobber: 116.1mm |
| HEADSTOCK ANGLE | 26.4° |
| STEERING ANGLE | 38° |
| FRONT SUSPENSION | Traditional fork, 40mm |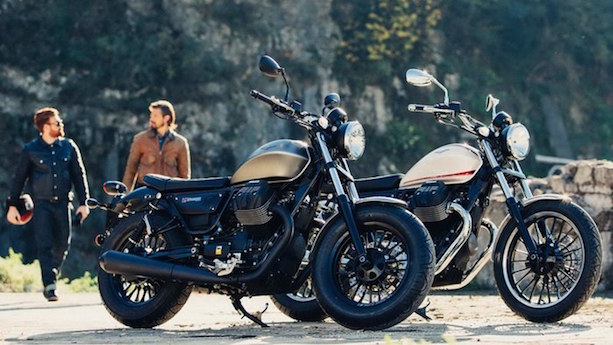 FRONT WHEEL TRAVEL
130mm
REAR SUSPENSION
Swingarm with double shock absorber with adjustable spring preload.
REAR WHEEL TRAVEL
97mm
FRONT BRAKE
Stainless Steel floating disc, 320mm

Brembo opposed four-piston callipers

REAR BRAKE
Stainless Steel floating disc, 260mm

Brembo opposed two-piston calliper

WHEELS
Aluminum alloy
FRONT WHEEL RIM
Roamer: 2.50″ x 19″ – Bobber: 3.50" x 16"
REAR WHEEL RIM
4.00″ x 16″
FRONT TYRE
Roamer: 100/90 R 19″ – Bobber: 130/90 R 16"
REAR TYRE
150/80 R 16″
SYSTEM VOLTAGE
12V
BATTERY
12V – 18AH
LENGTH
Roamer: 2240mm – Bobber: 2185mm
WIDTH
Roamer: 865mm – Bobber: 840mm
HEIGHT
Roamer: 1165mm – Bobber: 1160mm
SEAT
Roamer: 785mm – Bobber: 780mm
KERB WEIGHT
199kg (No Fuel)
FUEL TANK CAPACITY
15 Litres
RESERVE
4 Litres