Australia has been allocated only 10 of the Limited Edition Moto Guzzi V7 II Stornello scramblers arriving in May at $16,500 plus on-road costs.
The bike, unveiled at the EICMA motorcycle show in Milan in November 2015, features a high-mounted scrambler-style Arrow exhaust, aluminium mudguards, satin-finished aluminium side number plates, polished alloy wheels and Stornello graphics.
The production number of each motorcycle will be laser inscribed on the upper part of the headstock.
Even though it is a limited edition model, the price compares favourably with the standard model at $14,000 and the limited edition Racer at $17,000.
While the scrambler version has a slightly knobby front tyre and knobbier rear, it doesn't look like the suspension has been beefed up for any off-road duties, however it may have a little more grip on good-quality gravel roads.
However, who would want to give a beautiful bike like this gravel rash!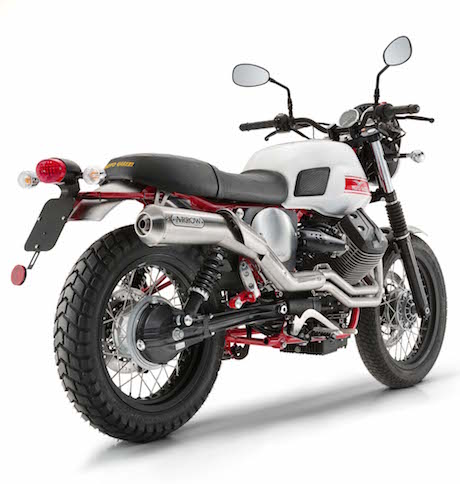 The new V7 II Stornello Limited Edition has been built on the V7 II, which was the first in the retro naked segment to come standard with ABS, Traction Control and a six-speed transmission.
Now Triumph Bonneville is following suit with its 2016 range of Bonneville models.
The Stornello name started in 1960 when it was created by Moto Guzzi engineer Giulio Cesare Carcano as an entry level motorcycle that was light and easy to manage.
The single-cylinder 25° forward-inclined engine had 7HP and reached a top speed of 100km/h.
The double cradle open steel tube frame was welded entirely by a machine built specifically for the purpose.
The Stornello was popular as a practical vehicle and later as a quick motorcycle with the release of a Sport model in 1962.
Of the many Stornello variations, the Regolarità became the most famous with success in the national and international off-road competitions.
An off-road version was derived from this model in 1967, called the Stornello Scrambler.
The Stornello remained in production until 1975.
Like the 1972 Stornello Scrambler, the new V7 II Stornello Limited Edition combines a "pastel white" tank and a "racing red" frame.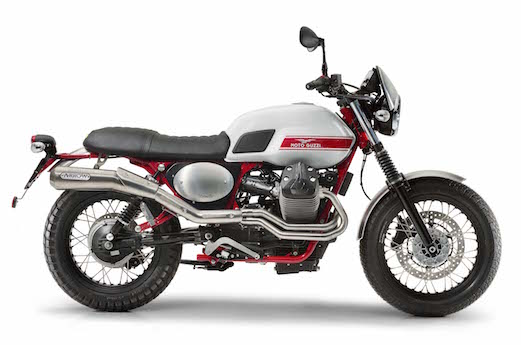 It is powered by a black 90° Transverse V Twin 750cc engine.
Moto Guzzi Australia says they are taking orders now for the limited edition model.