Moto Guzzi has unveiled its V85 TT production bike online which suggests there may be several models in the new line when it is launched later this year.
The V85 TT looks like it might be the top-of-the-line model, but there is no other detail from the Mandello del Lario company.
It also looks remarkably like the V85 concept unveiled last November at the EICMA motorcycle show in Milan. So we expect the production version will debut at this year's EICMA.
When I visited the Mandello factory on the shores of Lake Como in July the assembly was already prepared for the start of production.
The main differences between the concept and production model are, of course, mirrors and indicators which, in the front, are integrated into the handguards.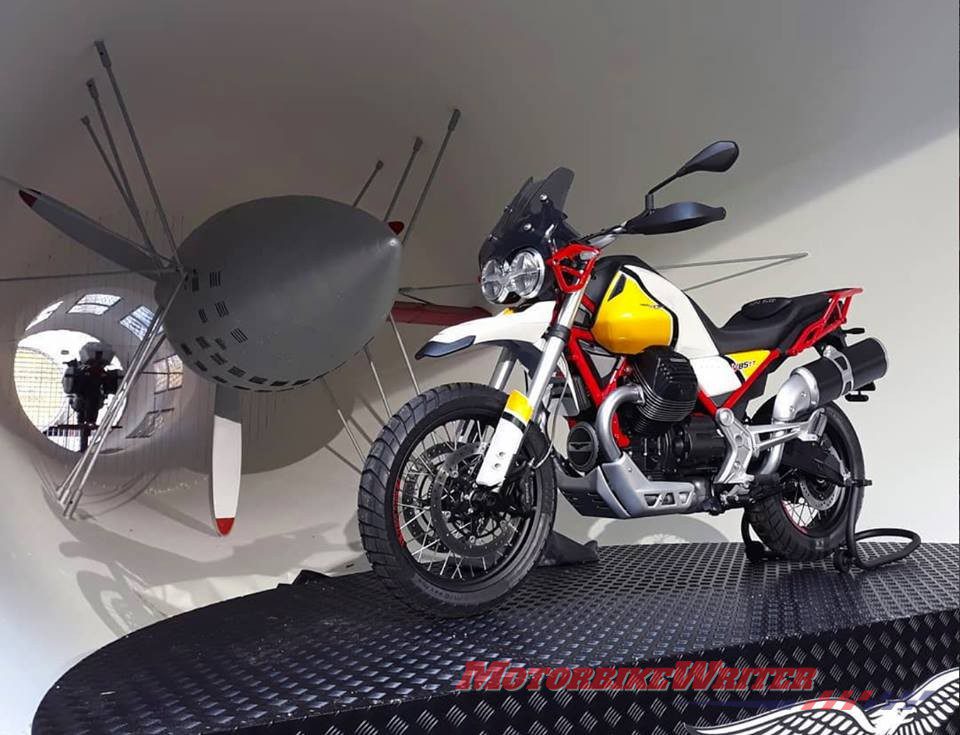 A minor difference is the black muffler instead of titanium. Thankfully it's no bigger like many other manufacturers are fitting to meet the coming tough Euro 5 emissions rules.
While Moto Guzzi hasn't revealed any more details we already know that the bike will be powered by a new 90° transverse air-cooled 850cc V-twin with 59kW of power. That compares with the 853cc V9's 40kW.
Clever instruments
A photo of the full colour, fully digital TFT screen does reveal other details.
The two-helmet symbol at the top seems to indicate it may have electronic preload adjustment while the menu action is expected to display various engine modes and possibly traction control settings.
And the phone icon suggests it has Piaggio's new connectivity app available for Android and iOS phones.
It allows the owner to ping their bike and locate it in a parking lot. It also has a panic alert system, which connects you with the pre-designated contacts in case of an emergency.
The app reminds you about a pending service, helps owners locate the nearest service stations and includes a customer care service.
This system was developed with German component manufacturer Hella. and is available on Piaggio scooters and Aprilia motorcycles.
The system can also be retrofitted through official service centres. 
V85 TT plugs gap
The V85 TT will plug the void left by the demise of the Stelvio adventure bike which could not meet Euro4 emissions targets.
The bike is a tribute to the Moto Guzzis that competed in African rally raids and the Dakar rally in the 1908s.
TT stands for "tutto terreno" (all terrain), so it features a high, off-road mudguard, high scrambler exhaust pipe, twin headlights, wired wheels, tubular steel frame, bash plate, high clearance and 1980s motorsport colour scheme.
In fact, it looks a lot more off-road capable than any of the other scramblers on the market, probably to plug the Stelvio gap.
The unique asymmetric swingarm houses the shaft drive. It allows for a direct-mount Ohlins mono shock that is easy to access for adjustment. The V85 also features Ohlins forks.