The 2017 Moto Expo will return to Sydney next year with Moto Expos in Brisbane in early 2018 and Melbourne in November 2018.
The announcement of the Sydney event was made today at the opening of Melbourne Motorcycle Expo.
Federal Chamber of Automotive Industries Tony Weber said the 2017 event would again be run by Troy Bayliss Events.
Motorcycle shows or expos used to run in several capital cities each year, but it became too expensive for manufacturers to attend all.
This led to poor showings at some shows so rival expos sprung up which only served to further dilute the experience for the punters.
Then along came Troy Bayliss Events which staged a very successful event in Brisbane in 2014. They followed up with a second Moto Expo later in the year in Melbourne.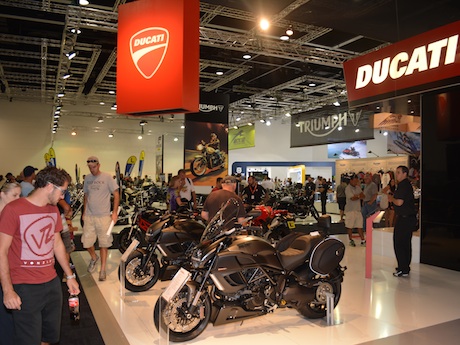 The FCAI abandoned its plans for a Sydney motorcycle show in 2014 and signed up Troy Bayliss Events to run a Moto Expo in Sydney in 2015.
Moto Expo returns to Melbourne this weekend and it looks like heading back to Sydney in 2017.
Moto Expos return
So when is it returning to Brisbane?
We contacted Mark Petersen from Troy Bayliss Events who confirmed the Moto Expo would return to Brisbane in the first quarter of 2018.
A second show will be held that year in Melbourne.
Meanwhile, the 2017 Moto Expo will be staged in the new $1.5 billion Sydney International Convention Centre (ICC) in Darling Harbour.
Tony says FCAI motorcycle and ATV industries representatives toured the ICC while it was in the final stages of construction mid-year.
He says they were "bowled over" by what this new world-class venue offers in terms of its contemporary style, its huge display areas, and of course, the convenience of its downtown Sydney location," Mr Weber said.
"We're confident that the ICC has that 'wow' factor which will appeal not just to our loyal motorcycle audience but to people who just want to get along to a busy, visually engaging show and see the latest our industry has to offer."
The Melbourne Motorcycle Expo continues this weekend.