Expensive Motorcycle Helmets by Brand. A Look at High End Helmets & Their Makers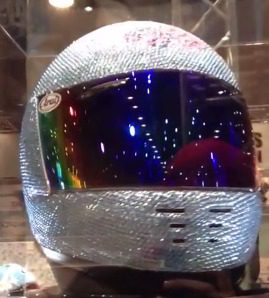 In the luxury world, the game of who can produce the highest priced helmet is a fun one to play. We are going to take a look at a few of the most expensive motorcycle helmets available to buy on the market. We are not including high priced helmets sold at auctions for charities or fully customized helmets for celebrities.
We are looking specifically at large motorcycle helmet brands that manufacture several models of helmets and include a luxury or high-end version model or version of a similar model.
And below we'll also take a look at a few countries that are well known for their luxury goods, and in this case – luxury motorcycle helmets.
High End Motorcycle Helmet Brands
If you pay peanuts, you get monkeys
Sometimes you pay for what you get. Good motorcycle helmets are not cheap. Sure you can buy some great helmets for very reasonable prices, but to get the best of the best we're talking about spending big money, north of $700. That is a lot of scratch for most people so we decided it was worth it to take a closer look, to try to understand why the big brands charge so much and which of their helmets sit at the top of the helmet price pyramid.
In doing our research it became clear that use case and riding scenario matters a lot. At the high end of the motorcycle helmet market you see that the helmets are designed for protecting riders in some extreme conditions. On race tracks or competition offroad situations a lot can go wrong and they go wrong at big speeds (or during big jumps in offroad/motocross situations). So while a $350 helmet might be alright for street use, it is not going to work for somebody doing 150 mph on a track. They need helmets made of carbon fiber, they need helmets that provide amazing ventilation for racing, advanced aerodynamics and much more.
That's where names like AGV, Schuberth and Arai come in and show their strength. These top helmet brands always show up at the pointy end of the top best helmet lists for a reason. They make helmets for the top end, for the competitors and professional riders out there. At that level the material science and safety innovations matter a lot. It takes millions of dollars in R&D and that investment, learning and innovation then filters down to the helmets you and I use every day. High end helmet brands are expensive because of this material, technology and research, which is reflected in the price of their lids.
We go through high end and expensive helmet brands including AGV, Schuberth, Arai, Shoei and Bell and we also look at some other higher end helmets from lesser known brands like X-Lite, Shark and 6D. While this isn't an exhaustive list of most expensive helmets, it is a good look at the top end of the helmet market and why these helmets cost so much.
---

Les Ateliers Ruby Helmets
Les Ateliers Ruby helmets go for north of $1,000 and if you look at one of the masterpieces in person you can immediately understand why. Their helmets look stunning. They are hand painted with unique and cool designs with precision and detail that is truly exceptional. The fact that they focus on the rich, retro and cafe racer crowd definitely helps them build a reputation at the top end of the price spectrum when it comes to helmets.
Do not be fooled however, because there is more to this helmet maker than branding and cool designs. Their helmets come with a full carbon shell using aviation technology and techniques. The fibers of carbon are used to manufacture carbon mats and then through a special process using fluid resin under pressure and high temperature they are turned into very strong shells. On the inside you can expect sheepskin leather lined comfort foam interior and leather trimmed eyeports and other sections, which makes these helmets super comfortable to wear. Here are three of our favorite Les Ateliers Ruby Helmets helmets you can buy today.
Ruby Castel Gabriel Helmet
Expect to pay: $1,399
Where to Buy: RevZilla
Let's start with a simple premise we can all agree on: look great, do not compromise on quality. The Ruby Castel Gabriel Helmet fulfills this in spades.
The helmet is made of a full carbon shell that is both lightweight and super strong. The hand-painted looks great in this simple, clean white color scheme. The high quality sheepskin insides look fantastic in deep red and that really plays off the dark piping.
The Ruby Castel in white isn't just a premium helmet, it's super premium taken to the Nth degree. This is retro done right, for the one percenters.
Check availability, options and pricing at RevZilla
Ruby Castel Victoires Helmet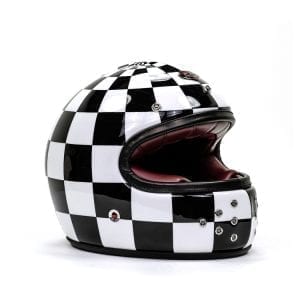 Expect to pay: $1,499
Where to Buy: RevZilla
Ruby: precious gem, symbol of passion, power and protection.
The Ruby Castel isn't just a premium helmet, it's super premium taken to the Nth degree.
High quality sheepskin leather, usually reserved for top tier jackets, lines the interior.
Only by slipping on the helmet can one experience its lightweight shell and luxurious lining.
The impressive 21 total vents is a 21 vent salute to staying cool and looking cool, simultaneously.
Check availability, options and pricing at RevZilla
---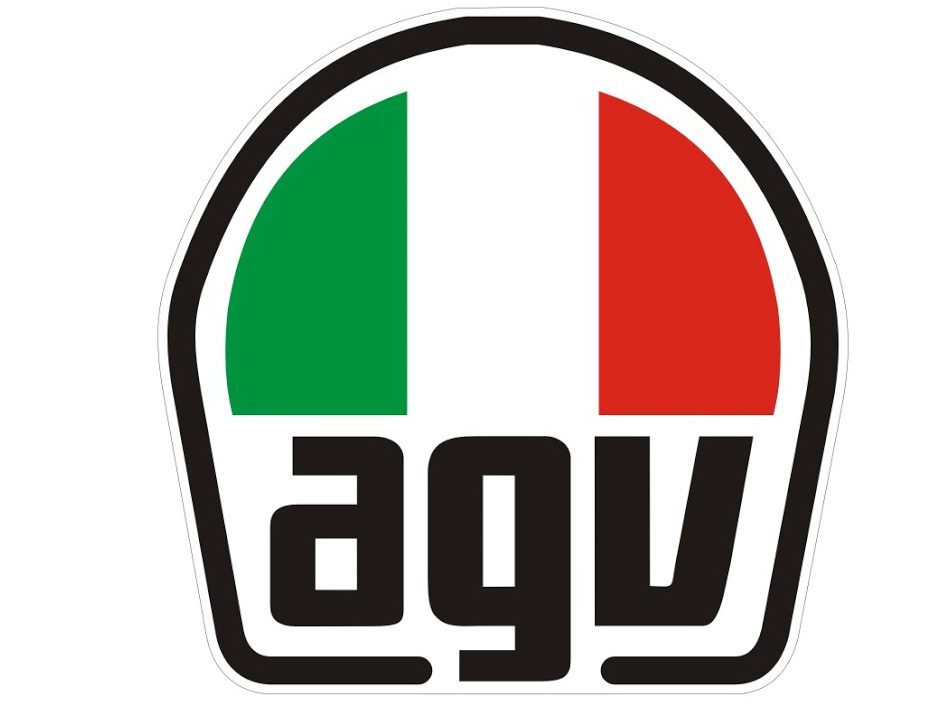 AGV Helmets
Look at AGV's sponsorship and champions list and you will see a who's who of motorcycle racing royalty. This is a company serious about performance and safety and you can see that in the company they keep. You can also see the quality of the products they make and the price points they charge as a result.
Founded in 1947 by Gino Amisano, AGV was immediately known for a serious reputation for its innovative designs and materials, tested on the racetrack and developed with sponsored World Championship riders. Names like Giacomo Agostini (15-time World Champion) and modern MotoGP champion extraordinaire Valentino Rossi are amongst the names of ex-champions who actively help AGV make some of the highest end helmets on the planet. It is hard to argue. If a helmet is good enough to protect a MotoGP rider and 200+ mph in race conditions then surely it is good enough for me.
AGV produces an extensive range of motorcycle helmets, from full-face racing, sport, touring and off-road models to modular helmets, urban jet helmets and open-face cruiser designs in a spectrum of materials from carbon fiber to aramid, fiberglass and thermoplastics. Their helmets are at the top of the heap in terms of protection, fit, comfort, reliability and impact protection. Here are some of the most expensive and high end AGV helmets you can buy today.
AGV Pista GP R Carbon Helmet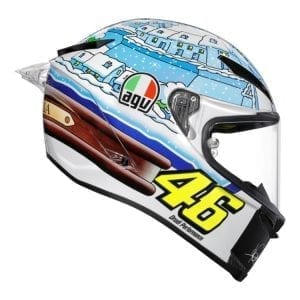 Racing helmets need to be very lightweight, aerodynamic and provide lots of airflow for a rider. AGV knows a thing or two about building helmets for racers and this knowhow is obvious in their Pista GP R Carbon helmet.
The "biplano" spoiler has multiple wings to maximize aerodynamic performance and add stability at high speed. The shell is made of carbon fiber and is designed to minimize interference with the racing suit and limit risk of impact energy transfer to the collarbone. This helmet is meant to get out of the way, balancing the tough goal eliminating distraction and maximizing comfort for the ultimate pro-level track rider.
This is not a helmet for the street, it is really a track helmet. It features an integrated hydration system developed with top riders with tube routing optimized to eliminate distraction for completely unencumbered hydration while riding. MotoGP developed metal air vents with an innovative external fins structure have been engineered to capture maximum airflow in the front of the shell and increase air pressure on the rear exhaust, therefore increasing the speed of air transition inside the helmet, and leading to higher cooling performance.
Check availability, options and pricing at Amazon and RevZilla
AGV Corsa R Helmet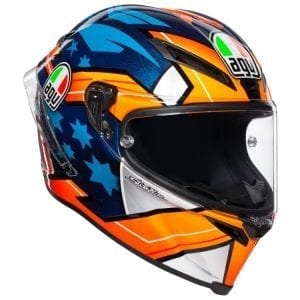 The Corsa R offers a professional-level riders an amazing helmet for the track.
The venerable Italian motorcycle maker has the Corsa R sit below the Pista GP R range and for even the most serious riders it is an exceptional option. For the serious sport rider and track day enthusiast, the AGV Corsa R Helmet is a professional-level piece of equipment. The Corsa R benefits from the Moto-GP-level Pista's research and development process, inheriting many of the same features.
The Corsa uses the same shell and ventilation design as Pista GP Carbon but without the additional expense of full carbon construction, opting instead for an equally strong proprietary blend of carbon and aramid fibers with traditional fiberglass.
Check availability, options and pricing at Amazon and RevZilla
AGV Sportmodular Carbon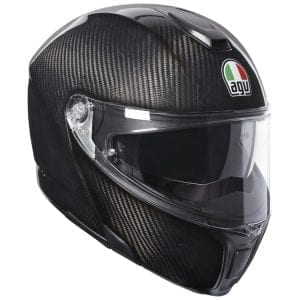 If you want a flip-up helmet, this is a cracking option. It is a modular helmet that is low in weight and has the features of a full-face helmet. In typical AGV fashion the Sportmodular Carbon is priced at the high end of the market. AGV says that the helmet is as safe as the Pista GP R which says a lot about their confidence in this fearsome flip-up.
The Sportmodular is the first 100% carbon fiber modular helmet. That includes the chin guard as well. There is no compromise in weight, strength and impact-absorption. Another major attraction is the panoramic visor. The Class 1 optics visor offers 190° peripheral and 85° vertical vision.
The Sportmodular proves that great aerodynamics can be achieved without adding big and bulky spoilers. After extensive wind tunnel engineering, the Sportmodular boasts incredibly low dynamic weight performance, reducing down forces and lift to a minimum.
Check availability, options and pricing at Amazon and RevZilla
---

SCHUBERTH Helmets
SCHUBERTH has been in the business of protecting heads since the 1940s. This is a company that knows a thing or two about motorcycle riders and their unique situation.
Today, a team of 400+ employees at SCHUBERTH develops and produces in Magdeburg on the Elbe. While motorcycle helmets are a big piece of their business, SCHUBERTH also makes protective gear for worker protection, police, fire brigade and Formula 1.
Their engineers constantly come up with new solutions and research in their in-house wind tunnel. The helmets are tested on the climate rig or in the acoustics laboratory, and are perfected so that your helmet is perfect in every detail. Their R&D team is well known in the industry for their innovations and inventions.
SCHUBERTH helmets are priced at the top end of the market and they are always winning awards and "best of helmet" lists. In terms of mainstream consumer and everyday rider helmets, this is the premium brand that most people aspire to own.
SCHUBERTH SR2 Helmet
Expect to pay: $899+
Where to Buy: RevZilla
Aerodynamic perfection meets ergonomic excellence in the Schuberth SR2 Helmet. Racing, as with any extreme sport, is more mental than physical – mind over matter.
Concentration is the key, whether you are at the track or carving up a canyon road. The Schuberth SR2 is designed to eliminate distraction and maximize clarity of mind and vision. Like a painter in graceful, sweeping apexes, the asphalt is your canvas. Find motorcycling zen inside the Schuberth SR2 Helmet.
Features include a spoiler aerodynamically optimized to mitigate lift and maximize directional stability at extreme speeds. The visibility is outstanding, with 2D Racing face shield with Class 1 Optics. The two finger locking mechanism is the best we have tested and the pinlock anti fog lens works perfectly.
Precision formed deflector vents eliminate turbulence, resulting in more fresh air with less noise. As a result, this is one of the quietest helmets on the market and easily one of the most comfortable for long rides.
Check availability, options and pricing at RevZilla
SCHUBERTH E1 Helmet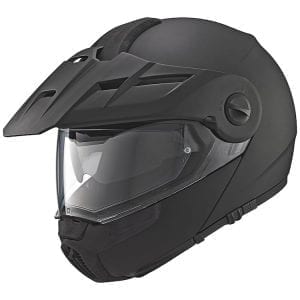 Expect to pay: $749+
Where to Buy: RevZilla
The Schuberth E1 Helmet offers adventure riders a modular helmet designed to perform when the ride leaves the pavement. The Schuberth design team developed the E1 in Schuberth's proprietary aeroacoustics lab, resulting in a helmet optimized for both aerodynamic and aeroacoustic performance. Schuberth's Anti-Roll-Off System keeps the helmet in place, while the removable and washable inner lining allows riders to keep their helmet clean in between adventures.
One of the most innovative features is the fully articulating peak visor, which can be adjusted to three different positions independently from the face shield and chin bar. The E1 can be worn with both the face shield and peak in place, or riders may opt to easily remove either piece for the ride. The E1 also features a closable air vent in the chin bar to ensure that riders get enough air as the ride intensifies, while a removable and washable filter will help clean the air in dirty and dusty conditions.
The E1 includes a built-in antenna for Schuberth's SRC-System PRO. Utilizing the latest in Cardo communication technology, the Bluetooth SRC-System serves as an intercom with other riders and can connect to a GPS unit, MP3 player or mobile phone for navigation, music listening or phone calls.
Check availability, options and pricing at RevZilla
SCHUBERTH C4 Pro Helmet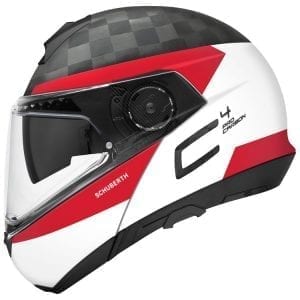 Expect to pay: $749+
Where to Buy: RevZilla
With the addition of a newly developed seamless interior liner, the C4 Pro takes the C4 to the next level. The unmistakable German engineering and radical, compact shell design of the Schuberth C4 Pro Helmet set the new standard for premium modular touring helmets.
Featuring a new liner and 2 reworked shell sizes (XS-LG, XL-3XL), the lean form of the Schuberth C4 Pro Helmet has been extensively tested and aerodynamically optimized for both stability at speed and low weight to minimize fatigue on long tours.
Discover a riding experience similar to sitting in the cabin of a luxury German sports car. The Schuberth C4 Pro Helmet is designed for riders who accept only the best, and can appreciate the difference.
Check availability, options and pricing at RevZilla
---

Shoei

Helmets

Shoei branded helmets have long been synonymous with "premium" in the motorcycle helmet market. The Japanese maker of high end helmets is constantly innovating and improving with every generation of helmet that gets released.

The Shoei homepage says it all, they follow "a meticulous process that combines the very latest in technology with consumer feedback, modern testing practices, advanced materials, and 60 years of helmet building experience". Sounds expensive to me, especially when you consider that every Shoei helmet is still handmade in Japan today.

SHOEI prides itself in building the very best helmets using state-of-the-art manufacturing technologies. SHOEI helmets are the result of countless hours of conceptualization and R&D, but equally as important is the time spent testing with the most hardcore critics of them all-our professional racing team.
Shoei X-14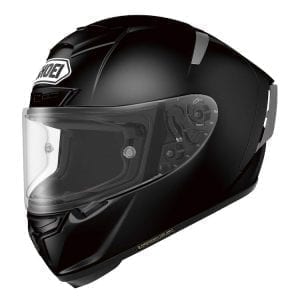 There are few helmets in the past few years that have generated as much interest as has the introduction of the Shoei X-14 Helmet, and for good reason.
It is a true juggernaut of the track, and every line, every angle and every curve has been specially crafted to get the most out of you and your machine.
It's no wonder that the most sophisticated racers in the world are already rocking it at the highest levels
Aerodynamic properties are maximized through extensive wind tunnel testing and professional riders' feedback. Dual-Layer Multi-Density EPS liner enhances impact absorption and ventilation
Check availability, options and pricing at Amazon and RevZilla
Shoei Neotec 2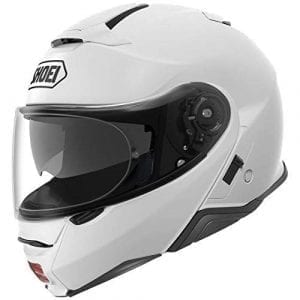 The Shoei Neotec 2 helmet finds ways to improve upon an already exceptional modular touring helmet. Exhaust outlets complement the upper air intake vents for improved air flow.
Wind tunnel testing optimized the Neotec 2's aerodynamics to perform in a variety of riding positions. The integrated shell spoiler is repositioned to better reduce lift and drag at speed, while the Aero Deflector along the chin bar adds stability.
A micro ratchet chin strap makes securing the helmet and removing the helmet quick and easy. Noise Isolator cheek pads improve the seal along the neck opening of the helmet to keep turbulent air out. All of these features combine to produce one of the ultimate long distance touring helmets.
Check availability, options and pricing at Amazon and RevZilla
Shoei GT-Air II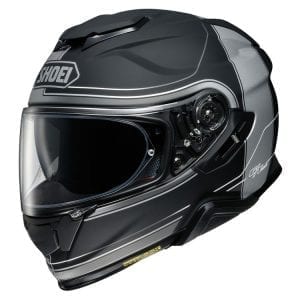 The ultimate all-rounder has been updated to meet the demands of today's rider. The shell design of the new Shoei GT-Air 2 has been evolved but remains true to its aerodynamic and stable roots.
Featuring an improved ventilation scheme, the GT-Air II includes the lengthened QSV-2 drop down sun visor which provides 5mm more coverage for instant sun relief.
Like its flip-up cousin, the Neotec 2, the GT Air 2 has a micro ratchet chin strap and is designed to integrate with the GT-Air II specific SRL 2 Bluetooth Communication System by Sena for a clean and low profile installation.
Check availability, options and pricing at Amazon and RevZilla
---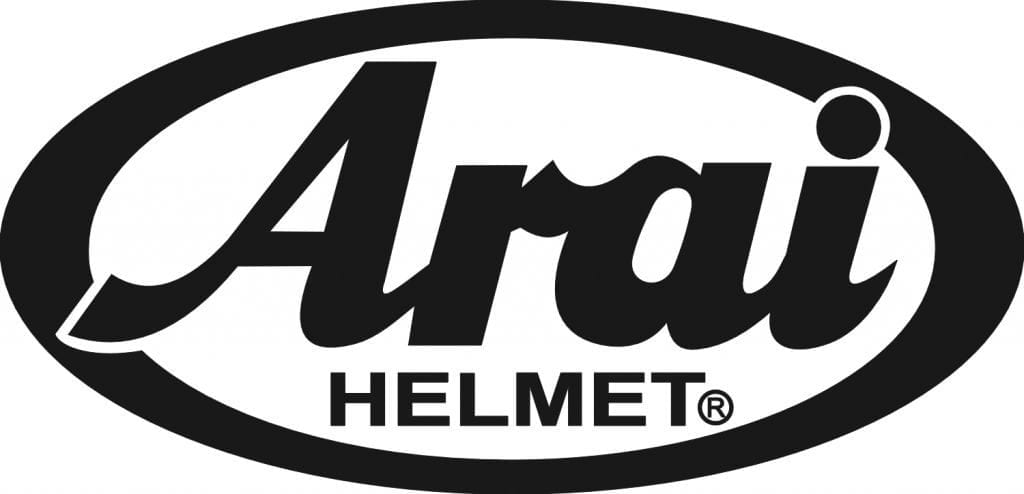 Arai Helmet
Every Arai helmet is meticulously handmade and anybody who has owned one of their helmets knows that the men and women who build these helmets are absolute master.
Arai helmets are some of the safest helmets on the market and that's because Arai is always innovating and creating new materials and techniques to keep them on top. Arai is one of the very few premium helmet manufacturers whose entire range of helmets exceed Snell safety standards.
At the top end of their range their helmets are extremely stiff and light carbon fiber shells are reinforced with Arai's exclusive Peripheral Belt, extending across the shell's forehead above the eye port. They make some of the most advanced, highest quality helmets available anywhere in the world. .
Arai Corsair X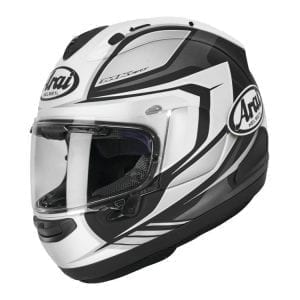 Perhaps the most fabled name in the entire Arai lineup, the Corsair has long been renowned as one of the most advanced, highest quality helmets available anywhere in the world.
It has advanced technology and rider protection features that goes beyond the basics of protecting against direct impacts. The cool tech includes minimizing the effect of "glancing off" impacts, largely from the unique design and shape of the helmet (known as Variable Axis System).
Arai has created a stronger shell and smoother shape that is more likely to redirect impact energy than absorb it (therefore decreasing the amount of force transferred to the body).
Check availability, options and pricing at Amazon and RevZilla
Arai Signet-X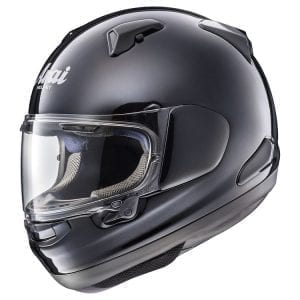 The Arai Signet-X is the next evolution of the famous Signet-Q. It features a high-performance ventilation system with massive inlet and exhaust openings and large switches that can be easily operated, even while wearing thick gloves.
The resigned chin curtain of the Arai Signet-X Helmet simultaneously block turbulent air from entering the helmet and creates negative pressure to exhaust more air. The fully removable Eco Pure cheek pads feature speaker pockets for easy installation of communication systems and for the first time in the Signet series, Emergency Release Tabs.
For a better view ahead each helmet includes a VAS-MV (Max Vision) faceshield and a Pinlock 120 lens. It has proven its extreme performance in premier racing series like MotoGP, WSBK, Formula 1 and more.
Check availability, options and pricing at Amazon and RevZilla
Arai Quantum-X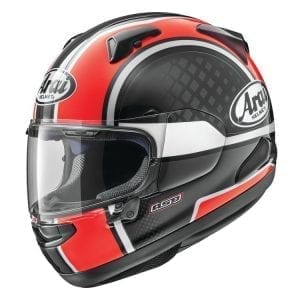 The name Arai has been synonymous with quality and protective technologies since the beginning of their days and the Quantum X continues to push the bounds, proving why Arai stands at the top.
The Arai Quantum X Motorcycle Helmet features a chin curtain that helps to block air intrusion from the turbulent air underneath the helmet, as well as increases negative pressure to enhance the exhaust ventilation performance.
The interior lining includes Arai's signature 5mm peel away ear pocket padding and ear pocket recess to accommodate communicator speakers.
Check availability, options and pricing at Amazon and RevZilla
---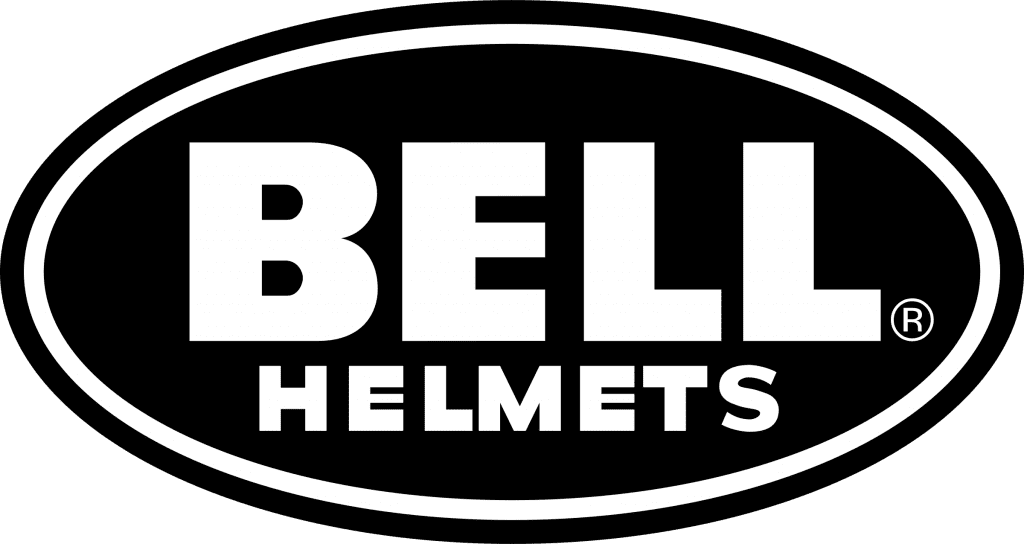 Bell Helmets
Whether for auto racing, motorcycling or bicycling, Bell is synonymous with instilling confidence and building great helmets that protect people. Bell is not known as a high end helmet brand like the others on this page, so how did they end up on this list. Well, they got religion and now have some high end and expensive helmets that are very strong.
Reading the Bell website, they talk about "anything Bell is designed to fulfill a specific set of needs — without frosting". So while they aren't know for high end helmets, when they build a high end helmet you know they go all out. The Bell aesthetic is uniquely appealing in its purpose-built utility in the same way a race car or fighter jet is designed with every aspect of its function in mind. That they are beautiful in their ultimate aesthetic is secondary. In the end they are creating an essential performance tool. They build it to use it.
Bell Race Star DLX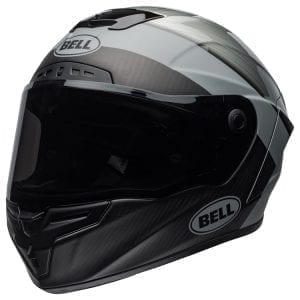 The Bell Race Star Helmet has been designed for the sport rider and track day enthusiast that demands unparalleled performance.
Constructed using the latest in carbon fiber technology and developed through extensive wind tunnel and track testing, the Race Star's design features a superlight 3K Carbon Shell, Raceview ergonomics for unmatched visibility and the three layer Flex Impact Liner to manage slow, mid and high energy impacts.
The Race Star continues the racing heritage of the Bell Star line, pushing the limits of helmet technology to all new heights.
The DLX indicates that a Panovision ProTint Photochromatic shield is included in the box! ProTint Photochromatic shields automatically adjust to light conditions, darkening when exposed to sunlight and clearing in low light.
Check availability, options and pricing at Amazon and RevZilla
Bell Bullitt Carbon Hustle Helmet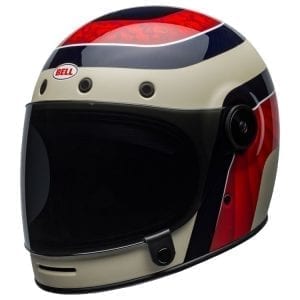 In the late 1960's Bell released the Star, the first full-face helmet, revolutionizing the helmet and motorsport industries and setting a new standard for safety. The inherent beauty in the Star's simplicity has made it an effective and aesthetically appealing piece of motorcycle gear that has survived the test of time.
To pay homage to the glory days of motorsport, the Bell Bullitt inherits classic Star styling yet is infused with contemporary comforts and safety. Constructed with a low-profile fiber composite shell and multi-density EPS liner, the Bullitt meets modern DOT regulations yet comes as close as possible to the look and feel of the original Star.
Luxurious appointments like micro-suede lining with leather trim, metal mesh circular intake vents with a rear exhaust vent and 3D cut cheek pads with speaker pockets compliment the vintage styling and push the Bullitt into the 21st century.
Check availability, options and pricing at Amazon and RevZilla
Bell Moto-9 Carbon Flex Helmet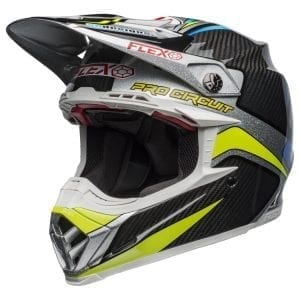 The Bell Moto-9 Flex Helmet introduces an innovative protective technology to Bell's flagship dirt helmet. Featuring a first-of-its-kind three layer impact liner, the Bell Moto 9 Flex Helmet provides impact protection through varying methods for specific impact speeds.
This "Progressive Layering Technology" has been developed to manage energy from three potential impact scenarios – low, mid and high. The three layer system consists of (EPO) Expanded Polyolefin which works hand-in-hand with the traditional (EPS) Expanded Polystyrene and (EPP) Expanded Polypropylene.
In addition to this leap forward in terms of protection, the three layer system also provides an adaptive fit as the segmented construction automatically conforms to a rider's head for a better fit and more predictable energy management.
Check availability, options and pricing at Amazon and RevZilla
---
Other High End (& Pricey) Motorcycle Helmets from Other Brands
Shark Race-R Pro Carbon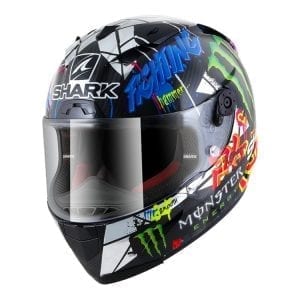 The new, high-end SHARK Race-R Pro Carbon is constructed from carbon/aramid fibers, was initially developed for Shark's top level racers.
Shark therefore had to ensure top level performance, giving the utmost importance to functionality and ergonomics: lightness, stability, comfort, precision and aerodynamics. Because the requirement from top racers is two-fold: safety and leading-edge technology.
The Race Pro-R is Shark's new high end composite fiber helmet. Totally designed through a reverse engineering process, the Race-R Pro Carbon has been developed from technical data as close as possible from human head specifications. Shark has therefore taken into account your own constraints before considering its own. From the very first track tests, riders have acknowledged its stability, even above 300 km/h, its comfort and the precision of the wide angle vision field as well as its optical distortion-free shield.
Check availability, options and pricing at Amazon and RevZilla
X-Lite X-803 Ultra Carbon Helmet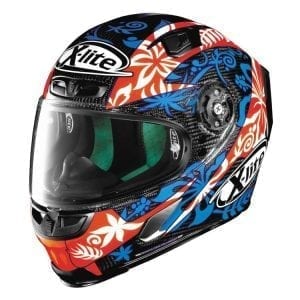 The X-Lite X803 has a reduced weight and compact size thanks to its carbon-rich construction and the three outer shell sizes.
The NERS (Nolan Emergency Release System) cheek pads, RAF (Racing Air Flow) vent system and comfortable liner make the X-803 the premium helmet for the most demanding racers.
Check availability, options and pricing at Amazon and RevZilla
6D ATS-1 Helmet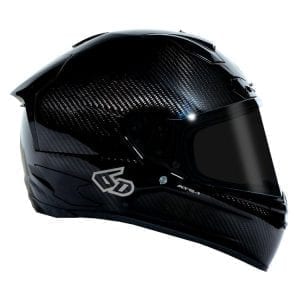 In development for nearly 3 years, the ATS-1 is the first street helmet to incorporate ODS technology.
The goal was to build the safest street helmet in the category while providing the rider with features superior to those found within the most premium helmets out there.
Exceptional energy management capability was known and guaranteed, but engineering the shield, shell design, interior liner amenities, and air-flow management system, was a challenge that had to be completed without compromise.
6D thinks you will agree that the ATS-1 exceeded these goals with flying colors!
Check availability, options and pricing at Amazon and RevZilla
---
Are these high end motorcycle helmets safer?
So the question comes to mind: Are the more expensive helmets safer than their "cheaper" counterparts? Now I use the word cheaper lightly here, as a $500 Shoei Helmet is obviously cheaper in price than a $1500 Skully Helmet. Some of us can really geek out on the data, but for simplicities sake, we will not get into most of that in this section.
The short answer is "No." Not after a certain price threshold; increasing the price of a helmet above $200 does not also equate to making that helmet safer. It does increase the features, comfort level (mainly materials used), and the brand equity in the eyes of the consumer.