(Moroccan Magic in Dades Gorge. Image: World On Wheels (Sponsored post)
There are no methods to this crazy life we lead
No secret paths to walk upon
Just hang Love's portrait in the cathedral of your heart
And warm the landscapes of your soul
– Billy Thorpe
Aussie rock legend Billy Thorpe's passion for Morocco was well known and well documented. When he passed away in 2007 he was working on his final compilation, entitled Tangier. With subsequent help from another famous Oz guitarist Ian Moss, Thorpey's album was released posthumously to great acclaim. Berber string arrangements can be heard prominently in 'Since You've Been Gone', from which the lyric above is borrowed.
Music has long been the thread holding together the fabric of Moroccan society. Minstrels in blue robes, still to this day wander the deserts with simple instruments like the gimbri, a three-stringed lute, and the darbouka, a single-headed drum played between the knees.
Jimi Hendrix was fond of visiting Morocco. Led Zeppelin, The Rolling Stones, Cat 'Yusuf' Stevens and Sting have all recorded there. Crosby Stills and Nash first rose to prominence on the back of their 1969 smash hit, Marrakech Express. Countless feature films have also been filmed in Morocco's harsh and barren landscapes.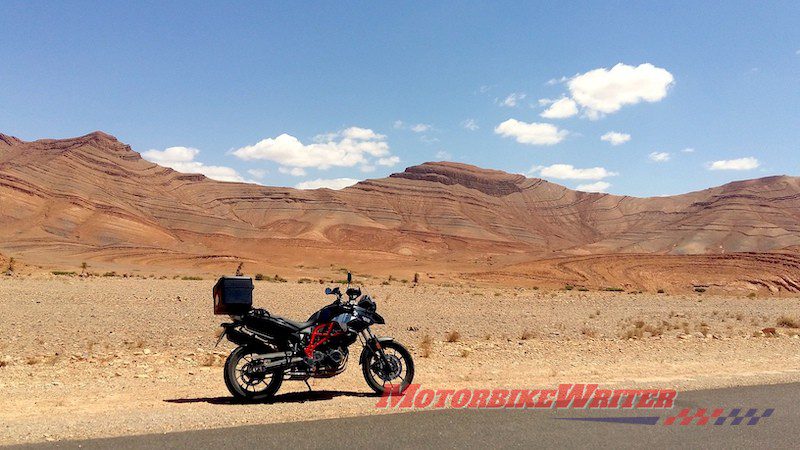 And World On Wheels have been conducting their popular motorcycle tours here now for more than a decade. One of the oldest international tour operators in the world, Australia's WOW started way back in 1995 when it was considered by many to be simply too dangerous to contemplate riding a motorbike in foreign lands. Times have changed since those days and motorcycling is now more widely accepted as a bona fide transport option for global roaming, and WOW are still leading the way.
Their 20-day Moroccan Magic tour takes in the varied geographical regions of this diverse country, from the Mediterranean coastline to the forested Atlas Mountains, to the windswept Atlantic, to the deserts of the Sahara. Riding the latest GS range of BMW dual-purpose tourers, you'll be staying in traditional riads and auberges and dining on authentic fare of cous cous, tagine, kefta, harira. There's a camel ride into the desert for a night's bivouac under a million Sahara stars, listening beside a campfire to the Berber minstrels mentioned above.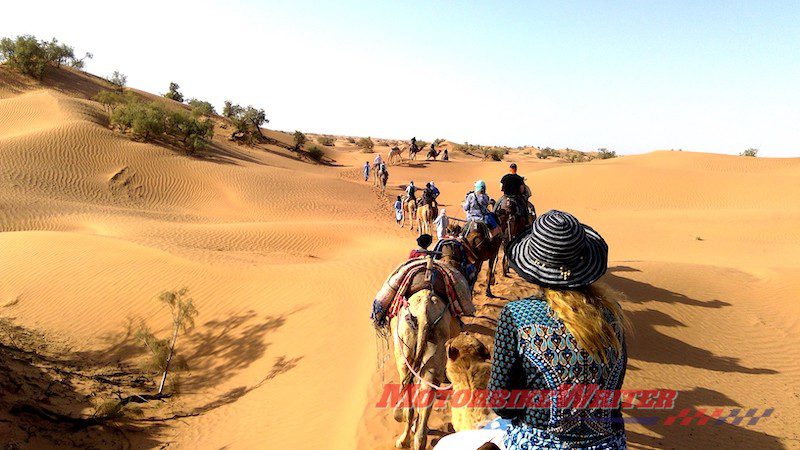 This September departure is a fully supported tour, with a luggage van bringing up the rear and an Aussie tour guide leading the way up front. All meals are included except on rest days, all fuel also included, all hotels are booked in advance with your name on the reservation sheet. World On Wheels can also help you get your Travel Insurance and airfares sorted.
Check out the fully detailed itinerary at World On Wheels Moroccan Magic