The 2015 Aprilia RSV4 and Tuono models will have more power, but comparable 2014 pricing when they arrive in Australia in June.
Importers John Sample Automotive have announced the following prices: RSV4 RR $25,000, RSV4 RR Race Pack $31,000, RSV4 RF Limited Edition Superpole $31,000, Tuono V4 1100 $23,000 and Tuono V4 1100 Factory $25,000. All prices are ride away, except the Superpole, and are comparable to the 2014 prices.
The new Aprilia RSV4 R has been made more compact and features a newly designed front fairing.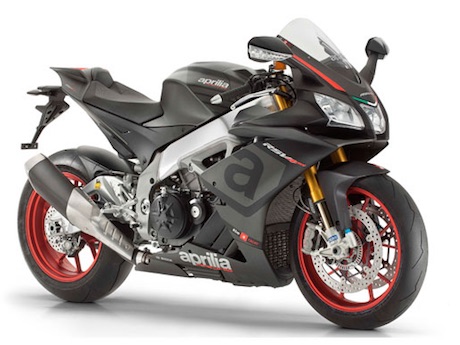 However, the biggest update is the engine which now breaches 200hp. The 65-degree V-4 generates 150kW at 13,000rpm up from 132kW at 12,500rpm and 115Nm of torque at 10,500 rpm which is the same as the previous model.
Aprilia lifted the compression ratio from 13:1 to 13.6:1 and updated the cam timing and profile, ports shape, dynamic air intakes, and airbox.
The Aprilia RSV4 RR will replace the RSV4 Factory. In addition to the equipment that comes standard on the RSV4 R the RSV4 RR will include Ohlins suspension and forged aluminium rims. This model will only be available in Black Ascari.
They come with all Aprilia's electronic hi-tech gizmos and are shod with Pirelli Diablo Supercorsa radials in 120/70-17 and 200/55-17 sizes.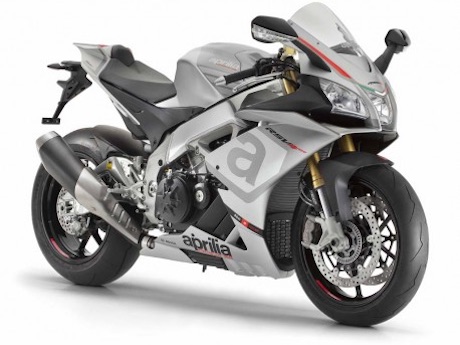 The street-fighting Tuono V4 gets more punch with the 1000cc V4 engine bored out to 1100cc. Power is up 7kW to 130kW and torque up to 8.5Nm to 120Nm.
Meanwhile, the Tuono's seat height has been lowered 15mm to 820mm and the handlebars have been narrowed for a more rider-focused and aggressive attitude to match the power boost.
Aprilia has also revamped the chassis and further developed their APRC electronic systems package.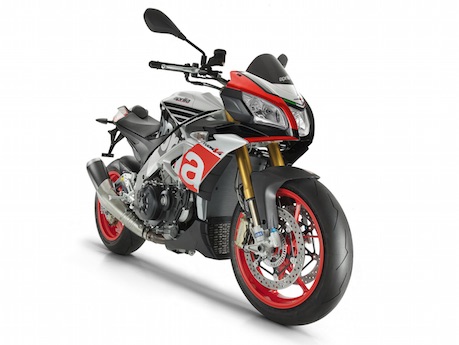 The Tuono V4 1100 will be available in Grigio Portimao and Donnington Blue.
The Tuono Factory version will feature "Superpole" livery inspired by the 2014 World Superbike Championship-winning bike.