There are lots of great motorcycle headbands on the market today. People who love to be well-equipped when they're enjoying their rides will be able to take their pick of all of the great products on offer today. Many of these headbands are versatile enough to be worn in lots of different ways, and many of them will provide protection from the elements no matter where they are worn. Naturally, all of them look cool in their own way.
HT-053 Harley Davidson Motorcycles Seamless Breathable Neck and Head Tube Gaiter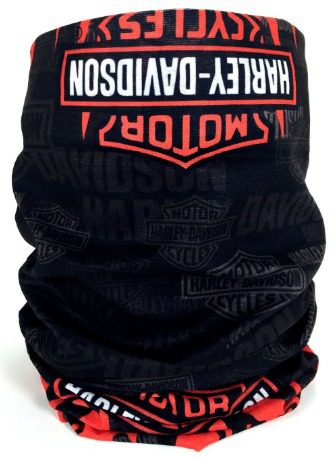 This is just the sort of motorcycle headband that people would use in order to appear intimidating and cool. The HT-053 Harley Davidson Motorcycles Head Tube Gaiter costs just under ten dollars, so it is one of the more affordable accessories that people are going to get as motorcycle enthusiasts.
It's mostly black, but on either edge, it is decorated with brilliantly colored red flames. The Harley Davidson logo makes the branding very clear, and people can advertise their brand loyalty even as they are advertising their general toughness and giving themselves an additional layer of protection from the elements.
One of the things that stands out the most about the Protective  Neck and Head Tube Gaiter is its sheer versatility. It should be easy for people to wear this product as a headband, a neck warmer, a face mask, a bandanna, a scarf, a neckerchief, a head wrap, a wrist band, or a balaclava.
The breathable polyester microfiber creates a certain level of flexibility, and makes for a very comfortable motorcycle headband, regardless of whether or not people ultimately wear it as a headband. One size should fit all, and people can double it over in order to make it smaller for the sake of using it as a wrist band. It is true that some people might think that the material is too thin, but it should be thick enough for most purposes.
Many people are going to want to just wear it as a headband, of course, and it's very good at offering protection from the cold, the extreme heat, the sun, the rain, the wind, and the dust. Motorcycle riders are going to enjoy the ride that much more when they are wearing something like the HT-053 Harley Davidson Motorcycles Headband.
Ipow 2 Pack 4″ Versatile Lightweight Nonslip Moisture Wicking Elastic Sports Headband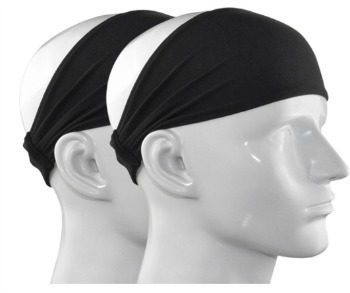 This stylish headband is one of the most perfect accessories that people are going to be able to find on the market today. At thirteen dollars, it is somewhat more expensive than some of the motorcycle headbands that people will find on the market today, but not by a wide margin.
The Ipow 2 Pack 4″ Versatile Moisture Wicking Sports Headband has a simple and straightforward look. It is solid black in appearance, and not as thick throughout as some of the other motorcycle headbands that people will find. Some people might still find it too thick of course, and some people might find it too thin. It should still satisfy most people.
Both men and women should be able to use the Ipow Elastic Sports Headband. Its design is also flexible enough to be worn by people of vastly different sizes. Most people should find that while the Elastic Sports Headband has enough elasticity to be flexible, it still will manage to stay in place on a person's head. Cleaning the Lightweight Sports Headband is easy and people won't have any trouble wearing it for long periods of time.
The Ipow 2 Pack of Headbands will absorb moisture and keep people from getting too hot or too cold, depending on the situation. While the headband isn't thick enough to keep people dry on particularly sweaty days, it still should genuinely come through for people.
4 Count Double Dry Headwear ,Moisture Wicking Neck Gaiter, Bandana, Balaclava, Helmet Liner, Mask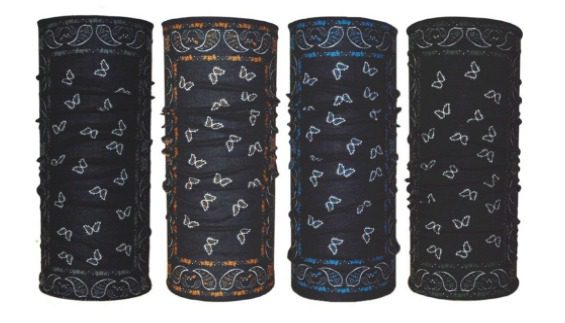 Few headbands are going to be as style as the ones that people will find in the 4 Count Headwear Moisture Wicking Mask package. The package costs just under ten dollars, which is indeed a bargain for what people are getting here.
The black background combined with the patterns of very intricate little symbols creates a very appealing look. On the edges of these headbands, people will see little tiny paisley symbols that have hints of blue and gold that stand out on the black background. Throughout the body of the headbands, people will see little symbols that look like minimalist butterflies. There are little borders that separate the two sections, and this adds more style. Not everyone is going to like this design, of course, but many people should find it very appealing.
The Moisture Wicking headbands are seamless, which should make them that much more comfortable to wear and which should help them last longer. They're machine washable. The headbands will not fit everyone, but they can stretch both ways and they should still fit lots of people. They're great in the summer, since they will block UV light and absorb sweat without being too hot themselves. Some people might find that they're too thin for the winter time, but they work well for good portions of the year.
Sweat Wicking Headbands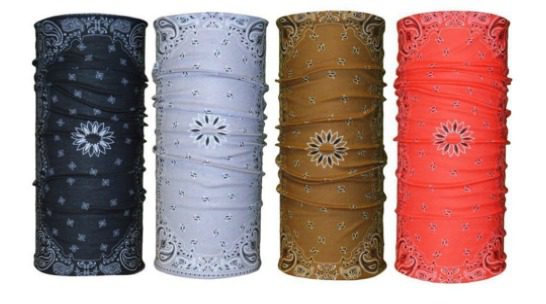 These Sweat Wicking Headbands are really several different products in one, given their versatility. They cost twelve dollars and fifty cents, which is fairly standard for this product range and which should not set people back that much. Since the Sweat Wicking Headbands can be worn in so many different ways, the price seems even more reasonable.
The background colors of the Headbands vary, but the patterns are all the same. There is a subtle floral symbol in the middle and paisley symbols at the edges, and there are very subtle butterfly symbols throughout. The symbols may not even be visible from a distance, but up close, they help to make for a more interesting set of headbands. Naturally, this design is not for everyone, but many people will love it.
The Sweat Wicking Headbands are easy to maintain, since they can be washed in the machine and it is easy to just let them air dry. The headbands should dry relatively quickly as well, which should make it that much easier to maintain them. The material is relatively thin, so it works better in the summer for ultraviolet protection and for holding back minor winds and absorbing some sweat. The microfiber material is high-quality, and it should be comfortable for most people to wear even for long periods of time.
These headbandsare also slightly tight. However, they should still fit most people's heads, and they are stretchy enough to be worn as headbands, face masks, helmet liners, and head wraps. The material has plenty of give, and yet it is not going to slide out of place at the wrong time. Being on the tight side is still probably ultimately better for most people.
6PCS Headwear, Headband Scarf Bandanna Headwrap Mask Neckwarmer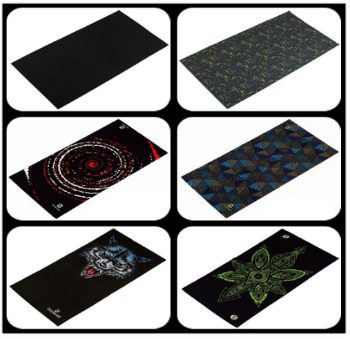 This 6PCS Neck warmer selection has lots of different styles which otherwise carry all of the same benefits. People will spend just under ten dollars for everything, which is on the low end for this price range and which should entitle people to all of the associated benefits.
The Headband/Scarf/Bandanna/Headwrap package features designs that vary a lot. All of them have black backgrounds. Some of them feature angry and growling wolves. Some of the designs feature swirling red and white vortexes. Others feature intricate blue and brown triangular patterns. People can really choose the styles that work for them, so they are much more likely to be satisfied with everything contained in this package. They can alternate between different designs on different days, allowing them to be truly satisfied with everything that they have and allowing them to experiment with different styles. While many mens motorcycle headband products contain toxic chemicals, these are much safer to wear. People are not going to absorb as many toxins when they're riding around wearing these.
The UV protection for this set of products is among the best that people will find. The headbands are soft, absorb sweat well, and still keep the head warm. The polyester microfiber material also dries quickly and lasts a long time. Some people might think that the Bandanna Head-wrap products are too large, but that varies from person to person. These are really some of the best headbands that people are going to be able to find on the market today, and most customers will love to have them.