I have returned to Australia after a two-week motorcycle tour through New Zealand with new opinions of Kiwis and their gorgeous country.
What a friendly bunch they are.
They are the most welcoming nationality I have encountered … Apart from the cranky lady at the Auckland transport information desk who told me upon our midnight arrival that I wasn't listening properly to her instructions (insert "are you kidding?" emoticon).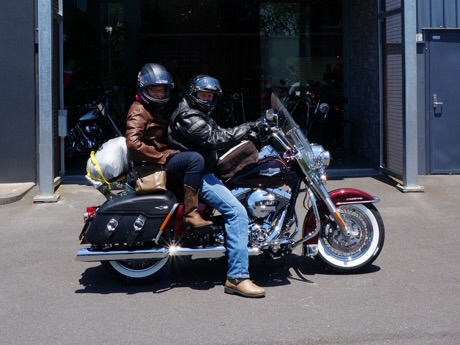 That aside, everywhere we arrived on our hired Harley-Davidson Road King, people would come up and talk to us. It seems Kiwis love a motorbike, especially a big, gleaming, chromed Harley.
They all seem to ride, most schools host trail rides and there are also plenty of tyre kickers who used to ride and love to come up and talk to you about their old bikes and want to know all about the new Harley.
Of course, the little kids love bikes. They stand and watch as we suit up in preparation for our ride and they wave as we ride past in their family sedans.
Some people also ask to have their photo taken with the Harley just like it's a movie or sport star.
Whenever we booked into our accommodation, the managers were very accommodating in finding secure parking for the bike. We even had offers to park the bike in personal garages. The conversation always centred around where we have come from and whether we got wet.
At a couple of our stopovers the motel or home-stay manager was a rider and would offer great tips on where to ride, plus some cleaning gear to wipe road grime off the chrome and windscreen.
We were picked up at the airport by an Aussie friend who told us that NZ is what Australia used to be 20 years ago; laid back and easy to get around. I am thinking he is right.
We met lots of interesting Kiwis along the road.
There was Bruce and Winifred, our home stay hosts in Tokoroa. Bruce may not have been wearing shoes and had his "holy singlet" on but he and his wife were salt of the earth. They have opened their home up to tourists as a retirement steady income and couldn't do enough for us.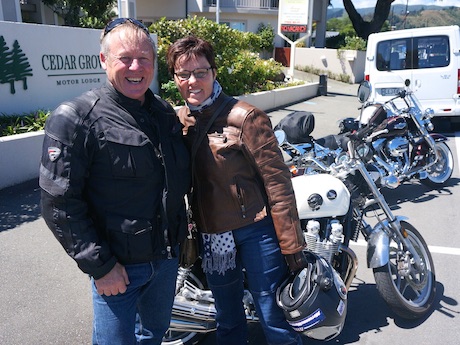 Bruce must be a common Kiwi name because it was another Bruce whom we met on the ferry across to the South Island. He researched the weather in the coming days for us, told us which roads were a must and which to avoid. And he offered us a bed in Christchurch on our way through. We also met up with him the next day in Nelson and we think we saw him zoom past on the road to Milford Sound on his distinctive four-exhaust Honda CB1100 (so MBW tells me).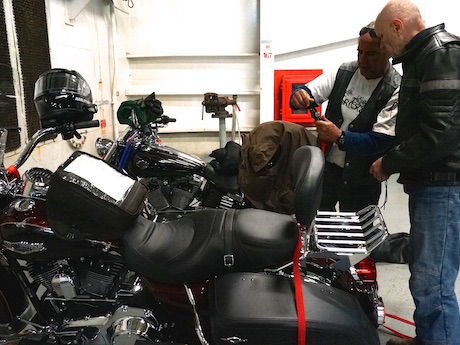 There was another old mate on the ferry who was very helpful in ensuring our bike was secure before the ferry headed across Cook Strait. We never did find out his name, but thanks!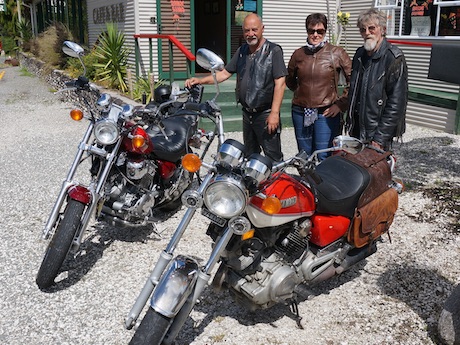 There was also Tui and Lance, affable bike riders out for a coffee because their town of six people was being "overrun by tourists" and they had to get away!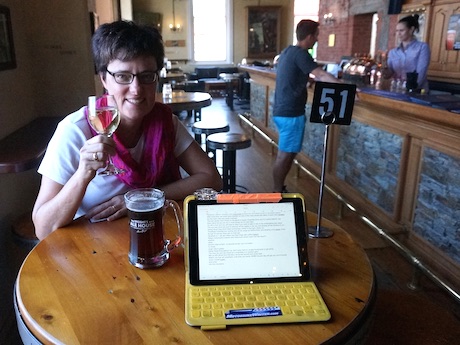 Tracey, the duty manager at Speights Brewery in Greymouth, was a wealth of local information and nothing was too much trouble.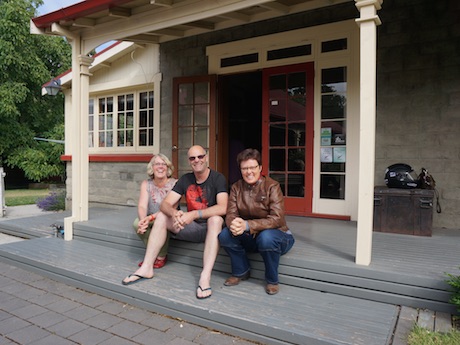 Mel and Rex the owners of the Hartley Homestead in Clyde have a couple of motorbikes in the garage and offered plenty of helpful local knowledge about the best roads to ride. They also have a good drop of homemade wine!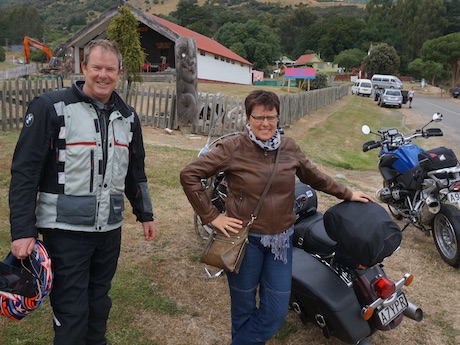 Greg and his wife Nicky (acquaintances from Brisbane) took us into their Christchurch home and showed us exceptional hospitality, including a bike tour of Banks Peninsula's wonderful bike roads and a car tour of the earthquake suburbs and CBD. Their spirit of faith in the rebuilding of their birth city is infectious. As a former CEO of a Maori community, Greg also gave us great insights into indigenous reparation works.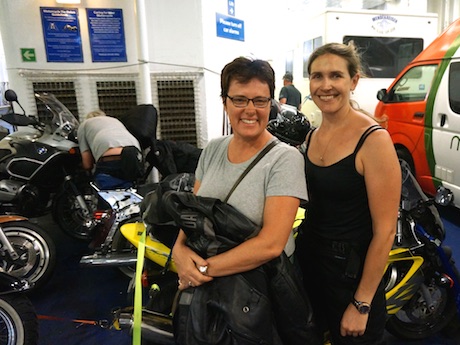 And then there was Candice, from Auckland, the lone female bike rider whom we befriended on the ferry back to Wellington. We particularly admired her indomitable spirit of adventure.
NZ is also seething with tourists soaking up all that this amazing country has to offer.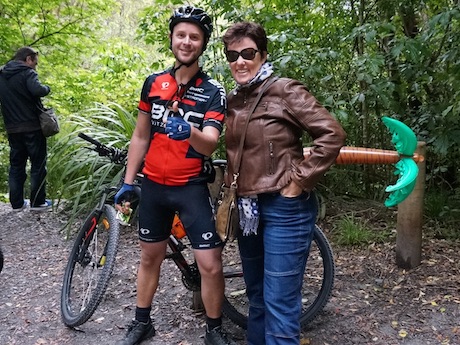 One of my personal favourites was Stephan the redoubtable cyclist who is the sales manager for Pinlock visors, a lifesaving device in a helmet when you are riding in the rain. This device was a godsend on a few occasions when we went through rain. Stefan had a blow-up palm tree on the back of his bike which was apparently his penalty for being the slowest of his pack the previous day.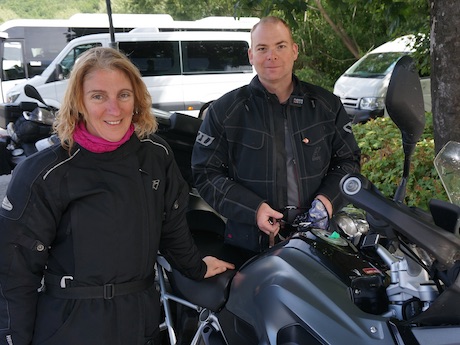 We also met UK riders Karen and Greg who hired bikes in Auckland and spent three weeks touring NZ vowing not to be too touristy, but found it impossible to resist helicopter rides over the glaciers and jet boat rides in the gushing streams.
One other I should mention is Jill, an English tourist who was travelling in a car. She saw us taking pictures of the bike at an iconic train station and came over to chat. After a short time she asked could she have her photo taken on the Harley. She had a blast and couldn't wait to send the pics back home.
New Zealand is not only a great place to ride for the spectacular scenery and challenging roads, but also for the locals and even some of the tourists.