May is perfect weather for the Queensland Motorcycle Awareness Month and it all gets underway with the fifth annual Motorcycle Riders Association of Queensland Ride Day on Sunday (May 6).
MRAQ President Chris Mearns says the ride is now being run in May to coincide with the International Motorcycle Awareness Month.
"We will be providing information to riders during the month to highlight safety and other motorcycle-related issues," he says.
"We are proposing to follow on from this month and promote the International Ride to Work event in the first week of June.
"During May we have a meeting with the QTMR arranged at which time we will be requesting a more inclusive and informative response for a rider safety program then we saw on the weekend just gone."
Click there to read about the police "safety" operation.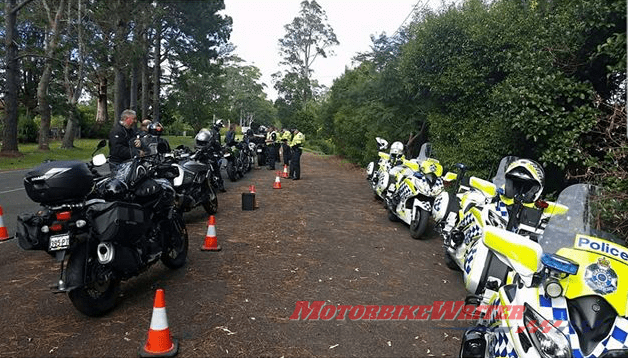 The MRAQ says riders have the same rights as all other road users and are "entitled to our space on the road".
The organisation also encourages riders to "Get Trained and Ride Well".
Riders of motorcycles, scooter and trikes are invited to take part in the annual MRAQ Ride Day on Sunday to show riders are part of the transport mix on our roads.
Sign up starts at 9.30am at BP North (Caboolture) on the Bruce Highway with stands up at 10.30.
The ride heads to Kenilworth for the first stop via the back roads and through Maleny.
From Kenilworth the ride will head north to the old highway and back through Nambour and back roads to Landsborough to finish.
The $10 entry fee will support the MRAQ's advocacy work and, other than membership fees, is the only source of their "very limited" income.
Chris says they have contacted Transport and Main Roads for be involved at the start of the ride but have not yet received a reply.
The MRAQ hopes the ride will be a visual spectacle that reminds other road users to share the road with motorcyclists and stay alert to blind spots.
"We all need to do our part by safely sharing the road," he says.
RACQ's May safety message
RACQ safety officer Steve Spalding who rides a Suzuki Bandit, says they support the Motorcycle Awareness Month with messages for other road users as well as riders.
For drivers:
Always carefully check around you and indicate before changing lanes or turning. A quick glance isn't enough to safely spot riders.

A rider's safety depends on drivers being aware of their surroundings. A driver looking at their mobile phone has no regard for the safety of vulnerable road users such as motorcyclists.

A safe space makes all the difference to a rider's safety. Don't follow too closely particularly in bad weather or on wet roads. 
For riders:
Blind spots can leave a rider exposed, so make sure you are positioned in a way that ensures you'll be seen by drivers.

Darting between traffic places you at risk of being side-swiped by a vehicle turning or changing lanes. Pick your passing spots carefully and don't take chances.

Make each ride (even commuting) an enjoyable one. Don't ride too fast in busy traffic. After all, why get to work earlier than you need to!