Marsee "Teardrop" Tank Bag
I found the 20 liter teardrop tank bag by Marsee fits all of my needs.
This is the first in a series of improvements to the new 2006 Yamaha FJR1300A in my quest to make it my "Ultimate Sport Tourer".
I elected to start with installing a tank bag because it can be difficult to know exactly how much stuff to take along on a trip.
Weather conditions can vary wildly while on the road which could require additional clothing or gear.
My wife and I found out about the surprises Mother Nature can have in store for motorcyclists last September in Yellowstone, Wyoming.
It was 75 degrees and sunny one day with cold rain and intermittent light snow the next.
If motorcycle camping's your thing, the additional storage capacity of a tank bag could be very useful in helping to spread out the load.
I like using a tank bag for items that might be needed often or in a hurry. I prefer to keep my rain gear in there so if it's needed, it's not necessary to disturb items stored in the side cases.
Snacks, water, maps, toll booth money, cell phone, and even a portable music device fit well in there.
I'm sure there are dozens of other uses, but those are my primary ones. Some riders prefer to use just a tank bag and leave the side cases off if they're going out for just the day.
The Marsee 20-Liter Teardrop Tank Bag
My choice for a tank bag was Marsee's 20 liter Teardrop expandable bag with a four-point attachment system.
Rex Marsee, the creator of the Marsee line, has been involved in designing motorcycles since 1973 and motorcycle apparel since 1976.
He spent quite a bit of time with Harley Davidson in their engineering department and is credited with introducing a disk brake for the rear wheel and wanted to use one on the front too, but Harley said it would never work on a motorcycle.
I guess Rex was just ahead of his time, eh?  Rex has designed some unusual motorcycle frames over the years and was also instrumental in getting Eric Buell to use Harley engines.
The rest of the Buell story we all pretty well know.
Rex Marsee has also been valiantly working on starting his own motorcycle company. During all this, he was also designing motorcycle apparel.
His concentration is on attention to detail: durable materials, and simple, clean designs with plenty of useable features. His targets are the occasional rider, the endurance distance rider and everyone in between.
Anyone that's remotely familiar with Long Distance Riding (LDR) knows of Gary Eagan, who has won many endurance titles.
This includes his incredible record breaking Trans-Continental ride from Prudhoe Bay, Alaska to Key West, Florida, a total of over 5,600 miles in only 115 hours (Sure makes my 5,500 miles in two weeks look simple).
Gary rides 100k miles a year and trusts his safety and comfort to Marsee gear.
Many of Rex Marsee's employees are avid motorcyclists themselves who provide feedback on the products they make.
They also welcome any comments from their customers to help their product line evolve. Many of Marsee's ideas have their origins in suggestions from riders just like us.
Teardrop Tank Bag Details
The 20 liter Teardrop tank bag's base dimensions are 9″ (23cm) wide, 13″ (60cm) long, 5″ (12.6cm) tall at the front end of the bag and 9″ (23cm) at the rear.
When fully expanded, the height changes to 9″ (23cm) at the front and a whopping 13″ (60cm) at the rear.
This thing has plenty of space and can gobble up quite a bit of stuff when expanded to its full capacity.
The teardrop shape fits the tank contour on my FJR nicely and is made to fit bikes where the fuel tank shape drops at the rear. They rate this bag at no more than 5 pounds which makes sense.
The heavy stuff should be kept as low as possible (as in the side cases) when packing to help keep the center of gravity low so as not to adversely affect the bike's handling. Only light weight items should be stored in a tank bag anyway.
The bag is very sturdily made out of 1050 denier ballistic nylon with a waterproof coating.
I've not had occasion to have it in the rain so I can not vouch for its waterproof capabilities yet. Marsee has rain covers available for their tank-bags, I guess for added protection.
The clear detachable map case is two sided, although it can only be attached to the bag in one position. There's a convenient pocket at the rear for small, quick access items, eliminating the need to unzip the main body of the bag.
Marsee incorporates large, easy to use zippers that run around the perimeter.
The zippers have some well thought out pulls that are easy to grasp and operate with a gloved hand. One zipper accesses the interior, the other is used when expanding it.
There's adjustable shock cording on the sides to help snug down the bag, when expanded, in case it's "stuffed to the gills". Just inside the lid are two zippered internally accessed pockets.
The bag has reflective piping all the way around it and the unique Marsee logos on the sides are also reflective, a nice touch.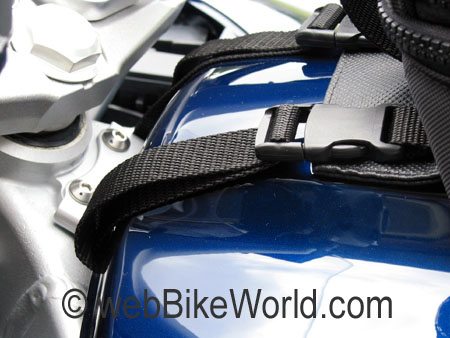 Mounting the Marsee Tank Bag
On the under side, to protect the finish on the fuel tank and to keep it from slipping around, is a Toughtek lining which does the job well in keeping the bag from sliding around at all.
The four point anchor system consists of two quick release buckles at the front and two at the rear. These are easy to use even with a gloved hand and when snapped together make for a secure connection.
I know there are models with magnetic mounts (of which Marsee has several models), but my previous bikes all had plastic tanks which required a strap style anchoring system.
Maybe it's me, but I just don't feel comfortable relying on just the magnets to keep a tank bag in place. I prefer to know things are fastened securely to the bike.
There are other mounting systems on the market that consist of a bracket which mounts onto the collar around the fuel filler and keeps the bag from ever touching the paint, thus eliminating any possibility of marring the finish.
Marsee also has this style mount available on some of their tank bags, but not for the Teardrop model. Be sure to check their website for those model applications.
Personally, I think the fuel filler mount types look kind of funny with the bag "floating" above the tank — I like how the lines of the tank and tank bag flow together.
Marsee also includes with these bags what they call an "ID Wallet".
It has now become my regular wallet. It's just big enough to carry my license, a credit card or two, my motorcycle membership cards and the usual scrap pieces of paper that have vital bits of information on them and is held shut with a strap and snap.
Even the wallet has the Marsee logo, which if you didn't know, is the name Rex Marsee in Korean.
Marsee also has what they call "eTankbag", which is a system to bring a power supply neatly into your bag to provide power for any consumers you might have stored in there.
This could be used for a cell phone, audio device, radar detector or whatever. This can be fitted to any of their tank bags.
What if the bike is parked but you don't feel comfortable about leaving the bag sitting there possibly to be stolen or rummaged through?
No problem, just use the included 2″ wide strap with fasteners on the ends, attach them to the two single "D" rings on the bag and voila, it's now a backpack (of sorts) that can be carried along.
There's also a sturdy carrying handle on the rear end of the bag.
Since the tank bag would probably be off the bike more than on, my goal was to make it easy to install when needed, but to not have any straps hanging around to get pinched between me and the fuel tank (perhaps in a tender area, if you know what I mean) when not in use and possibly mar the paint.
Therefore, the straps at the back would have to be either removed each time or stowed when not in use.
Removing them each time wasn't really an option.
After some investigation, I discovered I could simply fasten the two straps for the rear buckles under two bolts that exist under the rider's seat right at the base of the fuel tank.
Not only that, there was a perfectly sized space adjacent to my anchor points where the straps could be folded and stowed neatly out of the way when not needed.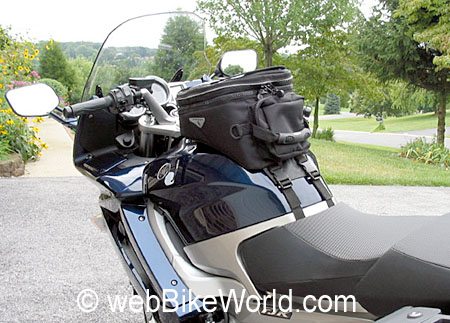 The Marsee tank bag came with plenty of webbing for attaching it to different size fuel tanks and mounting configurations. You'll have to explore your own bike for possible anchor points.
As with any tank bag, it should never be attached to ANY moving parts, hot surfaces or components that are not strong enough to take the strain.
Chances are most motorcycles will have something under the seat for the rear anchors, or somewhere to simply loop the webbing around a frame member.
One trick is to sew a loop in one end of the webbing, then after passing around the anchor point thread the free end through the loop.
Once sure of my mounting configuration, I cut the webbing for the rear mounts, with scissors, to a length needed, allowing enough for lacing through the male part of the quick release buckle.
I punched a hole in one end with an old leather punch just large enough for the 6mm bolt to pass through and all edges were fused with a lighter to prevent unraveling.
I placed a washer between the bolt head and webbing to stop the webbing from pulling off over the bolt head and to minimize elongation of the holes in the webbing.
The bolts were then snugged down, but not too tightly so as to not crush the webbing.
Straps?
My next dilemma was whether to run the straps outside the trim panel around the rear of the fuel tank or under it. I chose to just run them over it to simplify the back and forth conversion process.
The front strap I found I could simply pass under the bracket at the front edge of the fuel tank.
This took only a few tries to accomplish and the excess webbing could be tucked under the tank. I'm hesitant to cut the excess off until I've had a good "shake-down cruise" as I may choose to change my anchor point.
The straps then come up over the front of the tank and fasten to the two quick release buckles at the front. Installation complete!
As with most tank bags, there's the the complication of the fuel filler being underneath it.
With this style bag it's a simple matter of releasing the two quick release buckles at the rear (though I guess the front ones could also be used), flipping the bag up, filling the tank and before setting the bag back in place, making sure there is no fuel or grit present that may damage the finish on the tank.
Marsee warranties their bags for life, to the original owner, against defects in materials and workmanship.
This does not include fading or abuse, of course. Simply removing the bag when not in use and/or covering it to protect it from the ravages of the sun will prolong its life immensely.
Conclusion
The addition of a tank bag is usually an easy item to install and is invaluable for storing items that you might need quick access to when on the road. I found the 20 liter teardrop tank bag by Marsee fits all of my needs.
It expands to a size that can hold quite a bit of stuff, but yet is not so tall as to obstruct my view of the dash or the road. Nor does it interfere with the operation of the bike since its design allows full "lock to lock" movement of the handlebars.
It is sturdy, well made, attractive and blends in well with the shape of the bike. I'm anxious to see how it performs on my next trip.
Marsee Mighty Mini Tank Bag Review
Marsee Rocket Pocket Tank Bag Review
w

BW

 Review: Marsee 20-Liter Teardrop Tank Bag
Manufacturer: Marsee Products
List Price (2006): $157.00 USD
Colors: Black
Made In: Unknown
Review Date: October 2006
Note:
 For informational use only. All material and photographs are Copyright © webWorld International, LLC since 2000. All rights reserved. See the webBikeWorld® 
Site Info page
. Product specifications, features and details may change or differ from our descriptions. Always check before purchasing. Read the
Terms and Conditions
!
Owner Comments and Feedback
---
From "H.S." (April 2016): "I bought the magnetic version of this bag in 2006. It has been used on three different bikes, including the authors model the FJR 1300.
I have travelled from Ontario Canada to California 3 times, up to British Columbia and all points in between, and never had a problem with the bag moving in all types of conditions.
This is a very well made bag, it holds its shape when not full. It shows very very little in the way of wear and tear, almost none existent. I don't expect to be buying another for a long time.
There are cheaper bags out there. But, with this one you definitely get what you pay for. Highly recommended."
Other WebBikeWorld Luggage Posts