It can be boring traveling the long straight roads south-west from Perth, but the rewards in the Margaret River area are many: rambling country roads, enchanted forests of tall karri and marri timber, rugged coastline, wineries, breweries and many culinary delights.
The area is known as having quite a Mediterranean climate, hence the fine vineyard scenery. However, winters can range from an uncomfortably wet, cold and blustery 8-10c to a quite mild, sunny and pleasant 18-20c so you have to pick your time. Best to hustle quickly out of Perth to Busselton via the Kwinana Freeway and newly constructed Forrest Highway.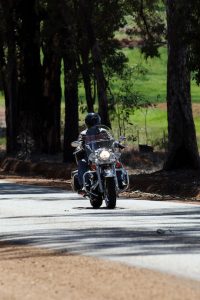 From here you can do a two-day circuit around the south-west taking in the Margaret River winery region, the majestic surf coast, the winding coastal Caves Road and the grand tall trees around Pemberton.  Then, staying off the southwest highway, you can zig-zag north through the picturesque historic towns of Manjimup, Nannup and Bridgetown along a great winding road that follows a river valley from Nannup to Balingup.
Try lunch at Swings & Roundabouts Winery on the Caves Rd for a great indoor meal and warm up, or the historic and welcoming Yallingup Caves House Pub. Watch the wind whip up the wild surf near Preverley while sipping a hot cappuccino on the beach from the carpark pop-up coffee store.Stock up in Pemberton on supplies (the local pinot noir is worth a try) and stay overnight in a comfortable lodge villa at Karri Valley Resort.  Try breakfast at the Urbanspoon in Pemberton before heading north with a coffee stop at Nannup and lunch at the Bridgetown Hotel or Blackwood River Tavern, Balingup.
If you have time, at Busselton you can head back to Perth via Harvey and the more winding and picturesque South Western Highway with a final coffee break at the historic Edenvale Tea Rooms, Henry Street, Pinjarra.