While 100 free motorcycle footpath parking spots have been added in Brisbane, you still can't legally park your motorcycle on the footpath outside your home in most Australian towns and cities.
Most municipalities ban parking your motorcycle, scooter or any vehicle on the footpath, nature strip or centre strip and hard-headed and hard-hearted council parking inspectors have been known to issue fines. If it is a major obstruction or in a school or hospital zone, you could also cop a fine from the police and receive licence demerit points. Meanwhile, Victoria has had free motorcycle footpath parking for decades and has only received one complaint from a pedestrian in all that time, according to the Australian Motorcycle Council.
On Friday, Brisbane City Council Deputy Mayor and Infrastructure chairman Adrian Schrinner said it had increased the number of motorcycle and scooter parks to 850 with the addition of 100 sites in South Brisbane. It's a drop in the ocean as all those spots fill up early every morning. Cr Schrinner admitted there are more than 33,000 bikes registered just in the council region.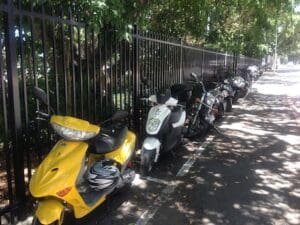 Rather than following Victoria's free motorcycle footpath parking system, Brisbane has designated and delineated parking bays on roads and some footpaths for bikes. Cr Schrinner claims many Brisbane footpaths are too narrow to allow parking. He says they are still looking for places on footpaths where they can park bikes and hope to have 1000 parks by 2015. Council can't be searching very hard. Surely there are thousands of spots all over Brisbane where parking could and should be allowed right now, rather than waiting another year while officers search the city.
Instead of allocating more parking bays with white paint lines which would make our footpaths look like it they been hit by a plague of hopscotch-ers, the easiest solution is the combination of the current marked parking bays plus the Victorian motorcycle footpath parking model.
Contrary to popular belief, Victorian riders don't have free rein to park on any footpath. Guidelines state that riders must dismount and walk their bike on the footpath, and they must park one bike length from a building, a wheel length from the kerb and parallel to the road so they don't impede pedestrian passage. There are also some areas where footpath parking is not allowed. Some are signed such as narrow footpaths like Brisbane is claiming, others are where there are footpath cafes, opposite disabled bays, near taxi ranks and bus/tram stops, on private property or beside service points such as post boxes, bins and manhole covers.
While the AMC claims there has only been one official complaint against motorcycle footpath parking, there are reports of angered pedestrians deliberately damaging or pushing over bikes that are not properly parked. People enraged about footpath bike parking are either jealous or don't see that it is actually freeing up spaces for cars. It's a similar situation with lane-splitting which makes drivers envious, yet it is actually an advantage for car drivers because it makes commuter traffic flow freer.
If you would like to email Cr Schrinner with suggested motorcycle footpath parking areas or a plea for Victorian-style parking regulations, his address is chandler.ward@ecn.net.au. Riders in other jurisdictions may also like to email their state minister or local councillor responsible for parking matters.
Cr Schrinner says they provide dedicated motorcycle spaces on footpaths only where it was safe. "Council works to ensure the safety of all road users and pedestrians, meaning that a number of factors need to be considered before creating motorcycle parks on footpaths. These factors include ensuring motorcycle riders can safely access footpath parking spaces without impacting pedestrians and that the parking spaces are not on land with a gradient steep enough to potentially cause the bikes to fall over."
Meanwhile, to see a full list of Brisbane's free motorcycle parks, click here.