A solo rider has set a Guinness world record for the longest electric motorcycle ride at 12,644km (7856 miles) – and he's still going!
Magazine journalist Thomas Tomczyk set off from Philadelphia in March on his "Electric Powered Odyssey" and last week surpassed the previous record of 11,000km (6835 miles) in Colombia.
However, he still has more than 8000km (4970 miles) to go to his final destination in Patagonia.
Another team has ridden more than 12,000km on an electric motorbike but only with the help of a van to provide charging and technical support.
Thomas has done the distance without support in his attempt to become the first person to ride solo from the United States to Patagonia at the southern tip of South America.
To make things more difficult, he's doing it on a 2012 Zero S electric motorcycle designed for city use, rather than long distances.
He has to stop for one or two hours at a time to charge up his bike which has range of about 144km (90 miles) for a maximum of about 321km (200 miles) per day.
Thomas says he gets a lot of inquiries about the bike and assistance when he stops to find a place to charge.
His stops so far have included jails, schools, museums, homes, garages, coffee shops and even a roadside toll collection building.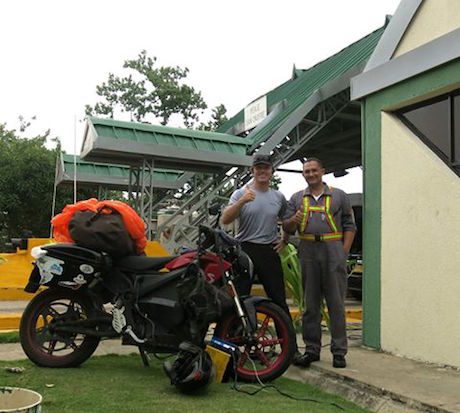 Thomas is making a documentary with the help of a Kickstarter campaign launched on July 24.
He is aiming to do a 20-minute documentary on a budget of $15,000, or a 40-minute film if he raises $25,000. With a couple of weeks to go, he has only raised about $2300.