Induction Jacket Review Summary
Editor's Note: this review came out in 2017 and is for an older version of the Klim Induction Jacket. For the new version, please see our Klim Induction Jacket Review [Updated for 2022].
The Klim Induction jacket was introduced in 2014 and has been recently updated. The design and execution of this latest version may just make it the most functional lightweight mesh jacket that we have ever reviewed. Its high-visibility colouration scheme and reflective inserts address critical day- and night-time conspicuity requirements. They keep you more safely visible while in motion or when stopped.
This hard-to-fit reviewer slipped into this new-for-2017 jacket and after one pass of the (vanity) mirror and a closer inspection of all its features, the decision to add this item to the riding gear collection was easy. Between technology-based features, protective features, overall fit and style both on and off the motorcycle, it's my new go-to jacket for hot-weather riding.
For cooler days, one of my favourite lightweight warming layers fits nicely underneath, converting the Induction jacket for use during early morning to late evening. A lightweight waterproof liner of some sort would also work as well when needed. Many motorcyclists have a hard time getting past the cost of Klim gear but as it is with other top-tier products, you get outstanding value for the investment.
With the price decrease for the 2017 version, the Klim Induction jacket actually is a truly outstanding value for long-term comfort and protection.
Introduction
With the official arrival of summer and with a very wet spring (with wild temperature swings) packing its bags, thoughts turn to hot-weather riding outfits. Depending on where you live, it could be time to put away the heavier gear and start relying on light-weight ventilated "ATGATT" clothing to stay comfortable and safe.
But that desire to stay comfortable and protected also means that the question of what, if any, compromises might be needed when considering lighter-weight ventilated jackets and pants. We have seen and reviewed lots of lightweight ventilated gear over the years, many of which involved a certain amount of compromise.
For the most part, however, the manufacturers have responded with new technology to provide a wide range of light-weight and comfortable gear that does balance comfort and protection.
And this balance is something that the new Klim Induction Jacket has in spades.
Klim takes great pride and care in designing and producing what are arguably some of the best personal clothing products that motorcyclists can buy and their well-known approach is certainly reflected in the Induction Jacket.
So lets' take a "Quick Look"  at the new-for-2017 Klim Induction jacket and see if it has what it takes to succeed.
Where to Buy Klim Induction Jacket
Also Shop for: Motorcycle Jackets, Motorcycle Gloves, Motorcycle Boots, Motorcycle Pants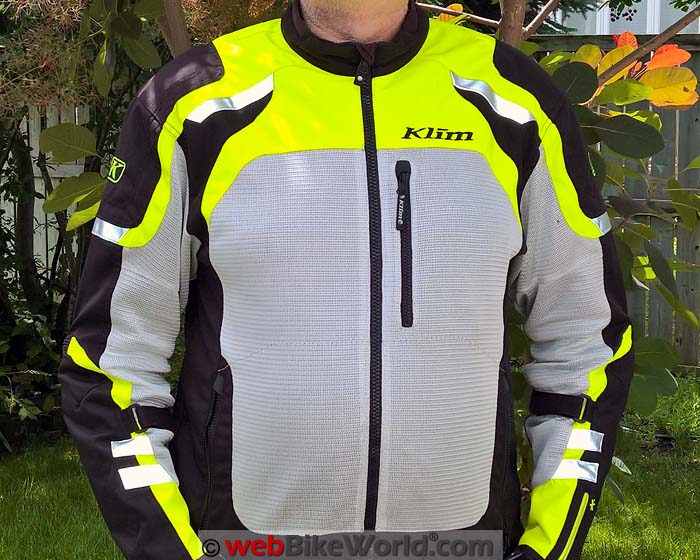 Technical Features
The original version of the Klim Induction jacket included a removable waterproof liner but the new (2017) version ditches the liner and lowers the price.
Thus, the jacket now represents an even better value but with all the same excellent comfort and protective features.
And as I already have one or two well-travelled waterproof liners from other jackets that I can use with the Induction jacket, the new outer-only variant (in size XL) was the way to go.
Like all Klim gear, the lightweight Induction jacket touts lots of great features based on solid design principle and proven technologies based on the heavier-duty Klim adventure and enduro gear.
For example, the Induction jacket utilizes the same 840D Cordura used for their Gore-Tex jackets.
It also has the latest "Karbonite" mesh, claimed by Klim to be derived from a military specification version that is also 750% stronger than polyester or nylon mesh.
Use of this proprietary mesh along with the Klim "Rhino" stitch construction provides a lot of ventilation while also providing heavy-duty abrasion and tear resistance.
Potential impact points like elbow and shoulder zones include "840D Hi-Tenacity 6.6 Nylon" for added abrasion resistance and durability.
The jacket also has position-adjustable D30 "EVO" protector inserts in the elbows and shoulders, along with a D3O CE Level 1 rated back protector insert.
Engineered Styling Features
The Induction Jacket is what Klim describes as a "hip length cut" and it does indeed fit and sit between a three-quarter and waist-style jackets and it also looks good both on and off the motorcycle.
The cut and assembly of the mesh panels makes for a nicely fitted tailored look when you're wearing the jacket.
That engineered fit provides plenty of room, no matter which type of motorcycle you're riding.
Contributing to overall comfort and flexibility is the breathable moisture-wicking mesh comfort liner and a conforming fleece-lined soft collar that doesn't add pressure or rub anywhere.
YKK zippers are used throughout the jacket, with a micro-injected "Hypalon" zipper assist for the main front zipper and zipper "garages" for the pull tabs.
Adjustability
External adjustable arm and waist straps and internal belt loops on the Induction jacket provide for integration with standard pant belts.
I always award extra marks for good pocket design but unfortunately most of the mesh jackets I own have one two pockets with only limited functionality.
Not so with the Klim Induction jacket; it has lots of useful pockets, including one on the upper left chest and the typical pair of lower hand pockets.
Also included are left and right inner chest pockets, one hidden passport pocket and the now familiar Klim emergency ID pocket on the left forearm.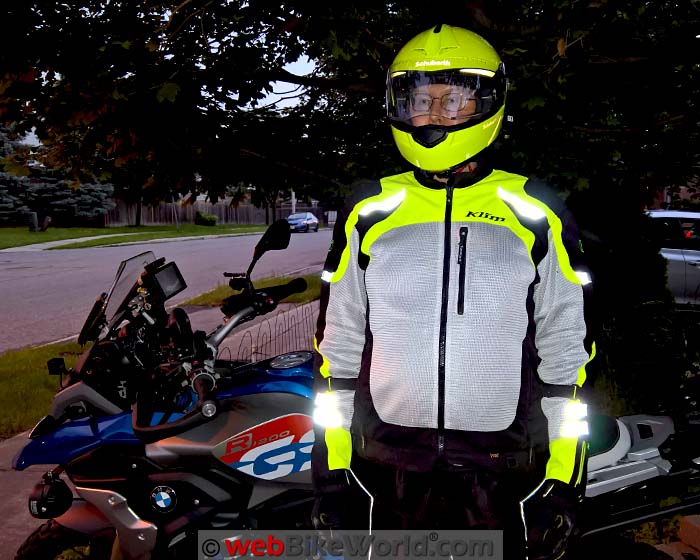 Visibility
The main mesh panels of the jacket shell include a UV-resistant treatment for longer colour retention and colour saturation for the high-visibility version of the jacket, which also comes in all-black.
Additional conspicuity for low light and night-time conditions is provided by strategically placed 3M Scotchlite reflective material on the upper and lower arms and upper back.
The location of the reflective inserts is supposed to assist other vehicles to notice the rider's movements, so they don't just see an object but a recognizable form on the motorcycle.
As we all know, every little bit helps in that department…
Pockets
All of the pockets on the Induction jacket are useful. For example, the left forearm has a pocket that I have employed to carry the BMW Keyless Ride Fob.
All of my other personal paraphernalia fit nicely into the outer chest pocket on the jacket, in the small water-resistant collapsible pouch or the large easily accessed side hand pockets.
The internal chest pockets are formed of mesh so as to not impede air flow when the pockets aren't in use; the left one is horizontally zipped and the right vertically zipped.
I agree with some owners that these pockets can impede air flow when in use, but I use them all the time; having the means to carry things is worth some trade-off — keeping safety in mind, of course.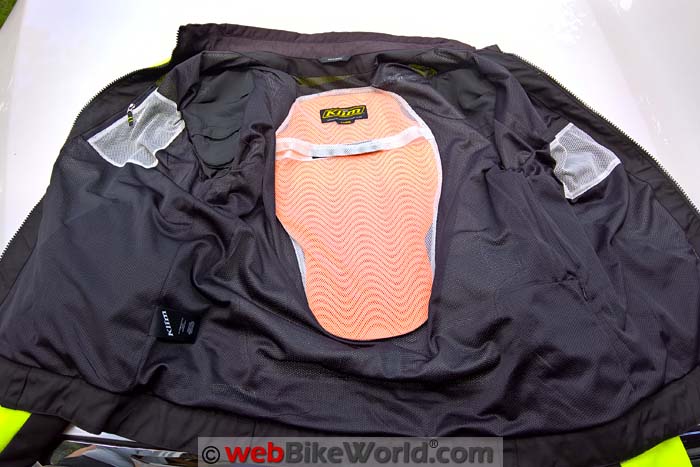 Fit and Sizing
I am admittedly hard to fit for the most part, so based on experience, I have a penchant for Firstgear, BMW clothing and virtually anything from Klim, all of which just seem to fit me.
For the most part, anything in a size L to XL (Tall) fits me, while sleeve length is typically my main issue.
But the XL Induction Jacket is just fine, with the right amount of extra inner space to accommodate a lightweight layer underneath for those cool mornings and evenings.
While I typically lean towards a longer adventure-style jacket — I prefer 3/4 length even for lightweight use — the hip length cut of the Induction jacket sits well on me, on or off the motorcycle.
The neck or collar section is admittedly a bit large for me but between the free play and its comfortable padded lining, it is comfortable and not intrusive in any way.
And my continued kudos to Klim regarding sizing, including for the arms; all of my Klim clothing in size L or XL has more than enough (but not excessive) length to fully house my long arms while riding any type of motorcycle.
A good fit is essential for comfort, rider flexibility and airflow and in this regard the Klim Induction jacket in XL fits me to the proverbial "T".
Its articulated fit and shape, along with well-placed stretch panels and the comfortable lining, keeps the jacket in place on my upper torso and arms.
Whether I'm riding in a relatively protective cockpit environment or hanging out in the breeze, the Induction Jacket provides even air flow around and through the jacket surfaces without creating pressure points or buffeting.
Jacket Adjustments
Depending on my seating position, the adjustable arm straps on the jacket can keep things snug and secure without totally diminishing the air flow.
The side waist adjusters allow a custom fit along the bottom as desired and can be used with one hand to tighten or loosen, something that isn't always possible with friction adjusters, so this is good.
Miscellaneous Notes
A small raised silicone (Hypalon) bumper, stitched into the lower edge of the jacket just to the left of the zipper, acts as a bumper guard between the zipper and the fuel tank paint.
Although if the zipper is kept tucked into its "garage", this shouldn't be an issue.
But the piece with its "Induction" logo is still a thoughtful touch, as is the small plastic key hanger also on the left bottom side.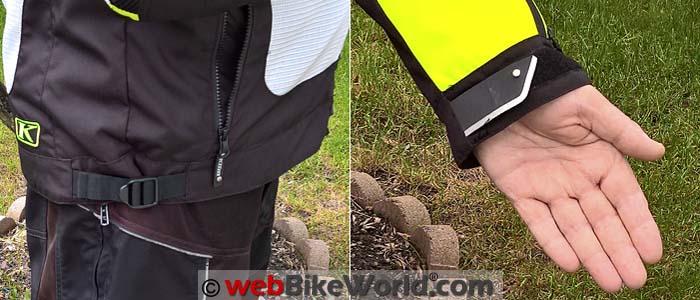 Cons?
Only two observations about the Klim Induction jacket need be made.
First, the long relatively stiff Hypalon cover pieces for the hook-and-loop wrist adjustment tabs are obviously meant to protect the fastener and provide easy adjustments.
But…I don't want something stiff and projective here; there may have been a good reason for adding these stiff pieces, but the other adjusters don't use them and they seem a bit out of place in this location and they can be obtrusive.
Secondly, the location of the reflective pieces works nicely for visual conspicuity, especially in low-light or night-time conditions, but the current layout is less than totally effective. Klim — enhance this, please.
Conclusion
Klim gear ain't cheap, but trust me, you get more than you pay for… And after a few decades spent wearing out lots of motorcycle riding gear, this jacket, like my other Klim pieces, is going to be in use for a long, long time.
w

BW

 Product Review: Klim Induction Jacket
Manufacturer: Klim
List Price: $349.99
Colors: Black or Hi-Viz
Made In: Vietnam
Sizes: S-3XL
Review Date: July 2017
Note:
 For informational use only. All material and photographs are Copyright © webWorld International, LLC since 2000. All rights reserved. See the webBikeWorld® 
Site Info page
. Product specifications, features and details may change or differ from our descriptions. Always check before purchasing. Read the
Terms and Conditions
!