LED Flashlight Image Gallery
The machinist in me was intrigued at the ad for a "CNC machined aluminum LED flashlight".
I just had to have one.
The price was high at $24.95, and then there was the 5 buck shipping charge, but hey — what price quality?
A nice CNC-machined "billet" flashlight would look great in a saddlebag, I thought, and would be something to brag about around the rally campfire.
And I wouldn't have to worry about it breaking or vibrating to death under a motorcycle seat.
The information provided on the web page at Super Bright LEDs and the product packaging doesn't say where the flashlight is made.
But for some reason, I naively assumed that a little machine shop somewhere in the U.S.A. was pumping these things out to make an honest buck.
Unfortunately, the package has no information whatsoever on where the flashlight was made, so I guess we can assume it's been pumped out of some generic factory in the depths of the New World Order.
I've noticed this trend recently — with the rapid movement towards globalization, you'd think the WTO or someone would at least mandate that a product is labeled with the country of origin.
Is someone they ashamed?  Or are they trying to scam people into thinking it was made in whatever country the purchaser resides in….
The Cynthia LED Flashlight
Anyway, the "Cynthia" (this name alone is a clue that the flashlight surely isn't made in either the U.S.A. or U.K.) model is a pretty decent LED flashlight with average performance.
I was expecting more for 30 bucks, but I guess the "billet" aluminum body doesn't come cheap. My machinist eyes tell me that it is indeed CNC machined, and it has good quality.
The package claims that it's made "out of solid metal bars (sic)", and this must be true, because the LED end is obviously made from a solid piece of aluminum.
The bar stock must have started out at about a 7/8″ outside diameter (O.D.).
I don't see any machining artifacts in the bore, so perhaps they used some type of gun drill to hog out the interior, although the tolerance is nice and tight for the two AA batteries.
The milled longitudinal slots on the O.D. could be a bit nicer, because the edges are rough, like the ball end mill's feed rate was too high, but all in all, it's pretty good quality. I'm not sure if a non-machinist would appreciate the work though…
I believe the claims that the 146 mm (5.75″) long body can withstand 2000 kilos, which I assume means pressure per square inch? The literature doesn't say.
The aluminum body is slippery — I think it would have been better if it had a knurled or rubber coated surface. I'd hate to think about how slippery this devil would be once it got covered in shop grease.
It doesn't meet my requirements for the "perfect" LED flashlight configuration, because the on/off switch isn't in the classic and most user-friendly position, which would be right along the O.D. of the tube.
The flashlight is turned on and off via a pressure switch at the butt-end of the body, opposite the LEDs.
It's a rubber covered switch, and it has a quality feel that doesn't take much pressure to engage, like it's pushing some type of internal microswitch.
The rubber covering is slightly convex in shape, so it isn't flush with the body.
This means that if the flashlight is dropped or bangs up against something in the toolbox, it can be turned on unexpectedly.
Batteries
The flashlight takes two AA sized batteries, and you'd think for $30.00 they'd include a couple of Energizers or something, but this isn't the case.
At least the five LEDs shouldn't take much power; the anonymous company that manufactured it makes no claims for battery life, but the packaging does claim that the LEDs will last 100,000 hours.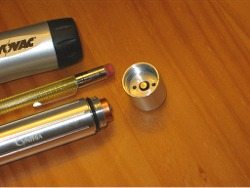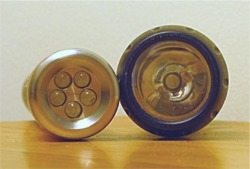 The only opening to the flashlight is by screwing off the rear cap, which uses an O-ring to help maintain water resistance.
The LEDs are claimed to be non-replaceable and are sealed in the flashlight head.
The two AA batteries slide smoothly down into the barrel; the tolerances are pretty tight so the batteries don't rattle around inside.
The flashlight weighs 144g (5-1/8oz.) with batteries.
We compared it to a relatively inexpensive ($12.00) Rayovac "Sportsman" LED flashlight that we had on hand. The Rayovac has a single LED "bulb", and it uses three AAA batteries in its fat little body.
LEDs have low power requirements, and we've used this one on and off for short periods of time for almost two years, and the batteries show no sign of fading.
Rayovac claims 200 hours of battery life in their Sportsman model with its single LED light.
The Rayovac has a plastic body, so our guess is that it would be much less robust in a severe environment than the billet aluminum body of the Cynthia model.
I'm disappointed that the 5-LED Cynthia LED flashlight doesn't throw a more powerful beam than the cheaper single-LED Rayovac.
As you can see from the photos below, the Rayovac is slightly yellower, which could be due to the cheaper resin used to form the LED and in actual use, the beam is slightly more focused than the Cynthia.
The aluminum LED flashlight's beam is slightly wider and more even, but doesn't really throw as much light.
This is surprising, because each LED on the Cynthia is claimed to be 12,000 millicandela (mcd), which is pretty powerful if true.
The Dialight Corporation website has an interesting LED FAQ page, and their discussion of mcd ratings for LED lights explains that a "millicandela rating is determined by an on-axis measurement of peak intensity at a specific current, not by measuring total light output.
Since the light emitted by a diffused LED is spread over a wide viewing angle, the on-axis value may actually be less than a non-diffused LED from which all light output is concentrated in a narrow beam.
Thus the total light output of a 20 mcd LED may be greater than that of a 100 mcd LED though the on-axis reading is less."
We have no way of verifying the mcd's of the LED lights. LEDs still have a way to go before they're the equal of, for example, a halogen bulb.
Most LED flashlights that we've tried are very dim when used during the day in the typical garage where most motorcycle repair takes place.
Bright ambient light seems to wash out an LED faster than an incandescent or halogen flashlight bulb.
The tradeoff is the battery life, especially if the LED flashlight will live in a toolbox or saddlebag for long periods of time without use.
And if you're broke down on the side of the road at night, you should be able to expect much more life from an LED flashlight, and the darkness of the night makes the LED light seem relatively bright.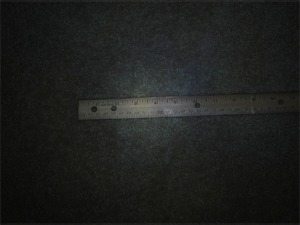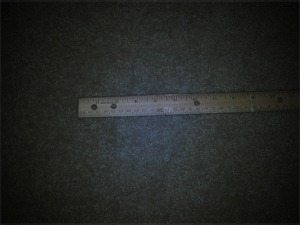 (L) Unretouched photo, Rayovac Sportsman single-LED flashlight, 1 meter.
(R) Unretouched photo, Cynthia LED machined aluminum, 5 LED flashlight, 1 meter.
Conclusion
The Model #MT2AA Machined Aluminum Flashlight is a nice tool to have if you want to spend the cash.
It's a relative work of the machinist's art, but our opinion is that if you purchase it, you should understand that it's not going to put out a beam of overwhelming light.
w

BW

 Review: "Cynthia" CNC Machined Aluminum LED Flashlight
Manufacturer: Super Bright LEDs
List Price: $24.95 + $5.00 S/H
Colors: Black "Soft Touch" tactile finish.
Made In: Unknown
Product Comments: Heavy-duty machined aluminum body. Uses two AA batteries, not included. 5 LEDs in head. Good light output but not exceptional. Model MT2AA.
Note:
 For informational use only. All material and photographs are Copyright © webWorld International, LLC since 2000. All rights reserved. See the webBikeWorld® 
Site Info page
. Product specifications, features and details may change or differ from our descriptions. Always check before purchasing. Read the
Terms and Conditions
!
Owner Comments and Feedback