LED light bulbs, auxiliary LED light bars and other lighting accessories have been popular with webBikeWorld visitors over the last few years.  These devices are used to help improve motorcycle visibility for both the front and rear of the motorcycle (for more information, visit the wBW Motorcycle Lighting page).
We have probably received more email about this subject than just about any other.  Motorcyclists seem very concerned with improving their visibility to other vehicles, and with good cause — the now ancient Hurt study claims that motorcycle visibility (or lack thereof) is one of the leading causes of motorcycle accidents.
But motorcycle manufacturers have been very slow to react to this concern.  Other than the introduction of halogen light bulbs as standard equipment, motorcycle lighting hasn't really changed in decades.  Most motorcycles are still equipped with a single, cheap, dim, 1156 or 1157 incandescent tail light or brake light bulb and some lame 21 Watt signal lights in miniscule reflectors and lenses.
Even the recent introduction of LEDs as standard equipment for rear lighting on a few bikes has been driven by styling concerns rather than function or safety, so it's debatable whether or not there's any real difference in apparent light power from these original equipment LED tail lights.
This market failure has resulted in the evolution of a fairly healthy choice in replacement lighting types via the aftermarket over the last few years.  This includes everything from higher powered headlight bulbs to high intensity discharge (HID) lighting kits, xenon bulbs, various marker lights, LED brake and tail lights, flexible LED light bars and more.
Auxiliary lighting product sales have really been booming, and the recent hot item is the introduction of "next generation" high intensity LED products for motorcycles and trucks.  Have you noticed how many tractor-trailers, trucks and other commercial equipment are now using LED rear lighting?  LEDs are perfectly suited for "heavy-duty" use for commercial vehicles — and for motorcycles — because they are more resistant to vibration failure, they generate almost no heat, and they take very little power.
The problem in the recent past has been that the first generation of LED light "bulbs" for motorcycles have not been able to throw as much apparent light as the incandescent bulbs that they were supposed to replace.  Something I learned recently is that not all LEDs are created equal!  I can't tell you how many emails we've received from visitors informing us that we shouldn't be spending serious bucks on LEDs, when "Company X" has a similar LED for $4.99.
Well folks, you definitely get what you pay for with this technology.  The El Cheapo LEDs can have as little as a 5-degree wide spread of their highest intensity light, and what light they do have can be pretty dim, with minimal difference between running lights and brake lights.
The higher-quality LEDs have a much wider spread (some LED developers have claimed as much as 120 degrees) of their most intense light, which is a crucial factor for motorcycles.  After all, the idea of using LEDs is to increase visibility, no?  A wider spread means that the most intense light will have a better chance of waking up the traffic behind you at a greater distance.
High quality LEDs (and it doesn't make sense to buy anything but high quality LEDs) are expensive.  The reason you're seeing them on some commercial vehicles is that after they do the cost-benefit analysis of an LED vs. incandescent over the long life expectancy and rough use of a commercial vehicle, the LED will pay itself off in the long run.  But only if top-quality LEDs are used — again, it doesn't make sense to spend more on an LED that only provides slightly more life expectancy than an incandescent.
Custom Dynamics has this to say about LED quality: "The main difference in quality has more to do with the semiconductor technology and manufacturing process than anything else.  Of course the circuit board needs to be properly designed to obtain the maximum efficiency.  If the resistor value is not optimized for the operating voltage you can either over drive the LED, shorting its life or even destroying it, or under-drive it, producing less than optimum light output, but the driving factor is the technology which determines the efficiency, light output, and viewing angle".
Back to motorcycles…the problem has been that until very recently, either the technology for high-intensity LEDs didn't exist, or it wasn't available at anywhere near a price point that would be acceptable to motorcyclists, or LEDs just weren't evolved enough yet to compare favorably to incandescents, or any/all of the above.
Well, the curves on the LED vs. incandescent brightness graph have just crossed, because this 1.85″ light cluster with 48 individual LEDs, manufactured by Radiantz, is a pretty cool product.  This is the first direct plug-in replacement for an 1157 tail light/brake light that appears brighter than its incandescent cousin.
Photographs of lighting are notoriously hard to take, and especially so when trying to compare an LED to an incandescent bulb's output.  The photographs are usually very conservative in their illustration of light intensity.
But study the photos below, and I think you'll agree that the LED provides more apparent light than the incandescent in almost every case, but especially so as a running light (brakes not applied but lights on).  This apparent brightness is confirmed by the eye — everyone who has seen the live comparison has said that the LEDs appear to throw a much more intense red light than the incandescent at just as wide of a viewing angle.
So enough already — let's take a look and see what you think.  The following photographs show a 1999 Triumph Thunderbird Sport, which came with dual 1157 tail light/brake lights, but which had been replaced with the slightly more powerful 2397 variation (see the wBW article on incandescent light bulb comparisons).  The top row of photos shows the incandescents on the bike at 16, 32 and 48 feet from the tail light.  The bottom row shows the exact same distances, but this time with the Radiantz 1.85″ LED "Clusterz" light cluster.  Compare the photos top to bottom, left to right.
 Incandescent 2397 Dual Bulbs
| | | | | | |
| --- | --- | --- | --- | --- | --- |
| | | | | | |
| 16′ – Running lights | 16′ – Brake lights | 32′ – Running lights | 32′ – Brake lights | 48′ – Running lights | 48′ – Brake lights |
Note:  For informational use only.  All material and photographs are Copyright © webWorld International, LLC – 2000-2011.  All rights reserved.  See the webBikeWorld® Site Info page.  NOTE:  Product specifications, features and details may change or differ from our descriptions.  Always check before purchasing.  Read the Terms and Conditions!
1.85″ 48-LED Radiantz Cluster
| | | | | | |
| --- | --- | --- | --- | --- | --- |
| | | | | | |
| 16′ – Running lights | 16′ – Brake lights | 32′ – Running lights | 32′ – Brake lights | 48′ – Running lights | 48′ – Brake lights |
Don't let the difference between the apparent "square" incandescent light in the top row and the "round" LED in the bottom row throw you, because in reality, there's not much difference, and it's the intensity of the light that grabs you; the shapes aren't as apparent off-camera.  These photos pretty much confirm what the eye sees, especially as the distance increases — the LED's seem to get brighter, probably due to their more focused intensity.  Also, the LED light engages, or turns on and off, much quicker than the incandescent, which has a sort of ramp-up and decay as it's turned on and off.  This can help to provide a (theoretically) increased safety margin, giving the following vehicles more time to react, especially at higher speeds.
A 2397 incandescent bulb has an expected life of 5,000 hours, compared to 100,000 hours for the LED (20 times greater).  So if a good quality 2397 bulb costs, say, $2.49, it's theoretically equivalent to a $49.80 LED in terms of its potential life expectancy.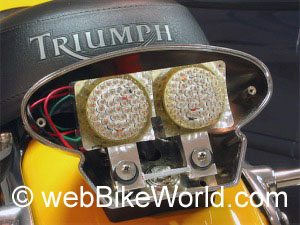 Here's an interesting tidbit:  bigger is not always better with LEDs.  We also compared a huge 2.0″ LED cluster from another source to the Custom Dynamics 1.85″, and the 1.85″ was brighter at all angles.  The lesson here is that it's the quality of the LED, and not the size, that really matters.
The 1.85″ Radiantz LED 1157 cluster weighs substantially more than an 1157 incandescent bulb, at 32 grams (1.125 oz.) vs. 9 grams (.375 oz.).  This may have some long-term wear effect on the brake light's bulb receptacle, depending upon the motorcycle and the sturdiness of the receptacle and brake light mounting.
Also, there may be limited availability of the 1.85″ LED direct plug-in 1157 replacement, as production is currently ramping back up and the product will be available during the week of July 7, 2003.  The 1.85″ is also available in a hardwire and pigtail version, which may be more appropriate for your application, depending upon your bike's tail/brake light assembly.  Check the Custom Dynamics LED Bulbs and Clusters page for more information.
If you're an LED nut like I am, be sure to pay a visit to the Radiantz and the Custom Dynamics websites.  These websites are an LED-junkie's dream, with a huge variety of LED and incandescent replacement and custom lights, light bars, light clusters and more.  Dave, the owner of Custom Dynamics, is a straight shooter who can help you find a cool application for your bike, whether it's a cruiser or Sportbike.
They will custom-make LED lighting solutions, and they have a wide variety of LED and hard-to-find incandescent bulbs for many lighting solutions, including turn signals and more.  They even have LED clusters with up to 136 LEDs  for Harley, Honda, Indian, Kawasaki, Suzuki, and Yamaha, with more on the way.
Product Review: 

 

Radiantz "Clusterz" LED Brake Light Clusters
Available From:  Custom Dynamics
Suggested Retail Price:  $24.99 and up
Colors:  Various
Made in:  U.S.A.
Product Comments:  The first LED 1157-style replacement brake/tail lights I've seen that actually perform better than 1157 or 2397 incandescent bulbs.  Not all LEDs are created equal!
Note:  For informational use only.  All material and photographs are Copyright © webWorld International, LLC – 2000-2011.  All rights reserved.  See the webBikeWorld® Site Info page.  NOTE:  Product specifications, features and details may change or differ from our descriptions.  Always check before purchasing.  Read the Terms and Conditions!
Owner Comments and Feedback
Comments are ordered from most recent to oldest.
Not all comments will be published (
details
).  Comments may be edited for clarity prior to publication.
---
From "D.G." (12/08):  "Purchased the 1157 (GEN-18-R-1157) Replacement bulbs based on your review and the reputation of Custom Dynamics.  Purchased a 2001 Hayabusa with a sidecar in August.  When I rode it home my wife followed behind and was alarmed at how dim the stock bulbs were compared to our Goldwing.
In researching solutions I checked WebBikeWorld and found your review.  We replaced the 2 Hayabusa tail lamps and the Sidecar Tail lamp with the 1.80 inch Genesis Red Clusters and they are about 5x brighter with instant response when braking.
These came with a pig tail and adhesive to mount vs. a fixed stem off the bulb.  This allowed me to adjust them and place them exactly were I wanted them.  On the Sidecar the original bulb was placed behind a reflector for an indirect placement to bounce off the inside of the housing.  With the pig tail I was able to stick the LED directly to the lens and improve the brightness dramatically.
Customer service responded very quickly with suggestions for the application and installation questions.  I highly recommend Custom Dynamics LED's………if you ever tailgate me there is a good chance you will get retina burn when I hit the breaks! LOL"
---
From "P.E.":  Who sent in these detailed comments on installing a Radiantz LED Clusterz 1157 replacement on a 2000 Harley-Davidson FLHTCU-I.
NOTE: Custom Dynamics suggests that the 1.85″ universal clusters are not the best choice for HD Turn Signal Replacements.  They said "Radiantz makes and we carry LED turn signal retro kit that are specific to HD Turn signal housings so that no gluing is necessary. Here is the link. Thanks, Dave".
"I just wanted to provide a bit of feedback on the Custom Dynamics vendor and Radianz LED products.
First, the folks at Custom Dynamics Technical Support are very responsive and helpful, as your review states.  Dave at Custom Dynamics responded to my inquiry about LED upgrade lighting products for my 2000 H-D FLHTCU-I.  I purchased a 136-LED rear tail/brake light/license plate light, #9100-13 a Diamond headlight modulator w/remote switch a BackOff brake light modulator w/internal resistance two red 48-LED direct base replacement clusters for my Tourpak wraparound light bar's two 1157 tail/brake lights.
I installed the tail/brake light/license plate light per the included instructions and it works as advertised.  Very bright in running light and brake light modes.
The Custom Dynamics/Radianz instructions for installing the 1.85" 48-LED cluster 1157 replacements for the Tourpak running/brake lights were non-existent.  I'd offer the following instructions for those H-D FLHT owners who have a King Tourpak with the optional wrap-around light bar:
Order 2 ea. Custom Dynamics 1.85″ diameter direct base 48-LED Replacement Cluster – Red.

Open the tail/brake light sockets and remove the two 1157 incandescent trail/brake light bulbs.

Insert the blade of a utility knife or other strong, slim blade into the joint between the Tourpak light bar and the red tail/brake light lens, and working in a clockwise direction, slowly and carefully pry the lens from Tourpak lightbar.

Reinstall the Tourpak tail light/brake light sockets.

With the red lenses removed, insert the 1.85" LED direct base clusters into the sockets.

Carefully clean the adhesive/waterproofing sealant from the light bar and red lenses.

Use fresh silicone ir butyl rubber adhesive/waterproofing sealant to reattach the red lenses to the light bar.  Remove excess sealant.
I made the foolish mistake of removing the Tourpak wrap-around light bar.  I thought that this would simplify the installation of the 1.85" LED clusters, as they won't fit through the back of the reflector housings.  Removal of the wraparound light bar is completely unnecessary, is a waste of time, and will potentially compromise the watertight seal of the light bar assembly.  Live and learn…
The Custom Dynamics/Radianz recommendations for installing the LED replacements of the 2000 FLHTCU front and rear running lights/turn signal lights are similarly missing/incomplete.  The bulb base axes are perpendicular to the direction of the turn signal light beam.  The direct base LED clusters will not fit the turn signal housings.  Instead, order the 1.85" 48-LED amber pigtail replacement clusters for the front and rear turn signals on the FLHTCU.
Remove the amber turn signal lenses and 1157 incandescent bulbs.

Center and attach the LED cluster body to the inside of the stock amber turn signal lenses with epoxy, super glue or hot melt glue.

Insert the 1157 base of the LED cluster into the turn signal socket.

Reinstall the amber turn signal lens taking care to avoid damaging the 0-ring."
Thanks for sending this info, P.E.!