LD Comfort Shorts Image Gallery
Controls moisture somewhat better than cotton underwear, but I'm not sold on wearing them in hot weather.
LD Comfort (LD = Long Distance?) underwear or "undergarments", as they're called by the company, is the latest underground hit with touring and adventure touring riders.
Most owners swear by them, so we figured we'd give 'em a try.
Just by coincidence, a pair of Spark undershirts, the Diablo and Carbon, also appeared in the mailbox, so I will offer somewhat of a comparison between the two brands also, along with a fullreview of the Spark Diablo and Carbon shirts here.
The concept of motorcycle-specific underwear may seem a bit odd to some.
Several types of motorcycle underwear have been reviewed on webBikeWorld over the years, but I will confess that I'm sold on the concept for winter but not summer.
While it's not too difficult to imagine wearing a thermal, fleece or windproof undershirt or underpants specifically designed for winter riding, the idea of wearing a pair of what look like thermal underwear in hot weather does seem a bit strange.
The rather vague descriptions offered up by both LD Comfort and Spark regarding the function of their products doesn't help much, either.
LD Comfort states that the shirt and pants are "undergarments for long distance riders", which are "designed to protect your skin from damage that can occur on a long ride".
The emphasis in much of their descriptive text seems to be on moisture control, i.e., "wicking" moisture away from the rider's skin.
The described purpose for the Spark clothing is even more vague.
Spark apparently does not have a website (or at least one that I can find), but the distributors and retailers in the U.S. and Europe claim that the Spark Diablo and Spark Carbon shirts are designed to "maintain the body's natural temperature and protect from heat and cold".
Many serious riders and long-distance tourers heartily endorse wearing this type of motorcycle underwear in warmer weather.
Comparing the two different brands may seem to be a bit of a "chalk and cheese" affair because of the slightly different take on functionality.
(Wait…can you say the word "cheese" when you're talking about undies?!)
But in the end, the two brands are not dissimilar in their intended purpose and the purchasing decision will depend upon rider preferences and criteria.
Underwear for Summer?
I have to say right off that I have a pretty hefty dose of skepticism on wearing this type of underwear in very hot weather.
And that's just what we are experiencing in our current summer, sent direct from Hades, with seemingly never-ending temperatures that have ranged from about 95 to 100+ degrees since the beginning of July.
2010 has been officially proclaimed as the hottest summer on record in many cities on the East Coast of the U.S. and the same can be said for other regions around the world — perfect for evaluating these "undergarments".
Many LD Comfort owners claim that the underwear works for them in weather this hot.
But my experience has been that wearing a shirt made of fairly hefty weight manufactured textiles — nylon, polyester and Lycra — makes me hotter, not cooler, especially at slow speeds where the air circulation through the motorcycle jacket is weak.
I just can't get over that hump — no matter what combination of jackets and pants I have worn with the LD Comfort gear — textile, leather, perforated leather, textile/mesh hybrids or mesh, I definitely feel hotter.
LD Comfort specifically advises against wearing a mesh jacket over their garments. Think about that for a second — not wearing a mesh jacket while riding in the hottest weather conditions anyone will experience?  But, that's what is recommended.
One of the problems occurs when riding at slower speeds.
If it's 95 degrees and humid with the sun beating down and you're wearing a 2 mm (or so) thick nylon, polyester and Lycra shirt underneath a non-mesh jacket, it's going to be hot, no two ways about it.
And that absolutely confirms my experience over the last several weeks, trying every combination of jackets and pants over the LD Comfort underwear.
Cotton Bad — Wicking Good
I have quite a bit of experience wearing several different brands and types of "manufactured textile" (i.e., human-made textiles, not natural fibers) underwear designed for motorcycle use, from el cheapo Walmart specials to pretty expensive specialty products made in England.
I've been evaluating this type of gear for several years — long before most riders ever heard of "motorcycle underwear" — and in a variety of weather conditions.
Most of the products are relatively efficient at wicking moisture away from the skin and I most are better than cotton for moisture control.
Cotton quickly becomes soaking wet and feels like an ugly dish towel that somebody pasted to your skin with Elmer's glue.
But saying that all polypropylene or nylon fabric is better than cotton is like saying…well, it isn't saying much because cotton is so bad at moisture control to begin with that there really isn't a comparison.
I've also worn these types of specialty moisture-control and other types of motorcycle-specific undergarments in temperatures ranging from way-too-cold to ride to tire-melting furnace hot.
In very cold weather, the wind-blocking polypropylene micro-fleecy underwear is a dream.
That is, as long as I'm careful not to layer on too many garments and to take into account the wind protection offered by the jacket shell, or I end up sweating, no matter how much moisture the fabric will wick.
Conversely, in very hot weather, when you put on a tight poly underwear thingy, I don't care what they say: my experience has shown that you're going to become even hotter. Sure, that magic fabric may wick moisture, but at what cost in comfort?
There is no free lunch here — you may get better moisture control but it will most likely be at the expense of more heat. You have to understand the tradeoffs and decide what's important.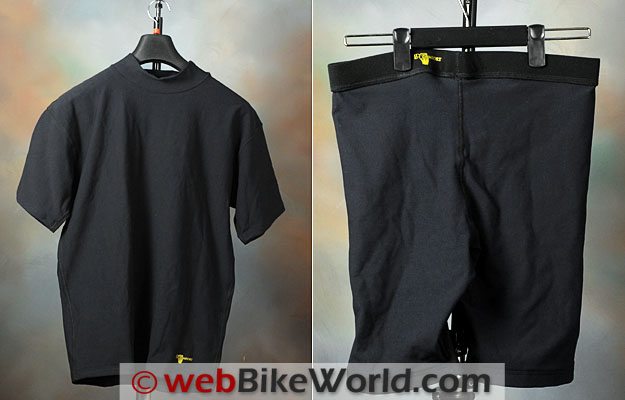 The LD Comfort shirt and shorts are made from a dual-layer fabric consisting of  polyester on the inside, bonded to a nylon shell.
The company says that the formula consists of 63% nylon, 23% polyester, and 12% Lycra.
12% Lycra is quite a bit actually; many stretchy garments can get away with 2% or so.
LD Comfort indicates the higher percentage of Lycra helps the garment move ("push/pull") over the rider's skin, enhancing the moisture-wicking effects.
In comparison, the Spark shirts are made with "Dryarn" fabric, claimed to be "the lightest fabric in nature". The Spark Carbon shirt is so named because it also includes carbon fiber strands.
Dryarn is claimed to have "a unique insulating power, even greater than wool, so is inclined to maintain the body's natural temperature and protect from heat and cold".
The manufacturer of Dryarn, Aquafil, also claims that the material has 8 times better moisture expulsion rates than polyester and 166 times better moisture expulsion rates than cotton.
The Dryarn material is also claimed to be naturally resistant to "bacteria, mildew, moths, insects, and other micro-organisms".
LD Comfort Shirt
The cut of the fabric and the styling of the LD Comfort shirt is rather basic and the shirt has a fit similar to an off-the-rack generic T-shirt style fit and the LD Comfort shirt has four-way stretch.
In comparison, the Spark Diablo and Carbon shirts fit more snugly than the LD Comfort shirt and the stretchy Dryarn material is much thinner than the LD Comfort material. So the thinner fabric used in the Spark shirts helps to give them a better fit that is closer to the body.
Where the LD Comfort shirt feels slightly loose and more like a normal T-shirt, leaving gaps in some places, like under my arms, the Spark shirts fit like a second skin.
I have seen photos of other riders wearing this LD Comfort shirt and it fits the same, and we ordered the correct size, so this is apparently normal for the brand.
The roomier fit of the LD Comfort shirt allows sweat to build up in the areas where the shirt doesn't fit perfectly; obviously, the material has to be in contact with the skin to efficiently conduct moisture.
Riders that perhaps have a stockier shape that allows the LD Comfort shirt to fit more snugly may not have this problem.
The LD Comfort shirt controls moisture better than cotton, but I have been disappointed because it just doesn't seem to wick the moisture to the top layers of the fabric.
I feel sweaty and I can feel the sweat on my skin when I remove the shirt.
I've worn the LD Comfort shirt (alone) under a textile 3/4-length jacket; I wore it under a mesh jacket and I tried it under a semi-mesh (mesh/textile) jacket.
I feel hotter, not cooler, when I wear the LD Comfort shirt in the hot weather we've been experiencing.
UPDATE:
The LD Comfort Shirt and Evaporative Cooling
LD Comfort Shorts
The LD Comfort shorts are extra long, with the legs ending just above my kneecaps.
They also fit rather snug, and I had a difficult time becoming accustomed to this combination of length and fit.
I just haven't found that they work all that well in the 90+ degree temperatures I've been riding in.
The problem is this: the motorcycle seat and the textile pants block most of the ventilation that might evaporate the moisture.
So there is simply nowhere for the moisture to go and no ventilation to take it there anyway (wouldn't a power-ventilated touring seat be nice?).
The moisture control function is important here to help avoid chafing and "monkey butt".
Although I do wonder where all that moisture is wicked to when sitting on a vinyl seat wearing textile or leather pants.
The LD Comfort shorts are supposed to wick away moisture, but I absolutely feel more sweaty when I wear them than when I wear a simple pair of cotton undershorts.
When I peel off the LD Comfort shorts, my legs and thighs are soaking wet and this is not the case when I am wearing my regular underwear.
Many LD Comfort owners claim that the shorts help to make the ride more comfortable.
That's because the manufactured textile gives reduces friction, giving more "slide" when wearing motorcycle pants or jeans.
I haven't noticed a difference.
And the buildup of heat when wearing the shorts, along with the snug fit, feels a bit uncomfortable to me so my experience is obviously different.
I'm sure we'll hear from LD Comfort owners who have a different opinion.
But whether or not the potential functionality is worth $45.00 is up to you.
There may be lower-cost undergarments that will provide nearly the same moisture-wicking performance.
On the other hand, the motorcycle-specific design of the LD Comfort shorts actually makes these a not-bad deal.
I just can't report that the shorts make any difference to me, and all I can report on is my experience. I'm sure other owners might disagree.
But I can say that after wearing them under jeans, or under textile pants or under leather, on three different motorcycles, covering several hundred miles, in temperatures ranging from 89 F to 96 F, I simply feel more uncomfortable wearing the LD Comfort pants underneath than not.
Fit and Finish and Comparison With the Spark Shirts
The LD Comfort DryLine shirt and shorts I have are well made with a functional appearance and not a lot of style.
No problem with that, although there is a bit of a thrill in sliding on the Spark Diablo or Carbon shirt with their negligee-sheer finely woven fabric that fits like second skin.
The Spark Diablo shirt fabric measures a whisker-thin 1.0 mm (note that it's difficult to measure the thickness of these soft fabrics with a micrometer).
The slightly thicker Spark Carbon shirt measures about 1.15 mm thick.
This makes a big difference in the amount of heat that is transferred away from my body at lower speeds when wearing the Spark shirts as compared to the LD Comfort shirt. The Spark shirts definitely feel more comfortable and cooler.
Both brands transfer moisture to varying degrees, but the thicker dual-layer fabric of the LD Comfort shirt feels like it is not as efficient at transferring moisture away from my skin than the Spark shirts, and the Spark shirts definitely do not lock in as much heat.
The LD Comfort shirt has thicker, larger flat method of stitching which looks sturdy.
The seams are comfortable and unnoticed, except in one or two spots like where the vertical neck seam meets the horizontal shoulder seam at the base of the neck.
The Spark shirts do not use flat stitches, probably because the fabric is woven too fine to support this method. However, the fabric used in the Spark shirts is so soft that the internal seams aren't felt.
The build quality of the LD Comfort gear does seem pretty substantial.
Although I must say that compared to the incredibly fine-woven and meticulously tailored Spark underwear, the LD Comfort gear is the workhorse Mahindra truck to the Spark Diablo or Carbon shirt as a Land Rover LR4.
Tough, no-nonsense and without a frill to be found, nor with even a hint of style; that's my opinion of LD Comfort.
This isn't a problem, just an observation.
I have also compared the LD Comfort shirt to the Spark shirts back-to-back (I knew I could pun this if I tried).
My experience is that the LD Comfort shirt is simply too hot at anything but Interstate speeds when wearing a jacket with good ventilation, while the Spark underwear, with its thinner fabric, feels cooler at all speeds and is much better when traveling at low speeds with less air flow.
Low speed is where the biggest differences and the weaknesses can be found in this type of manufactured textile motorcycle underwear.
At higher speeds, where the wind and the jacket's venting system can do its job, the moisture is pulled from the body and into the fibers of the poly undershirt and then off into Mother Nature's recycling system to come down as rain.
Some day soon. We hope.
Even then, in the areas that aren't ventilated, wearing a 2 mm or so thick manufactured fiber is going to feel warm.
To help the process, the garment can be soaked in water or you can pour a bottle of Zephyrhills down your back.
You'll pull away some heat via the magic of evaporation, but you'll feel pretty icky when doing so.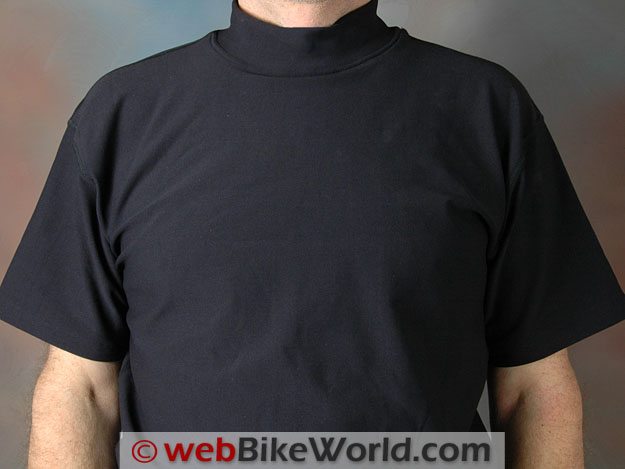 Thick vs. Thin
This is where the much thinner and finer weave of the Spark undershirts make a difference. In some situations, I actually feel cooler wearing them than not.
I don't profess to understanding the physics of it, and at low speeds or when stopped you're still going to feel hotter with them on than off.
But the bottom line here is that for riding slow in the really hot stuff — which is all we've had lately — the thinner and finer Dryarn fabric used in the Spark shirts beat the LD Comfort shirt hands down.
So this is the point where I get to being 60/40 on this motorcycle underwear philosophy. It's better than cotton, but not perfect.
Basically, it solves one problem — moisture control — while bringing to the fore another set of issues.
It's better than cotton for moisture control — way better — but moisture wicking aside, wearing a 2 mm thick manufactured fiber shirt underneath a motorcycle jacket in 97-degree weather is going to make things hotter, not cooler, for most riding conditions.
I can only state what has been my experience in trying the LD Comfort gear in a variety of (hot) weather conditions and humidity levels over the last several weeks.
One of the surprising facts is that LD Comfort suggests that their clothing is designed with hot weather in mind and they hint that it may not even work best in temperatures under 50 degrees F.
They also suggest wearing the shirt(s) and shorts as the only undergarments, which makes sense, but as I noted, they also state that the garments will work better with non-mesh jackets, which may seem counterintuitive.
I tried this, but there's just no getting around it — when it's 95 degrees and humid, I'm simply too hot wearing the LD Comfort shirt and non-mesh jacket. I just can't do it without overheating.
Spark indicates that their shirts will help keep the rider's body temperature more closely regulated to "normal" during both warm and cold weather riding.
By the way, there's a lot of information on the LD Comfort website and we referred back to it several times during the evaluations, following their instructions.
For example, they recommend wearing the shirt and pants as underwear for best results; i.e., not wearing it over other types of underwear.
Conclusion
Although I'm not convinced of the benefits of wearing manufactured fibers and especially long-sleeved undershirts of any type or brand when riding in very hot weather, the main benefit of the LD Comfort gear, in my opinion, is a slightly better amount of moisture control than plain cotton.
But I do not think it's without compromise.
In other words, what I gained in moisture control over instantly-wet cotton I lost in comfort because the heat simply did not seem to transfer out of the LD Comfort gear as quickly for me.
In other words, riding in 95+ degree weather is going to be an uncomfortable proposition no matter how you slice it.
Wearing a thick poly undershirt underneath a non-mesh jacket may transfer moisture, but you will not become magically cool, because wearing more clothes effectively decreases ventilation and the heat is more noticeable, especially when riding slow or not moving.
That's my opinion based on my experience in wearing this gear in a variety of conditions and scenarios in the very hot summer of 2010.
Part 2: Spark Diablo and Carbon Shirts Review
w

BW

 Review: LD Comfort Underwear
Manufacturer: LD Comfort
List Price (2012): Short-sleeve shirt:  $54.87. Shorts $44.98
Colors: Black.
Made In: U.S.A. ("all materials", not sure if that also means assembly)
Review Date: August 2010
Note:
 For informational use only. All material and photographs are Copyright © webWorld International, LLC since 2000. All rights reserved. See the webBikeWorld® 
Site Info page
. Product specifications, features and details may change or differ from our descriptions. Always check before purchasing. Read the
Terms and Conditions
!
Owner Comments and Feedback
---
From "D.W." (November 2013): "I sure do understand what you are saying. I have two solutions that work well for me. One, Hanes makes a brief underwear with boxer length legs. Pretty dang comfortable.
Two: the best riding shorts I have ever seen–used. Klim makes them (Klim Tactical Shorts). As with the base layer stuff, this works, period. Neither the Hanes or Klim feel like they are going to cut your legs off or drown you in sweat.
I do not like being too hot on rides. Hence, the vented Ridge boots, Arai XD helmets (review) and these shorts. I got the Hanes at Target. Klim any good dealer. Polaris now owns them.
As always webBikeWorld is the best. Thanks for doing all you do for the motorcycling world."
---
From "P.A." (09/10):  "Because I do not handle high heat very well, I have invested a lot of dough and owned seemingly all the evaporative vests (messy, heavy and bulky) and two different brands of the phase change cooling vests.
The cooling vests work well for about two hours and then you have to recharge them and that is not easily done when on the road.
Like several riders here, I thought the LD Comfort shirt was too good to be true ……. so of course I had to try it. My observation is that the LD Comfort shirt works not just well, but extremely well.
I am an ATGATT type rider and always wear a Motoport Kevlar mesh 3/4 jacket and pants. The flow of air through the Kevlar mesh is significant.
My method of wearing the (LD Comfort) shirt is that I soak the shirt, ring it out, not all the way out…. just so it is not dripping. It is very comfortable. This is not the kind of thing that works well at stop and go city riding.
To get the maximum impact you need a flow of air over the the garment to generate the evaporative affect.
The weather in (New York) State has been quite hot of late 95 + many days and this thing really works, so much so that the first time I tried it I was saying to myself "gee, I thought it was supposed to be beastly hot today" because I felt as though it was only about 78 or so as compared to high 90's.
Wearing the Kevlar mesh jacket, the shirt lasted about an hour or so before I wanted to recharge it with another dose of water – which was painless. Remember, it was 95+.
The bottom line: I have thrown away the evaporative vests, and given away the expensive phase change vests and rely entirely on the LD Comfort shirt. Which, by the way is easily worn as a heavier shirt type tee shirt on cooler days when not soaked in water.
The LD Comfort website has a very good instructional video about why the product works and is worth watching.
The ultimate test is that I would buy the LD Comfort shirt again with no hesitation."
---
From "D.E." (09/10):  "Where (the LD Comfort shorts) really start to shine is LONG rides where cumulative miles cause cumulative damage to the soft tissues of the butt.
The moisture benefits (if any – there may be, I've never really noticed them) are a secondary benefit. My primary benefit is my boys stay in place and my butt doesn't develop raw spots from seams in my underwear. That allows me to take long rides.
For 100-200 mile rides, regular underwear is typically satisfactory (although the LD-Comfort might make the ride more comfortable, I can tolerate the regular underwear especially if I stop to arrange "things" after getting started."
---
From "S.S." (09/10):  "The weather in upstate New York has been beautiful this summer in terms of precipitation, but the mercury in my thermometer has definitely been stretched pretty thin as it climbed over 90 degrees on quite a few days here.
I personally always wear my Bohn Armor under Diamond Gusset jeans (review), and a heavy leather jacket with Lee Parks Deer Tour gloves (review) and a full face helmet whenever I ride the bike.
Cotton shirts and shorts are soaked before I am even done getting the gear on, so they are definitely not a choice under hot conditions.
I have some Duofold synthetic shorts I got a few years back, and they have no seams, nor do they absorb moisture.
These are a big improvement over the cotton underwear, and let me ride 300+ mile days in comfort.
For a shirt, I bought a Terramar Body Sensor short sleeve shirt from Sierra Traders overstock store several years ago, and this works very well. It is also synthetic, but woven in a very fine honeycomb pattern with lots of air holes.
It looks like a normal tee shirt, but the holes really let the air through.
My trick is to soak it with water before I put it on, and then the combination of the open weave and the water evaporating really does cool me down. The fabric doesn't really absorb the water, but holds enough of it to evaporate once you get moving.
Another nice feature is it doesn't seem to hold body odors, and I just rinse it each night in a sink with some soap and water, and then re-soak it before donning it the next day.
I just checked on the web, and the company still makes and sells this shirt, so perhaps this is one you might want to try.
Thanks, as always, for a great magazine!"
---
From "B.N." (09/10):  "I think your review of these products is generally accurate, but these garments are not intended for riders who ride in hot *and humid* weather as you say "riding slow or not moving".
They are instead targeted at riders who may be on their bike and moving from sunrise to sunset and dealing with a mixture of temperature conditions.
Hot and humid conditions are tough to handle no matter what. Hot and humid differs from very hot and not-so-humid significantly – like one might face in a desert environment.
If it's hot and humid, no matter what you wear you will be hot and wet. If you're moving on your bike, you will gain some cooling from the evaporative effect even with high humidity, and the LD garments enable this quite well.
If you're stuck in traffic and not getting any benefit from evaporative cooling, one needs to use his own best judgment of how to cool off a bit . No garments work like air conditioning in humid weather.
The physics of this make this fact very clear. Unless you can get evaporative cooling happening, you'll just be getting hotter.
All that said, if you are in very hot and not-so-humid air, and you are moving at highway speeds, the LD garments work as advertised.
I find that in hot and humid conditions, using a full mesh jacket and pants does work well with the LD comfort products.
When the humidity drops, and evaporative cooling really kicks in, you need to reduce the amount of ventilation. Under these conditions, the LD Rider garments excel."
---
From "G.T." (09/10):  "LD Comfort shorts are the single item I cannot ride without when ambient temps exceed 75F. Above that temp, regular cotton undies are good for approx 40 minutes before discomfort sets in.
When temps exceed 95 F, standing on the pegs for a minute or two sweeps away accumulated perspiration from the LD Comfort shorts and I am good for another hour on the seat.
I've never encountered any temperature related problems from the LD Comfort shorts regardless of airspeed.
My latest IBA-type ride, a 1800+ day in the Southwest, occurred in 95 to 100 degree temps without any butt-centric problems, or even a thought about the seat/butt interface.
Now, if the waistbands would stop shrinking as I get older . . ."