Austrian motorcycle manufacturer KTM is a brand to watch over the next few years.
After dominating the Moto2 world championship classes, it has announced it will skip Moto3 and go straight to the MotoGP premier class from 2017.
KTM has long been a renowned dirt bike manufacturer, but the past few years have seen a shift in emphasis to road bikes. Street bikes now represent 60% of their sales.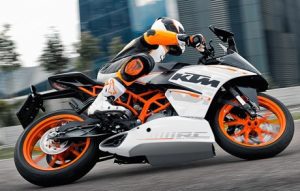 There has also been a shift in emphasis to India with its Bajaj factory in Chakan now manufacturing the 125/200/390 Duke and RC 125/200/390 which are designed in Austria and manufactured 100% in India. Bajaj partnered with KTM seven years ago and now holds a 48% stake in the Austrian company.
KTM Australia marketing and communications manager Greg Chambers says not all parts are made in india, but he doesn't have a definitive list of where all the parts originate.
"Country of origin hasn't been an issue," he says. "The bikes we have manufactured in India are part of a price-sensitive market so it makes sense."
The Chakan facility is now on the verge of selling more bikes than KTM's Mattighofen factory in Austria. KTM expects to sell a record 150,000 bikes this year with about 80,000-85,000, or more than half, made in India.
Indian boss Amit Nandi says Indian-made KTMs are sold in Australia, Asia, Europe, US and Latin America.
KTM global boss Stefan Pierer says Bajaj and KTM work together on research and development and quality control.
He says street bikes are where the major growth is for their company, but they still have a strong foothold in dirt bikes.
Their latest offering is the Freeride E electric bike, signalling a new direction.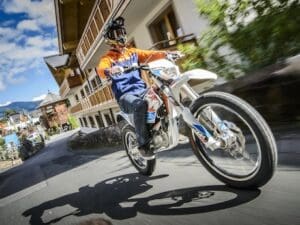 The concept has been around for several years, but it is now market ready. There will be two versions of the Freeride E, the SX racer and the road-legal XC aimed at commuters and learners.
Prices are €10,995 for the SX (about $14,100) and €11,295 for the XC (about $14,500). There is no word yet on whether the bike will b e coming to Australia.
The Freeride E weighs only 104kg and will have both brakes on the handlebars like a bicycle as there is no clutch lever. The company hopes that arrangement will be familiar to cyclists who it hopes to win over for commuting.
Next week, the company will unveil its 2015 line-up at the Intermot motorcycle show in Cologne including the 1290 Super Adventure, but will hold back the 1050 Adventure and a competition MX bike for the EICMA show in Milan in November.