KTM has unveiled a race-spec version of its RC390 to enhance the company's road-racing credentials.
Only 500 will be made and most are expected to be bought by racers competing in one-make championships around the world.
There is no such series in Australia, and KTM Australia advises that they have no more information on this model "at this time".
However, a spokesperson said that "once more information becomes available, I will let you know".
Maybe we're reading too much into it, but a one-make series like the Kawasaki Ninja 300 series could be on the cards.
Race-spec KTM
Meanwhile, for those interested, the homologated race-spec KTM RC390 R has a host of race-ready features, but it doesn't come cheaply.
They include fully adjustable front and rear WP suspension, foldable CNC-machined brake and clutch levers, sportier handlebars, race engine tuning, and race graphics.
It costs €8500 which is about $A13,000 which is almost $5000 more than the retail price of the street-legal machine at $8295 (+ORC).
The street machine is powered by a single-cylinder engine with 32 kW (44 hp) of power and a dry weight of just 149kg.
There is no word on power, torque, weight or other technical information for the race-spec bike.
There are also 50 SSP300 performance kits available at €11,500 (about $A17,600) with an Akrapovic SSP300EVO02 exhaust, STM slipper clutch, race ECU, gear ratio options, extra wheels, quick shifter, and light weight components.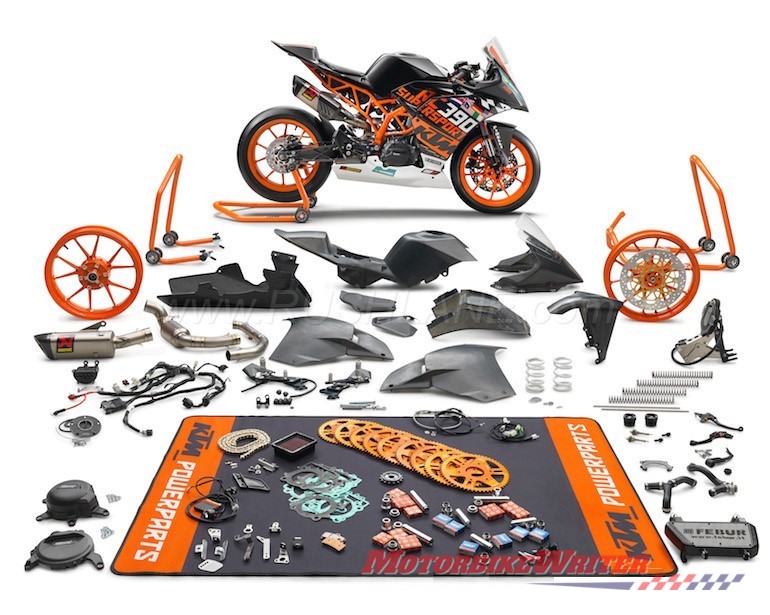 So, serious racers can get a factory race bike for about $30,700!
The race kit cannot be dded to the standard street bike, only the RC390R.