Austrian motorcycle manufacturer KTM plans to develop a motorsport version of its X-Bow four-wheeler.
Up until 2008, KTM was just making off-road motorcycles, but since then has expanded into road bikes and now electric bikes with more to follow. However, they recently axed their planned scooter project, with KTM spokesman Thomas Kuttruff saying they wanted to concentrate on motorcycles.
However, since 2008, they also have been in partnership with Reiter Engineering who will build the planned international race version of the X-Bow.
Australia never got the track car and won't be getting the racer either, says KTM Australia spokesman Greg Chamber. "We don't import the X-Bow range into Australia currently and I don't think this will change in the near future."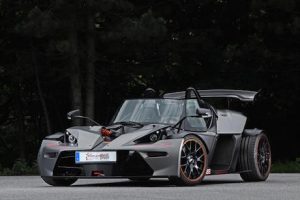 KTM's standard X-Bow weighs just 790kg (1742lb), produces 177kW (237hp) and accelerates to 100km/h in 3.9 seconds with a top speed of 220km/h (137mph).
They have since released a GT with a windscreen, side windows, doors and luggage space. They also released the R and RR racers with bigger and more powerful engines. The RR packs a real punch with 272kW and a hefty €110,000 (about $A157,000) price tag.
The KTM-Reiter Engineering racer will be offered for sale in Asia, Europe and the USA. But you can guarantee it will pack an even bigger punch than its predecessors.
X-Bows have been used in a one-make series competition for customers, but that will be expanded with the new vehicle to international motorsport events, says KTM executive board member Hubert Trunkenpolz.
Let's just hope it doesn't take KTM's focus off making more great motorcycle product such as the Duke, RC and adventure range.
Meanwhile, Kuttruff has suggested that the 390 Adventure project has not been totally scrapped. He says it would have to be developed on a totally new platform as the 390 Duke platform was not suitable.