As the KTM 1290 Super Adventure pierces the Canary Islands mountain fog on treacherously narrow roads with precipitous unguarded cliff plunges, I experience an overwhelming sense of calm and satisfaction.
You see, the 1290 Super Adventure is about more than just power. It's about more than hi-tech electronics. It's about more than exotic components. It's about more than luxury features.
It's about complete control.
SEE ALL SUPER ADVENTURE PHOTOS HERE
When all of its many features combine to deliver the perfect riding experience for every road and weather condition imaginable, the rider becomes king or queen of his/her domain. And that's exactly what KTM has done as it finally produces the bike that will have Munich shaking in its adventure boots.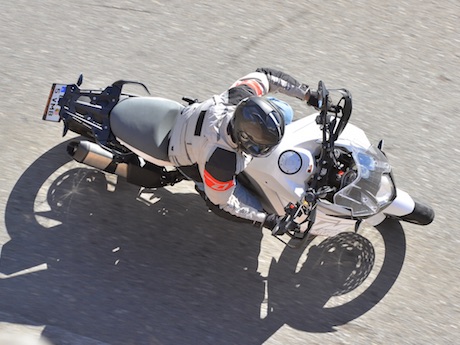 The KTM 1290 Super Adventure has arrived at $26,995 plus on-road costs, making it their most expensive bike; more than even the RC8 R.
Yet, with almost all the electronic goodies as standard, it's a highly competitive price with the big Beemers.
KTM's ebullient global PR guru, Thomas Kuttruf, is expectedly effusive about the uniquely white Super Adventure, saying that, in this case, "more is more".
"It's the peak of the peak in this segment, designed to showcase what our R&D is capable of doing," he says.
The big white Austrian combines power, safety, technology, all-road abilities, two-up comfort and luxury, he says, admitting that "luxury is new for KTM".
It certainly is. KTM has made powerful and capable bikes before, but they always retained a raw edge and feel. Not so the Super Adventure. It's a big, burly rugby player, tucked neatly into a tasteful tuxedo.
"We can make bikes go fast, but now you can enjoy a KTM at a more relaxed speed," Thomas says as he unleashes the world media on the twisting, torturous mountain roads of Gran Canaria, part of the Spanish Canary islands, just off the coast of Morocco.
Here, the roads vary from wide, smooth and grand to tight, twisty and granular. And the margin for error in many cases is nil. Miss an apex, hit a bump or run wide and the result could be disastrous. One wrong move and you could be tumbling hundreds of metres over the cliff to your inglorious demise.
Gulp!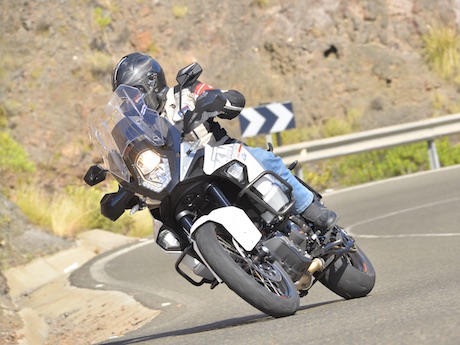 And all this with a bike that has 1301cc of LC8 from the radical Super Duke, albeit slightly "detuned" from 134kW. Its 75-degree V-twin heart still pumps out a vein-throbbing 118kW of power and peak torque of 140Nm with 105Nm available at just 2500rpm.
It's a highly flexible engine that doesn't mind lumbering lazily along in too high a gear, but also enjoys some buzz fed into it. Roll-on acceleration is easy in high gears, while dropping a cog or two unleashes dizzying amounts of delicious power. The engine is perfectly matched to a gearbox with none of the usual void between first and second of most big adventure tourers.
It's also a civilised engine with little mechanical noise, a polite exhaust gargle at idle and a macho roar at full noise. There is an Akrapovic exhaust available and a cheaper Remus option coming that are expected to add even more ponies.
But there is far more to this bike than just raw power. In fact, even the power is delivered in a more reasonable, refined and controllable manner.
The LC8 engine, which began in 2002, has always been a great engine for enduro travel with its thin profile between your legs and great ground clearance.
Now, the 1190 engine has been bored and stroked with optimised head flow and combustion chamberfor more efficient combustion, more weight on the crankshaft fly wheel and rotor for smoother acceleration, an anti-backlash gear on the permanent drive to reduce engine noise and vibration, plus a longer sixth gear.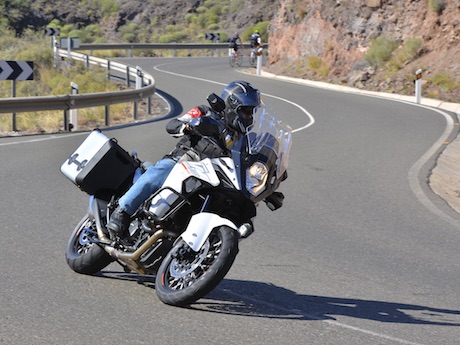 The result is a drivetrain that feels more relaxed even when it's working hard. An engine that doesn't feel like a motocrosser revving on the starting line, an engine that feels willing in any gear at any revs and an engine that won't rattle the gold fillings out of your head.
At 100km/h in sixth gear, the 1190 Adventure is revving at more than 4000 revs while the Super Adventure is registering a more mild-mannered 3700rpm. It's a faultless gearbox too, with no clunk or clatter, confusion or false neutrals. There's a perfect spread of gears and a light clutch that makes rapid changing effortless.
With 15,000km-interval services and acclaimed reliability, the LC8 is the perfect engine for longer-distance all-road touring, as well as a stick of dynamite for blasting steep canyon passes like we tackle on Gran Canaria.
Taming the spine-tingling power peaks and creamy dollops of torque is KTM's breakthrough Motorcycle Stability Control, introduced in the 1190 Adventure. It includes four engine modes and the Bosch-derived cornering ABS.
Now the system has been refined to give the rider a little more independent control over the engine modes and associated damping controls. It's a development derived from customer feedback.
The Super Adventure takes the electronic controls even further with an innovative semi-active suspension system that monitors rider behaviour, terrain and traction to automatically and continually adjust the suspension.
It consists of stroke sensors in the right fork and rear shock and accelerometers front and back, connected by a canbus system. Electro-magnetic adjustments to the shims are made according to complex algorithms calculated using information from the sensors and accelerometers.
Riders can select from four damping settings – Comfort, Street, Sport and Offroad – separately from the four drive mode settings – Sport, Street, Rain and Offroad – which control the fly-by-wire throttle response and traction systems.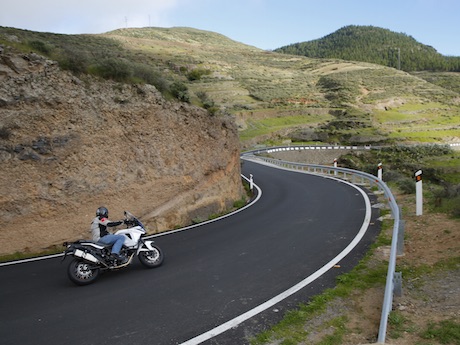 The standout feature in this most impressive array of electronic wizardry, is the anti-dive function that regulates the amount of dive in the forks under braking as well as squat in the rear under heavy acceleration. It also senses pillion and luggage load and adjusts the suspension accordingly. There is also a "load" setting were you can specify single rider, pillion and luggage.
The most anti-dive activity occurs in Street and Comfort settings and the least in Sport and Offroad.
The result is that it prevents that pitching effect which can be tiring on technical roads such as these where there are more hairpins and wiggles than a Lady Gaga concert.
Other benefits are that the rider can concentrate on line rather than stabilising the bike for corners; pillions don't get thrown around as much and ram the back of the rider's helmet; and the headlight always remains at an optimal position.
As usual, WP provides the suspension which consists of 48mm forks with the spring in the left and rebound and compression damping in the right and a monoshock with front and back travel of a very generous 200mm.
It's the perfect combination of agility, finesse and ride comfort. The WP forks are particularly good with no chatter over corrugations or potholes. They inspire confidence to attack corners, sight unseen.
WP also supplies a sensitive hydraulic steering damper, which seems to work in conjunction with the anti-dive function and wheelie traction control so that you keep the front wheel on the ground when you need it – such as over small crests when changing direction.
My eyes were like saucer plates as I gassed the bike from a left lean to a right lean just as it crested a small hump in the road. It reminded me of a similar piece of road on Mt Glorious at the back of Brisbane.
It's a technical wiggle that has to be tackled with a judicious dab of rear brake and rider weight over the triple clamp otherwise the bike wheelies just when you need grip and turn from the front wheel, resulting in a dangerous high-speed tank slapper.
Not so, on the Super Adventure. I gulped air as I hit the crest without any forethought or planning. Yet the bike tackled it without any histrionics; no wheelie, no wiggle, just a quick change of direction. I didn't have to back off the throttle, dab the rear brake or weight the front wheel. Magic!
Thomas heralds this bike as the "safest motorcycle in the world". And while the wild world below blurs by in my periphery vision, I'm beginning to agree with his superlative claim.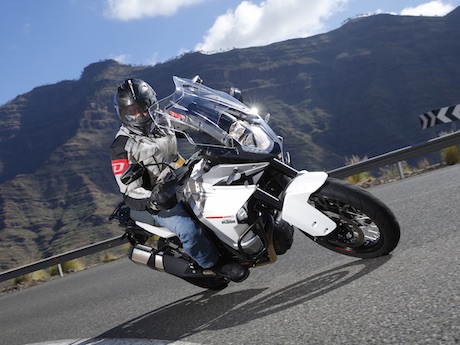 These are among the most dangerous roads I've ever ridden.
As we climb from the coastal plains lined with hundreds of varieties of cactus, past African date palms and haciendas with KTM-coloured terracotta roofs we carve into bald mountains through numerous tunnels dodging cyclists and slow-moving trucks and tourist vehicles on the impossibly narrow roads. We rise and rise 1400m above the clouds, into the mist and even above a rainbow where houses are built into the cliffs and at times we even have to duck rock shelves overhanging the road as we pass other vehicles with millimetres to spare.
But somehow these roads aren't alarming. Instead, I find them challenging, fun, dramatic, interesting and picturesque, all because this bike and I seem to have total control.
Mind you, there is still the ability to switch off the traction control for some hooligan wheelies and super fun. After all, it's got the heart of the Super Duke.
It's a tall and big bike, yet thanks to the light and stiff steel trellis frame, it feels light and nimble.
On the technical point-and-shoot mountain climbs resembling a mini Stelvio Pass, the bike changes direction quickly and easily without the need to muscle the bars. Thanks to the optional Motor Slip Regulation on my test bike there is also no need to finesse my downshifts to avoid rear-wheel lock-up.
Riders also don't have to finesse the Brembo brakes. They are big and powerful, with a subtly linked system and a light and sensitive feel through the lever and peg. If you have selected a setting with substantial anti-dive, it feels like the brakes are under-done, but it's just the suspension compensating and you really don't have to give the brakes any more pressure.
The Conti Attack 2 tyres are the same as on the 1990 Adventure and they have plenty of grip over tar and some loose gravel. Despite the obvious dirt-road abilities of the bike and these multi-purpose tyres, the test route doesn't include any gravel roads, only tightly twisting tarmac.   
After hours of this sort of demanding riding, you would usually be looking for the respite of a long straight stretch, but we just keep at these relentless wiggles all day long without tiring.
At the same time, I'm also lulled by the creature features and luxury of the all-road, super sports tourer.
Rider ergonomics have felt just right ever since I threw my leg over the two-level adjustable seat (+/- 15mm), put my foot down on the two-level adjustable footpegs (+/-10mm) and gripped the two-level adjustable handlebars.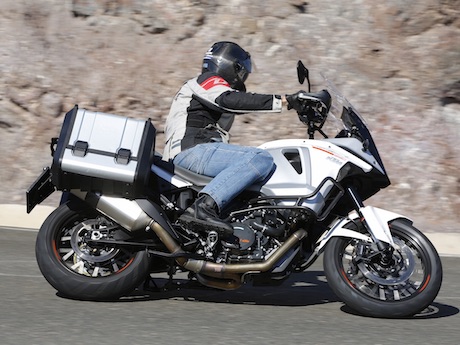 The two-part seat has a suede-like poly covering that is both luxurious to the touch and grippy, while the pillion seat is now thicker with lower hand grips so there is more room for wide berths and girths.
There are also three-position heated grips and separate seat heating controls, adding to the winter comfort and luxury.
For the first time, the adventure bike has been taken to a university wind tunnel to assess the aerodynamics of the larger 30-litre tank and massive windscreen.
Global product marketing manager Diego Arioli says they've "never devoted so much time to a windscreen".
It's wider and taller than the 1190 Adventure screen and has a V shape at the top so you can have it on the tallest setting and still see through the "V".
The windscreen is also easily adjustable on the fly. There is a latch on the right that locks it in place and knobs on the left and right to wind it up and down. The mounting bracket can also be switched around to make it even higher or lower.
All the test bikes had the screen brackets on the highest setting and one short rider in our group said he couldn't see over the top even in the lowest position.
The windscreen also has a vent near the top to reduce back-pressure like the new Project Rushmore Harley-Davidson tourers and the Honda Goldwing.
The effect is a comfortable bubble of smooth air behind the windscreen that provides touring comfort up to speeds of 160km/h on the Gran Canaria autobahns.
Our long day of riding in the mountains continues on into the early winter evening when we test the world's first LED cornering lights on a motorcycle.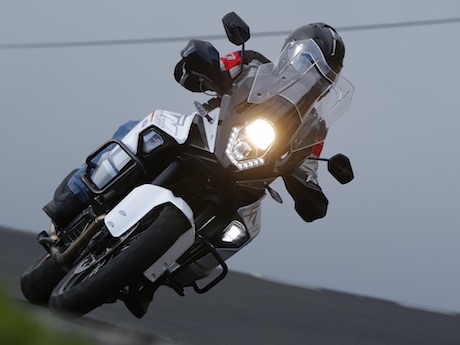 The three LEDs are positioned on either side of the leading edge of the tank and illuminate according to lean angle sensors. At 10 degrees, one LED illuminates the inside of the turn, at 20 degrees two LEDs illuminate and at 30 degrees the three lights illuminate.
It's interesting watching the bike approach a series of flip-flop corners with the LEDs winking. It's certainly unique and a great little showpiece.
However, it's one piece of technology in this complex and comprehensive suite of hi-tech that doesn't seem to work.
For a start, they aren't focussed correctly. They point down at the ground immediately on the inside of the turn, rather than a little further up the road where you are looking.
While the headlights provide a very uniform spread of light, the LEDs are a whiter light and tend to divert your attention to them which is a little distracting as you don't want to be looking where they are pointing.
However, if you are closely following someone on a Super Adventure, then the LEDs are perfectly positioned to illuminate corners for you. Until they focus the lights properly, they are really just a gimmick.
KTM is gradually improving the quality of the instruments and controls from what used to feel like bicycle or motocross standard to acceptable for a road bike of this price.
Like the 1190 Adventure, it comes with daytime running lights with 12 LEDs that give it a distinctive look from the front, accentuated by the unique white paintwork with minimal KTM orange touches. It's a high-class look from a quality bike designed, as usual, by Kiska.
It also features cruise control which, on my test bike, had a delay in the setting allowing the bike to slow up to 10km/h before gradually accelerating to the set speed. Other riders didn't experience this on their bikes, so it could have been a minor glitch only on my bike.
Cruise control works from 40-200km/h and only in fourth to sixth gears. Its easy to use, but the controls are on the right grip rather than the left. Riders can find this a little tricky for setting while holding the throttle position. Harley learnt that lesson and switched the control to the left where it should be.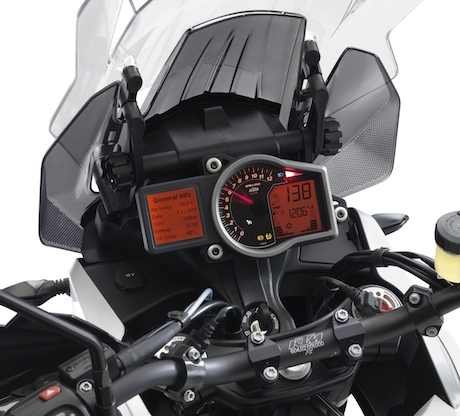 You can also get an optional Hill Hold Control that allows you to do hill starts without using the brake. It provides automatic brake for five seconds. Unless you are totally useless at hill starts, which aren't a problem anyway since you have a foot brake, it can be a bit of a hindrance when you want to roll back into a parking space with the bike in gear and the clutch in as it won't move for five seconds.
At parking speeds, the bikes doesn't feel its weight. It's easy to hop off and push it around into position.
The two-piece frame consists of a light aluminium subframe with mounting brackets already in place for factory luggage. If you do happen to crash with panniers on board, the subframe is quick and easy to replace.
We didn't get much of a chance to ride around in slow traffic as that's not the point of this bike, but when we did, it was evident that the engine still pours a lot of heat out the right side and into the seat despite heat shield material underneath.
At the end of a long day's riding, I'm aware that the 3D foam-filled seat which felt firm when I first climbed on board still feels quite comfortable, if a little warm. Mind you, we didn't have long spells sitting in one position in the seat on dead-straight highways.
Thomas brags about the bike being a luxury all-road sports tourer. Add the word "super" and that just about sums it up.
It would be my first choice for a long, two-up adventure.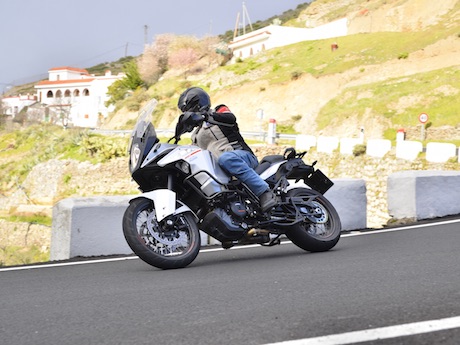 KTM 1290 Super Adventure tech specs
Price: $26,995 plus on-road costs

Warranty: 2 years, unlimited km

Service: 15,000km

Engine: liquid-cooled, 2-cylinder, 4-stroke, V 75° 1301cc

Power: 118kW @ 8750rpm

Torque: 140Nm @ 6750rpm

Bore/stroke: 108/71mm

Compression: 13.1:1

Transmission: 6 gears, chain drive, PASCTM slipper clutch, hydraulically operated

Chassis: Chromium-molybdenum-steel trellis frame, powder-coated aluminium subframe

Handlebar: Aluminium, tapered, 28/22mm

Suspension: WP Semi-active Suspension USD 48mm, 200mm travel; WP Semi-active Suspension PDS Monoshock, 200mm travel

Brakes: 2 x Brembo four-piston, radially bolted calliper, 320mm disc (front); Brembo two-piston, fixed calliper, 267mm disc; Bosch 9ME Combined-ABS (Cornering-ABS and offroad mode, switchable)

Wheels: 3.50 x 19″; 5.00 x 17" spoked with aluminium tubeless rims

Tyres: 120/70 R 19; 170/60 R

Steering angle: 64°

Trail: 120mm

Wheebase: 1560mm

Clearance: 220mm

Seat: 860/875mm adjustable

Tank: 30 litres (4L res)

Dry weight: 229kg

Colour: White