This Kominie JK-084 3D mesh inner vest will take the heat out of your riding this long, hot summer.
We've already had a few days riding in almost 40C heat, so we've been able to give this vest a good test under both a leather jacket and a flow-through mesh summer jacket.
While it may seem strange that adding more clothing will make you cooler, this vest actually works.
At least, it does with the leather jacket. It actually makes the mesh jacket feel a little warmer, but does stop your back from sweating and sticking to the back protector.
Kominie vest
The Japanese-made Kominie vest is available for $55 through Melbourne-based zarkie.com.au.
It is made of polyester in a wide, three-dimensional honeycomb pattern and is worn under your jacket.
The idea is that it creates a mesh cavity around your torso to allow cooling air to pass around your body.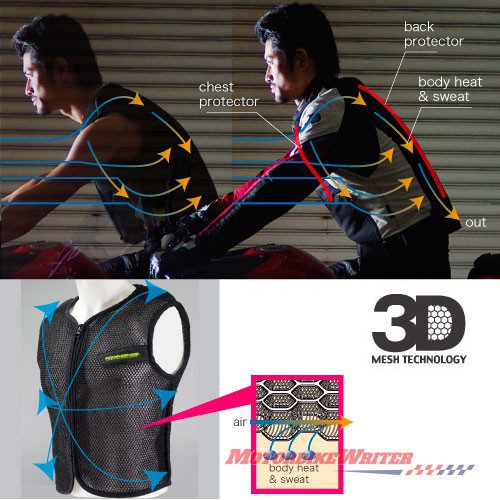 Most ventilated summer jackets fit snug against your body in various places, especially where there is armour. This prevents the airflow from cooling you down.
However, the mesh cavity created by this vest makes sure the air has somewhere to flow.
It's great when worn under jackets that only have a few vents.
However, it is kind of superfluous with mesh jackets, although it does provide an air passage between your skin and the back protector so your back doesn't sweat.
It's not all that soft to the touch, yet it is flexible and feels quite comfortable when worn under a jacket and over a t-shirt.
Fitting
It is fairly thick, so it could make your jacket quite tight.
I wore it under a leather Merlin Chase leather jacket which has only a couple of vents.
It improved the airflow and since I had removed the thermal liner, it wasn't a snug fit.
They also say it adds some impact absorption but we think that would be fairly minimal.
While we reckon it's useful with certain jackets, we would like to see a full jacket version with sleeves.
Because you often bend your arms when riding, air can't effectively flow up your sleeves. A jacket version of this mesh vest might solve that problem.
It comes in sizes SX to 5XL in black only.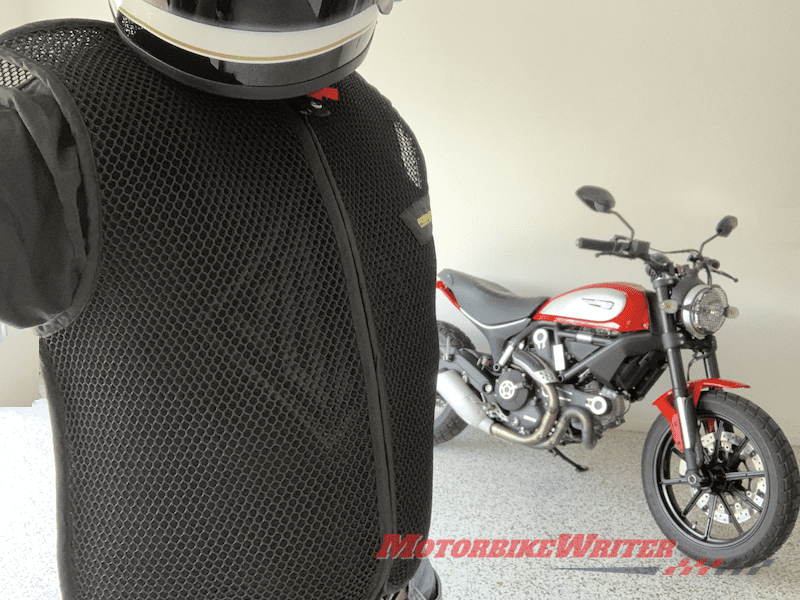 I normally take large size, but I got the European XL (Japanese 2XL) and it fit me quite well.
A larger colleague was also able to zip up the stretchy jacket, but then the zip burst! We were able to get the zip working again.
Zarkie
Scott from Zarkie says they launched the Japanese Kominie brand in Australia in May.
"We are still in the processes of determining the best lines to commit to the market so we can bring them in larger volumes and set up partners in all the major cities," he says.
"We hope to have this done by the end of the year, so for now Kominie can only be purchased from us."