MKII Glove Hands Review Summary
Review Summary
The Orsa Leather MKII's are a standout choice for those looking for a cool short-cuffed set during the summer months or hot weather in general. It's a quality glove that offers multiple points of protection (CE certified) and a surprising amount of features.
Pros
MKII Glove Hands Image Gallery
BOA Closure system
Quality construction and excellent fit (once broken in)
Cons
BOA knob is bulky
Nothing else comes to mind
MKII Glove Hands Image Gallery
Introduction
I want to start off by saying that I haven't been a fan of short cuff gloves for the past several years. Concerns over the lack of wrist protection combined with some "less than strong" wrist securing methods had me looking towards full gauntleted options.
So how did I end up looking at (and then buying) these short cuff gloves?
Last year when I started looking for a new summer glove I took a look at Knox as I appreciate their focus on safety and protection. Among the various glove options offered by Knox were the ORSA MKII Leather gloves. These are short cuff gloves with some perforations to combat the summer heat and protective features to combat everything else. They appeared so focused on protective features I had to give them a go.
As one would expect from the name, this is the second iteration of Knox's Orsa Leather glove. The MKII version is certainly more of an evolutionary than revolutionary update and that's a good thing. The original ORSA Leather glove was well received and you can read a detailed review over at webBikeWorld where Alice Dryden tried them out in 2016.
(In full disclosure, I somehow missed Alice's review when looking for new summer gloves. Maybe I wasn't ready to look at short cuff gloves again at that time?)
The MKII came out in 2017 and brought with it some subtle, but welcome changes. The overall styling has been updated and I think the white version, in particular, looks better on the MKII. Other changes include additional elasticated area and the fit has been "changed" as well. I can't speak to the fit of the previous version but Knox says they changed it, so, umm, there.
With the look-back finished, let's roll forward…
The Knox Orsa Leather MKII
The Orsa Leather MKII gloves look all business, and that business is protecting one's grubby little mitts. This isn't surprising considering these gloves are part of Knox's family of "Hand Armor" products which include their Handroid line of gloves.
The Orsa Leather MKII gloves have hard knuckle protection, Knox's Scaphoid Protection System, and the BOA closure system which make the gloves look very technical. The white colorway that I chose not only makes them more visible but I think helps reduce heat absorption during hot sunny days. I also thought they looked pretty slick in white, so there's that too.
The Orsa Leather MKII gloves are available in sizes ranging from small to XXL and come in either black or the black and white version shown here. There is also a textile based version designed for dual sport and adventure riders. It is very similar in design save the difference in material and they do run about $30.00 less.
Construction
The gloves are leather from cuff to fingertips. A combination of cowhide and goatskin is used with goatskin making up the palm area. The fingers are constructed using internal seams and the fingertips use a wraparound style keeping that area smooth for better feel. The interior is lined with a thin and smooth layer of polyester (or nylon?) and there are small patches of elastic between the knuckles on the top.
Speaking of fingertips, both left and right gloves have a touch-sensitive patch on the index fingertip allowing interaction with touch screens. These tips work very well and is a welcome feature for taking a quick roadside phone photo without the need to remove one's gloves.
Being designed for summer there are perforations on the underside of the fingers as well as the sides of the finger boxes. There are a few small perforations on the top side of the middle and ring fingers but their small number (four on each) don't appear to add a lot to airflow. The topside of the thumb, however, has a lot of perforations and works well when turned towards the oncoming air.
Looking at the back of the hand, there is a large patch of the elasticated leather present just behind the large floating knuckle protector. This is larger on the MKII gloves versus the originals and this area is also perforated for increased airflow.
Moving back to the cuff is the ratcheting knob and cables for the BOA closure system. The knob is a little bulky if one intends to put their jacket sleeves over the knob but Knox intends one to put their sleeve under the glove. The opening does get large enough to do this on most jackets but, being a short cuff design, it may not stay there when one extends their arms.
Under the wrist is a large piece of TPU which contains the anchor point of the closure system. It serves double duty by protecting the BOA cables as well as providing protection to the lower wrist area. Moving up towards the palm there are two hard protectors backed by foam at the heel of the hand. The thick protectors are the Scaphoid Protection System (SPS) described in the next section.
If the ORSA Leather MKII gloves appear pretty aggressive you are correct. For me, I like the look, especially since it makes plainly visible all the armor that is protecting your paws. Now let's have a closer look at that protection.
Protective Features
Here's where the rubber (or plastic) meets the road. The most obvious feature is the large, floating knuckle protector on the back of the hand. This protector is a type of TPU (plastic) and it has some flexibility to it making it more comfortable than carbon fiber protectors.
I've never been a big fan of carbon fiber usage in these types of protectors because, despite its light weight and high strength, the stiffness can cause the carbon fiber to splinter on impact. I'd rather have something that can absorb impact and flex a bit like this TPU.
Speaking of absorbing impact, there is a honeycomb matrix gel under the hard portion of the protector and that gel sits on top of memory foam. That's a lot of impact absorbing material. The floating nature of the design makes the knuckle protector unobtrusive to the wearer despite its relatively large size.
On top of the fingers, there are small TPU protectors set in an extra layer of leather. The palm gets an extra layer of leather with a thin layer of memory foam underneath. So far the protection doesn't seem all that special but as they used to say on late night TV "Wait, there's more!"
While the overall protection may not ideal for a track day, there is one thing that the Orsa gloves have that I believe should be on all motorcycle gloves, the Scaphoid Protection System (SPS). SPS consists of a pair of plastic sliders at the base of the gloves. These simple sliders can prevent some serious injury to the wrist. Here's how.
When we, and by we I mean people in general, fall forward we tend to try to break our fall by putting out our hands. During a crash, this can be very dangerous behavior as the impact and subsequent drag on the pavement can wreak havoc in this area. SPS prevents the heel of the hand from getting a grip and instead slides on the surface to reduce the level of impact. This can help mitigate damage to the scaphoid which is very vulnerable in this situation.
One area that I felt was missed and that is the outside edge of the hand and little finger. It seems like a missed opportunity to not have placed a protector in this area or at least another layer of leather to this somewhat vulnerable area.
One last feature that I really like is the BOA Fit closure system. It may not seem like a protective feature but since it creates a very strong closure for the cuff I say it qualifies. BOA Fit is often seen on boots and other outdoor gear. My own first exposure to it was on the RS Taichi RS006 riding shoes I reviewed for webBikeWorld in 2014 and I thought it was the coolest closure system I'd seen. This system uses a ratcheting knob and a thin coated steel cable to make a secure and highly adjustable fit.
The implementation of the BOA closure was one of the reasons I considered wearing a short cuff glove again. When cinched down, the closure stays firmly in place and will not allow the glove to be pulled off of my hand in a slide. I think the rest of the glove will eventually wear away before the closure lets go. I do not intend to test that, however.
As mentioned earlier, on the underside of the wrist there is a large section of TPU which is part of the BOA closure system. It functions as an anchor point of the closure system and protects the cables (and one's wrist) from abrasion. Right in the center area of TU piece where the cables cross is a rounded "button" that is designed to slide on the pavement like the SPS protectors.
That's a lot of protection for a short cuff glove so it's no surprise that they are CE certified to EN 13594 – 2012. All this protection in a glove often comes at the expense of comfort. How do the ORSA Leather MKII gloves end up feeling? Let's see.
Fit & Comfort
Fit for these gloves falls between what I would call a European and American fit. I usually wear a size medium in gloves from Joe Rocket, Icon, and Cortech while I wear a large in brands like Klim and Alpinestars. My hands measure a size "9" around the palm but my fingers are longer and thinner than what is typically associated with a size "9" glove.
With all that said, I landed on Mediums for the Orsa Leather MKII gloves. All wasn't perfect when I received them as they were very snug almost to the point where I considered sending them back. However, I hoped since they were leather that they would break in and stretch to fit better. I was skeptical since they were relatively stiff out of the package but I felt that the size large might be too loose.
Patience paid off and after three weeks of riding, they felt noticeably better. The thumb was and still is, a bit restrictive but I accept this aspect for the nice close fit. A year later and these feel like they were cut for my hands. This is one of the reasons I prefer leather for my gloves.
I will say that after all of this time, they are still not easy to pull on over my hands. They certainly do not slip on and even a year after buying them they still require a solid pull while wiggling my fingers about to get them on. The plus side is that they certainly aren't going anywhere in a crash.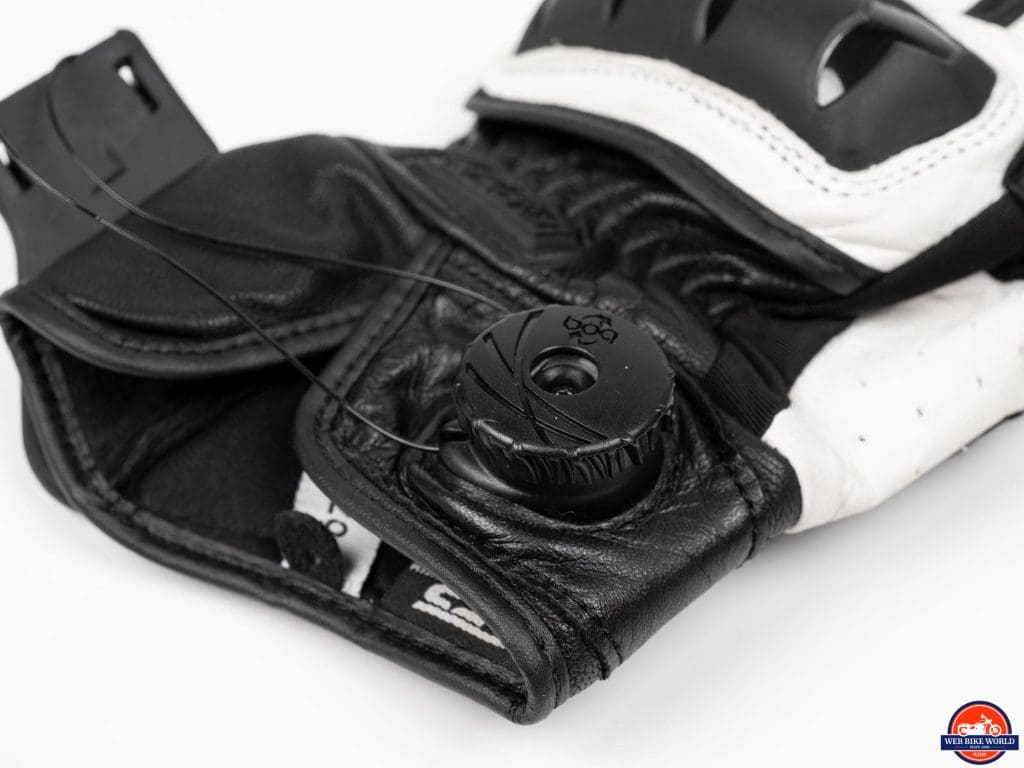 Comfort overall is good and frankly better than expected considering all the protective bits on these gloves. Part of this is due to the thin lining that runs throughout the gloves. I had been under the impression that the fingers didn't have a lining in them as they offered excellent feel. Turns out I was wrong.
Once I was able to get one of the fingers turned inside out (not an easy feat) I verified they are lined. This also explains why the internal seams are not very noticeable as these types of seams can be an issue in some gloves.
Another reason for the higher than expected comfort level is the padding used underneath the knuckle protector and the SPS protectors. There's no mistaking these protective pieces are on your hand but the placement and the padding keep them from causing any discomfort.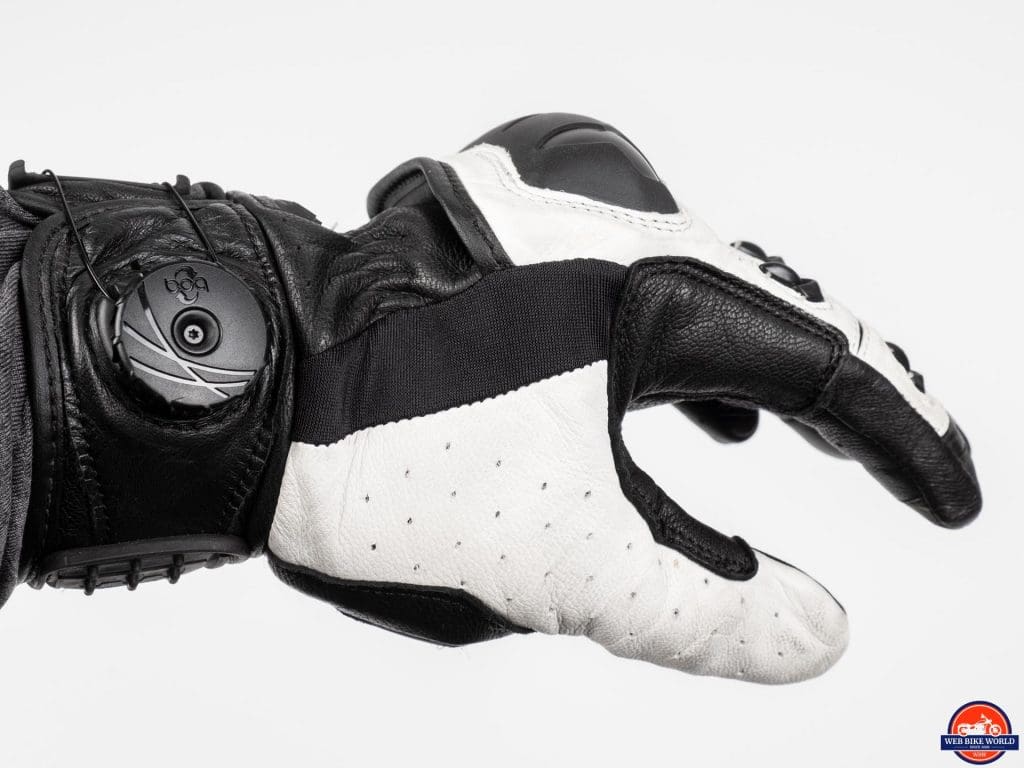 The floating nature of the knuckle protector and the increased elastic area on top of the hand also contribute to a better feel than the previous generation based on Alice's review of the first generation Orsa gloves.
As far as ventilation goes, they are about average for a hot-weather leather glove. The perforations do a reasonable job of flowing air but the overall number and placement of those perforations mean they can only do so much. On the other hand, having more perforations and/or mesh material would reduce the overall protectiveness of the gloves.
Conclusion
The Orsa Leather MKII's are a standout for a summer/hot-weather glove. Considering their short-cuff design, they offer a lot of protection, to the point of passing the 15 tests needed for CE certification. Not a bad place to keep one's hands when riding though I would like to see some extra protection for the little finger area on the gloves.
Fit is always going to be subjective so if you like a snug fit like me I would go with what your normal size glove is in most cases. If you prefer more wiggle room go up to the next size.
For $130.00 (USD) I feel the Orsa Leather MKII gloves punch above their weight. These are not inexpensive gloves but there are more expensive options out there that I don't necessarily feel would protect as well as these. These gloves have knocked out my previous favorite summer gloves, the Klim Induction gloves, from their top standing in my book and the Kilm's were $20.00 more.
Pros
Good protection
BOA Closure system
Quality construction and excellent fit (once broken in)
Cons
BOA knob is bulky
Nothing else comes to mind
Specs
Manufacturer: Knox
Price (When Tested): $130.00 (USD)
Color(s): Black, White, and Black
Sizes: Small to XXL
Original Review Date: July 2018