KLIM's KRIOS is the beginning of the new era in adventure helmets. It has uplifted the parameters in strength, performance, and functionality while leaving traditional compromises behind. This adventure helmet offers features aplenty. There is a high performance carbon-fiber shell, four ride mode, superior aerodynamic system, and unparalleled acoustical and contact comfort. Krios is the lightest adventure helmet ever produced but still meets and exceeds the high demanding ECE and DOT standards for modular adventure helmets.
This model of KRIOS comes loaded with a pre-installed Sena 10U which has features like Bluetooth 4.0, four-way group intercom communication up to 1 mile in open terrain, 10-hour talk time, advanced noise control, music sharing, and a built-in FM radio. There is everything from wireless remote control to voice prompts to guide the rider at all times.
Features
The Atomweight of Adventure Helmets:
To abolish the expected performance norms of an average adventure helmet, KLIM created KRIOS, the lightest adventure helmet below 1500 grams in all of North America. It is not only the lightest but is the only model available in this weight category. KLIM could achieve this feat of being a truly versatile ADV helmet through innovative production setup and top quality material.
Clear Vision Always:
Industry's leading field of vision partnered with optically-precise face shield technology makes it easier for the rider to see the path ahead with a clear vision.
Solid Shell for Every Size:
A wide carbon weave, hand laid shell ensures prime safety for the rider. But to improve the strength of the shell, no compromise has been made in the light weightiness of this product. Only optimal quantity of resin has been used in each section to reduce weight and maintain uniform shell thickness. This model of KRIOS comes in two shell sizes – small to medium and large to 3XL.
Rider Comfort Comes First:
There are many features in this helmet that enable the rider to have a pleasurable ride every time. KLIM's top class aero-acoustic technology helps riders to focus on the road more easily. The combination of sleek and stable aerodynamics, super comfortable premium liner, and a well-planned ventilation design always helps the user have a comfortable riding experience even while covering longer distances.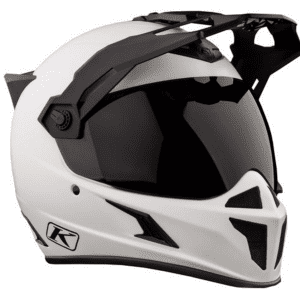 Versatility Perfected:
Many riders often feel challenged perfecting the aerodynamics and managing the functionalities of a visor fitted helmet at the same time while riding at a high speed. Hence, KRIOS was developed, keeping these points in mind, with features like aerodynamic visors and spoiler elements that help in keeping the rider's head stable and at ease.
Exceeding All Benchmarks:
In comparison to other helmets, Krios exceeds ECE and DOT standards which are known to be some of the most difficult quality standards in the category of motorcycle helmets at reduced weight. This was made possible using innovative production systems and superior materials.
Custom Fit:
To provide the riders with a comfortable and custom fit, KLIM has used its proprietary premium fabric liner system, Klimatek, for the interiors. This fabric liner is anti-microbial or bacterial and uses fast-wicking textiles with smart-foam adaptive technology.
Quick Release:
KLIM has rewritten the approach towards a flip-up helmet by loading the KRIOS with the quick-release shield and visor system. This system has a simple 90° quarter-turn to lock or unlock and requires no tool for that.
Feel the Flow:
KRIOS helmets are equipped for ample airflow through its chin bar vent and a closable top vent. This ensures that a rider will continue feeling cool at any speed even when the surroundings are too warm. This super smart ventilation system makes the KRIOS helmets the perfect choice for adventure riders.
Built for Every Ride:
Comes loaded with four riding modes that can be changed in a small time and without any tools. Now you can transition to off-road from street in no time.
Also, KLIM's innovative modular helmet technology makes it easier for the riders to adapt to any need during riding. One can even use the KLIM radius goggle with this feature.
Anti-Scratch Face Shield:
For a better and clear vision of the road ahead, Krios uses a anti-scratch premium polycarbonate face shield that is pinlock ready. The package comes with clear face shield.
Loaded with Sena 10U:
Krios comes complete with a pre-installed Sena 10U with a bevy of cool features and a wireless handlebar remote for the same.
Pros
Lightest ever adventure helmet
Crystal clear vision due to advance face shield technology
Perfectly solid shell with hand-made consistency that comes in multiple sizes
Advanced aerodynamics and acoustic settings, better ventilation, and premium quality interior liner makes it a top-notch experience for the rider
Exceeds all industry standards
Dual sport fit, comes with four riding modes. Makes transition from street to off-road real smooth.
Comes with a pre-installed Sena 10U
Cons
Without the pinlock, the visor fogs up pretty fast. Hence one needs to keep at least one extra pinlock with them for both visors.
The smallest open position of the visor still keeps a gap of almost an inch which sometimes allows insects in. Riders prefer a gap that will let some amount of air in but keep the rain and bugs out.
The chin vent is not closable. This can get tricky during rain or winter.
Some users have found it loud, especially at higher speeds.
Conclusion
If you are an adventure rider, look no further. The KLIM KRIOS ADV helmet with Sena 10U is the perfect match for your adventure spirit. It's super lightweight, dual sport fit, has easily changeable visors, uses comfortable premium liners, and is equipped with intelligent ventilation system. All these features make this a perfect fit for you thrill seekers out there.