Are Kiwi drivers the most courteous and considerate in the world to motorcyclists?
We are five days into our 14-day Hobbit Odyssey motorcycle trip around New Zealand and I am inclined to believe they are.
It's not a belief from just five days of riding here, but seven trips across the "Ditch" for bike and car media launches and holidays.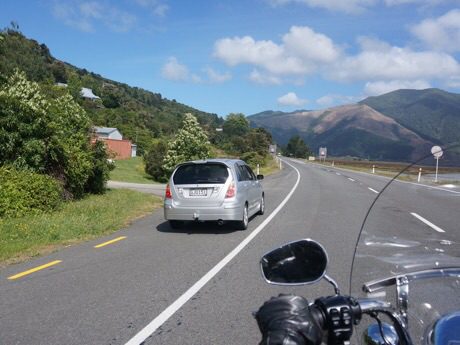 Kiwi drivers, including truckies, move over to let you pass. They move over when there is hardly any room; they move over on to the wide verge of the road; and they move over even when there is approaching traffic! No, they aren't trying to kill you. Many of the roads here have very wide verges and wide centre lines that easily accommodate a bike overtaking maneuvre. They are just being considerate.
On double-lane roads, motorists move left out of your way and when the double lanes run out, they tend to slow down to let you zip in front rather than race to stay ahead of you.
The only ones who don't move over are the tourists, usually driving campervans. However, after experiencing Kiwis moving over for faster traffic, they soon get the idea.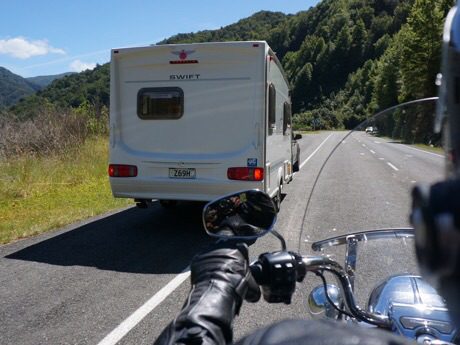 While it's a great place to ride, I have never seen so many police patrols and speed cameras on the road. Thankfully most approaching motorists flash their lights to warn you.
I've been told the police are courteous and forgiving, turning a blind eye to marginal speeding so you don't have to stare at your speedo all the time. I've also heard stories of police warning riders for minor speeding offences, rather than fining riders.
I wished I'd had one when I got pinged for 60 in a 50km/h zone. However, to be fair, the cop was nice enough to give me a $30 infringement notice rather than a fine for 61km/h which he had clocked me at originally.
By the way, it's legal here to have a radar detector. Riders tell me they ride in packs with one guy out front with a radar detector.
Community service and road safety signs are everywhere. Most are signs advising motorists to switch off their mobiles and not send texts while driving. It must be working because I haven't seen anyone offending yet and riders usually have a good view of motorists, seeing a lot of text/driving.
While their eyes are on the road instead of their phones, they have more chance to see riders.
There are also copious signs on the motorcycling roads – and aren't they all great biker roads – to look out for riders and suggesting riders get some rider training to "Ride to live". Good advice.